In the final episode of What Are You Eating?, Philip Boucher-Hayes investigated Ireland's drinking habits while the experts explain why alcohol can lead to poor dietary choices at the end of a night.
Dietitian Ruth Charles explains: "People get hungry after they drink alcohol because alcohol naturally causes your blood sugar level to drop.
Watch the full episode on the RTÉ Player
"If your blood sugar levels is dropping after alcohol, your brain is saying 'come on, I need something please' and what is around? In those circumstances, you're going to eat whatever is there."
Enter: the spice bag.
What is a spice bag?
A spice bag is a bag full of crispy chicken, chips, red, green and chili peppers and sometimes a bit of stray veg depending where you buy from.
Where can I get one?
"Inspired" by Asian cuisine, the spice bag can be found in most Chinese takeaways and chippers across Ireland.
Did Philip Boucher-Hayes ruin spice bags for me?
Not quite.
Culinary lecturer and food historian, Dr Máirtín Mac Con Iomaire give us some background information on Ireland's favourite fast food while Olympic Hurdler Derval O'Rourke look baffled, yet intrigued, by the phenomenon.
Chef Hilary O'Hagan-Brennan didn't know exactly what a Spice Bag was – but she was able to take an educated guess.
She said: "Nobody will tell you the spice mix or the quantities. It is a closely guarded secret."
Despite that, here's what she believes the powder is made up of: Curry power, garlic powder, dried chilli powder, Five-spice, MSG, salt and sugar.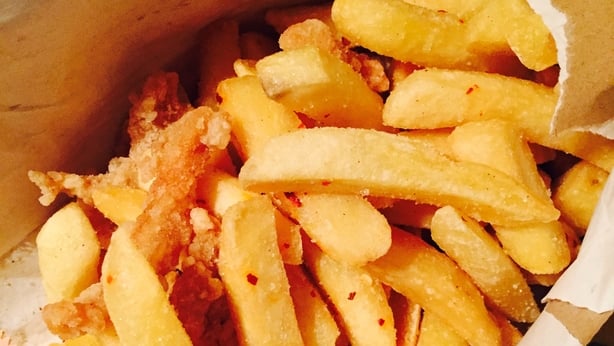 She then made an alternative spice bag with vegetables coated in her home-made spice.
In the end, instead of condemning the spice bag, Philip talked about the compulsive nature of unhealthy eating
He said: "Standard dietary advice is everything in moderation – and that would be a really choice piece of advice if we had any idea what moderation actually is."
"What is it about unhealthy eating that we find so damn compulsive?"
He added: "Perhaps the next time you find yourself asking the question 'Do I really need this spice bag?' You already know the answer."
What did the viewers think?
Lord, it looks like I haven't lived at all, at all. I've never had a Spice Bag. #WhatAreYouEating

— The Reluctant Foodie (@ReluctantF00die) April 5, 2017
Whats a spice bag? 😆 @darinaallen @DervalORourke #WhatAreYouEating pic.twitter.com/8Jy0IHh5YJ

— Ali Dunworth 🍴 (@ThatAliceCooks) April 5, 2017
You can try to ruin the spice bag for me @boucherhayes, but it won't work. #WhatAreYouEating

— Sweet & Meat - Jane (@sweetandmeat) April 5, 2017
In need of a spicebag

— caoimhe (@caoimhedgaf) March 26, 2017