Big Week on the Farm is truly eggsellent: Viewers got an all access tour of the secret life of an egg from the budding romance of rooster and hen to the incredibly detailed snapshot of the developing chick embryo.
Where do babies come from?
Hens lay eggs with or without the help of a rooster. But only those laid after mating are fertilised.
Eggs take about 25 hours to form, and once laid will be collected and eaten whether fertilised or not. This egg will need constant warmth for the 21 days it takes for the chick to develop and hatch.
Day 1:
The embryo is a barely visible disc of dividing cells. During development, the yolk will be absorbed by the growing chick.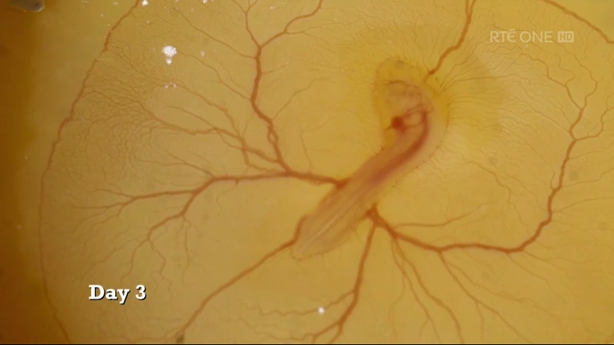 Day 3:
The heart can already be seen beating. The development of the chick's brain and body has begun.
Want to learn about more animals on the farm? Try the Secret life of:
Watch the entire clip from Big Week on the Farm below:
We need your consent to load this Facebook contentWe use Facebook to manage extra content that can set cookies on your device and collect data about your activity. Please review their details and accept them to load the content.Manage Preferences
Big Week on the Farm continues from 7pm tonight on RTÉ One.
If you miss any of the live shows, you can catch-up on the RTÉ Player.

Big Week on the Farm is co-funded with RTÉ by Science Foundation Ireland. Science and technology are increasingly part of modern farming and food production.