To mark the death of Diego Maradona, we republish our review of director Asif Kapadia's acclaimed documentary from June 2019.
"When you come out you think you knew the story, but actually you realise there was so much you didn't know."
That's what Asif Kapadia is promising from his latest study of wayward genius, which sees the director complete a stunning hat-trick after his documentaries on Amy Winehouse and Ayrton Senna. Good luck winning an argument over which of the films is the best.
Kapadia told RTÉ Entertainment that he considers Diego Maradona to be "a kind of sporting gangster film", and the unbearable tension of both genres is in abundance. If the story was fiction you'd say it was too far-fetched.
Charting Maradona's apotheosis at seemingly doomed Italian club SSC Napoli in the 1980s and the fall from the heavens that followed, this story of "the poorest city in Europe, the most expensive player in the world" shows how each changed the other. Utterly. Such is the film's power that it could transform romantics in the audience into cynics and vice versa.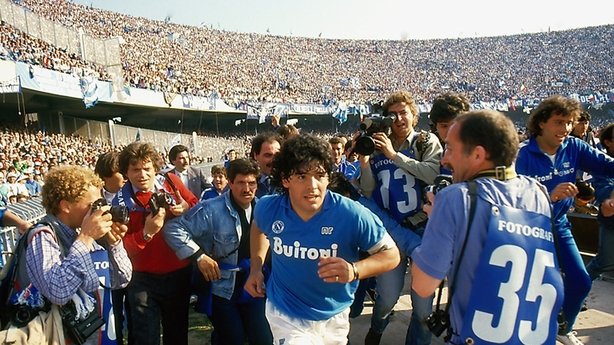 As with Kapadia's other works, his unearthing of years of unseen footage and aversion to talking heads on screen are spellbinding. Forget about seats in the stands: this is the closest you'll ever get to Maradona playing in his imperious prime. "When you're on the pitch life goes away," he tells Kapadia. What happens after the final whistle blows will leave you in agreement. And disbelief.
The dualities, contradictions and conflicting emotions abound as we try to make sense of it all, with Maradona's former trainer Fernando Signorini providing the best insight of the lot after 40 years of celebration and controversy. "With Diego I would go to the end of the world," he says. "But with Maradona, I wouldn't take a step."
After this, you'll never look at either in the same way again.
Different class.
Harry Guerin
We need your consent to load this YouTube contentWe use YouTube to manage extra content that can set cookies on your device and collect data about your activity. Please review their details and accept them to load the content.Manage Preferences