Julianne Moore plays the eponymous Gloria, a fifty-something California grandmother, divorced and back in the dating game. Less taut and focused than the Spanish-language original, Sebastián Lelio's own remake is nevertheless passably pleasant.
Gloria's idea of the dating game does not involve the internet. Rather it means going to discos to dance with grey-haired strangers to Seventies hits like, well, Gloria. Yes, you remember it, that sweetly pummelling, eh, gloriously-arranged piece of disco pompery. 
She works in insurance and drives the car while singing along to more Seventies hits, a breezy, hopeful soundtrack which she hopes will bring her luck one of these nights. Meanwhile, she is gently solicitous for the well-being of her grown-up son and daughter. Gloria's mother (Holland Taylor) is solicitous in turn about her daughter, so it's in large part a family affair.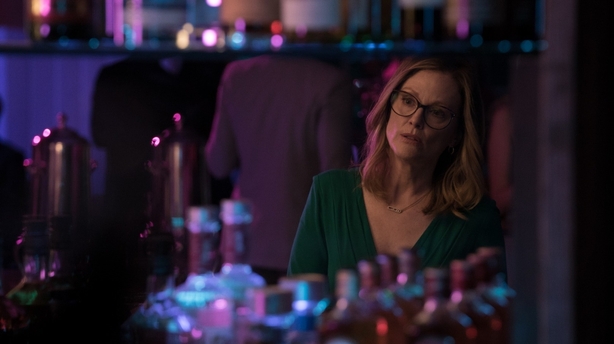 One night in one of those sterile disco bars, Gloria gets talking to a soulful, thoughtful-looking Arnold (John Turturro.) He falls head over heels for her and she returns the favour, mostly, while remaining wary about his domestic arrangements - divorced for the past year, he still has pressing concerns at home. There are constant phone calls from two needy daughters who are always getting into scrapes. The phone drama follows him to Caesars Palace in Las Vegas, where he takes Gloria for a pampering break.
There you have the premise, a humorously touching and slightly wizened slice-of-life which will have you wondering how it all resolves. As well as being the star, Julianne Moore is also executive producer of the remake which is directed by the Chilean director Sebastián Lelio. He helmed Una Mujer Fantástica (A Fantastic Woman) which won Best Foreign Film at the 2018 Oscars.
We need your consent to load this YouTube contentWe use YouTube to manage extra content that can set cookies on your device and collect data about your activity. Please review their details and accept them to load the content.Manage Preferences
Leilo also directed the original Spanish language Gloria (without the Bell), set in the Chilean capital of Santiago, a film which sparkled with sly, rueful humour. But it was also taut and whip-smart - the remake seems loose at times, and it appears to sag and nearly lose it in the middle.
If you have seen the original you may feel a bit short-changed, or even loose-changed. If you have not seen the original, on the other hand, you will find it appealing.
Read Paddy Kehoe's review of the Spanish-language original, Gloria, here
Read his review of Lelio's recent film, Disobedience, filmed in London in English and starring Rachel Weisz and Rachel McAdams here