Disobedience offers a valiant spin on the business of trying to express one's sexuality within the perceived strictures of religion. Novelist Naomi Alderman, on whose novel the film is based, wrote a long piece in The Guardian recently, entitled Coming out: Naomi Alderman on leaving Orthodox Judaism behind. The article was published to coincide with the release of the film and will no doubt be a welcome box office boost. Disobedience, which was published in 2006, won the Orange Prize for New Writing on that occasion.
The novel, one discovers, reading Alderman's lengthy piece - there must be a memoir struggling to come out - is also in some part an autobiographical account. The novelist has a North London (Hendon) Orthodox Jewish family background and made a move to New York, which Ronit, her protagonist in Disobedience, has also done. Alderman's issues with her Orthodox heritage have been played out in the novel and by extension the new film: a degree of earnestness is almost inevitable. However, such earnestness must know exactly what it aims to say and it is not clear what Disobedience is trying to achieve through its woozy drama.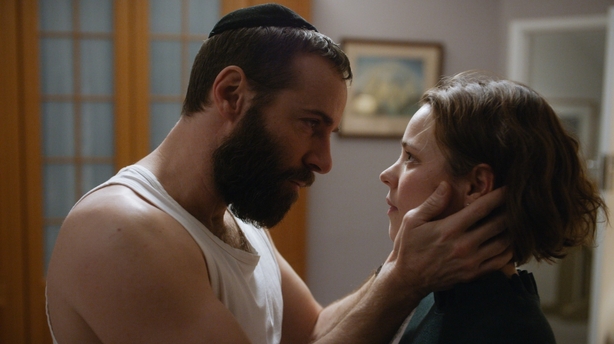 Ronit and Esti (Rachel Weisz and Rachel McAdams respectively) are friends since at least their teenage years in North London. While Ronit has shaken off her Jewish Orthodox faith, Esti has apparently continued to believe in its tenets, so much so that she has married the devoutly traditionalist Dovid (Alessandro Nivola), the third party in the love triangle at the heart of the film.
The marriage comes as a surprise to Ronit, who learns of it on her return to North London from New York where she now lives and where she has been somewhat out of touch with developments back home. Having fled impetuously some years before, she has come back for the funeral of her father - a much-loved Rabbi who is recalled affectionately by the local community. Ronit has ambivalent feelings about her father and everything he represents in terms of a code of behaviour for life. Something of a free spirit and regarded suspiciously by the male elders in the community, she is also lesbian.
In the course of this return visit, the intimate relationship she once had with Esti is rekindled, despite Esti's serious misgivings, bound up with marriage to Dovid. How will the rekindling evolve? Will the women's passion destroy the marriage?
The story will certainly keep your interest, but the problem is what appear to this reviewer to be unfocused interpretations of religious belief. Believe you me, your scribe here is no Jewish scholar, but there would appear to be a tendency toward the fuzzily warm and cuddly that serves no real purpose. It might sit well in a novel that can count on a sympathetic readership. The film follows suit and that cuddly element is exemplified in the unconvincing scene in which after a tense public moment in the synagogue, the three old friends embrace outside. It's a vacuous gesture, freighted with well-meaning but pointless sentiment. Life doesn't work like this in truth, it's fantasy.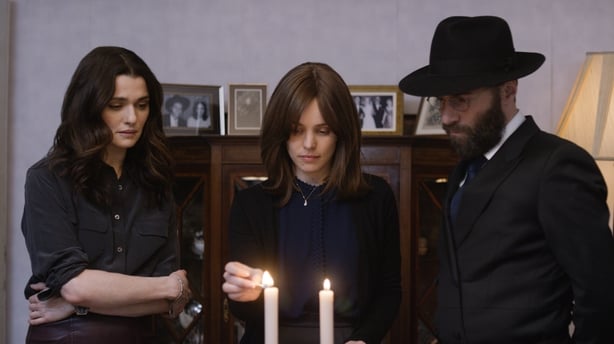 Such emotionally-loaded challenges somehow fail to hit the target, in other words, and the Film 4-funded film fizzles into melodrama of the kind you might lazily stick with on BBC Two or Channel 4 some wet Sunday night. Disobedience can also at times be ponderous and slow-moving, as such TV dramas can sometimes be.  
The greatest tragedy of all, however, is that the film is directed by Sebastián Lelio in his first English-language feature. In recent years, Lelio - a seriously talented film-maker - made two excellent, Spanish-language films, both of which are set in the Chilean capital of Santiago. The first of these was the blackly comic Gloria about an older woman trying her hand at the dating game. The second film was Una Mujer Fantástica (A Fantastic Woman) about a transgender woman who is trying to deal with problems after her partner's death. Una Mujer Fantástica won Best Foreign Film at the Academy Awards in March of this year.
Those two movies were brightly innovative, smart films with an unforced Hispanic flair and nothing remotely akin to predictable TV drama-style values. To be truthful, watching Disobedience I could hardly believe it was Lelio's work at all, and I began to wonder about the free hand he presumably enjoyed making Gloria and Una Mujer Fantástica. Lelio co-wrote all three films of which we speak with three different parties, but that doesn't help us much in investigating his input for Disobedience.
In conclusion, I might note how Pedro Almodóvar, whose work bears some resemblance to Lelio's two Spanish language films, has taken neither the London shilling nor the Hollywood dollar. Wisely, he continues to direct generally excellent films in his native Spanish, films which correspondingly are set in his native Spain.
In sum, the emotional anguish authentically expressed in Disobedience is captivating, but the film fades out unsatisfactorily, playing on sententious heroics by way of an implausible ending that can't make up its mind whether to be a neat ending or to leave the story hanging.
We need your consent to load this YouTube contentWe use YouTube to manage extra content that can set cookies on your device and collect data about your activity. Please review their details and accept them to load the content.Manage Preferences