Eleven years and 21 movies later, we finally have our first female-led Marvel film.
Thankfully, Captain Marvel doesn't buckle under the considerable weight of expectations that come with being such an important milestone in the Marvel Cinematic Universe.
Brie Larson steps into Carol Danvers/Captain Marvel's boots for the first time and it's a blast to see the Room Oscar-winner transform into a superhero in this solidly entertaining, if regrettably conventional, origins story.
We first meet our titular hero as Vers, an amnesiac warrior on the planet Hala who works as part of the elite military unit Kree Starforce under the tutelage of her friend and mentor Yon-Rogg (Jude Law). She possesses superhuman skills but is still learning how to keep her emotions (ahem) under control in combat.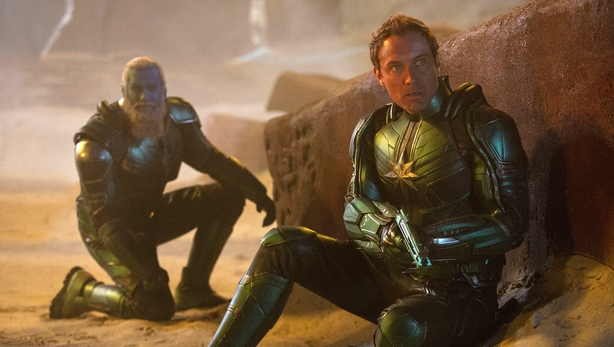 With surprisingly, and refreshingly, little back-story/exposition, we're thrown straight into the action as Vers is sent off on a field mission to take out an invading force – the shape-shifting Skrulls who can effortlessly morph into any form they desire – lending a pleasing sense of confusion to proceedings.
When it all goes horribly wrong, Vers is kidnapped by their commander Talos (Ben Mendelsohn), but soon stages a daring escape from the Skrulls' grasp and makes a chaotic crash landing to the nearest planet, C-35 (that's Earth to you and me).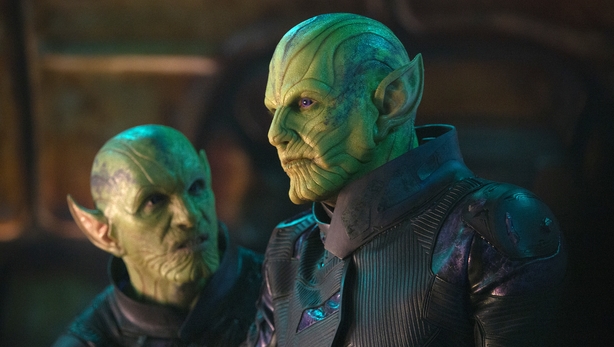 Rather pleasingly, the action is set in the mid-90s, with the banging soundtrack to match (No Doubt's Just A Girl and Nirvana's Come As You Are particularly make their mark), which gives it a layer of idiosyncrasy and nostalgia that's sure to appeal to those of a certain age.
It's here that the film really finds its feet as Captain Marvel smashes into a Blockbuster video store (the first of many hilarious '90s references) and encounters a young Nick Fury, the future director of S.H.I.E.L.D., played by an amazingly, convincingly de-aged Samuel L Jackson.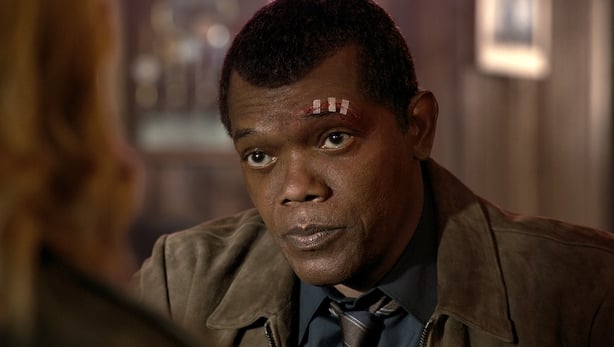 Crippled by confusion over her past and experiencing vivid flashbacks, Vers begins to doubt everything she knows about herself, her purpose, and her allies.
While Captain Marvel doesn't break any new ground in the Marvel Universe, especially compared to the pleasingly left-of-field Thor: Ragnarok and trailblazing Black Panther, it is a hugely likable, competently executed addition to the franchise.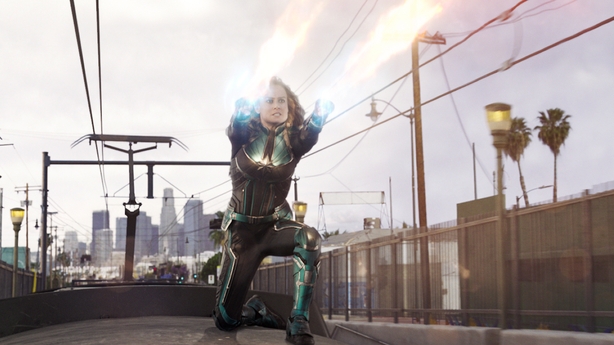 Co-directors and longtime collaborators Anna Boden and Ryan Fleck get impressive comedic mileage out of the '90s setting. Anyone who had to endure painfully slow dial-up internet speeds or loading bars is sure to have a laugh here.
Larson is reliably excellent as the strong, vulnerable, sarcastic and warm superhero, imbuing the role with as much humanity as physicality. But the movie impresses most when Larson and Jackson share the screen together; their banter and chemistry, and the general odd couple set-up, works a charm.
There's also a friendly cat named Goose that looks certain to be a new fan favourite. 
We need your consent to load this YouTube contentWe use YouTube to manage extra content that can set cookies on your device and collect data about your activity. Please review their details and accept them to load the content.Manage Preferences