British film distributors night be forgiven for assuming that a movie like The Limehouse Golem could travel well in, say, neighbouring Eire. But this is not necessarily so.
Peter Ackroyd anybody? Hands up out those of you who have read the novelist - bless him, there is no prejudice here - or his 1994 novel, Dan Leno & the Limehouse Golem? Hmm, thought as much. Set in the Victorian music hall world, the novel languished in Jack the Ripper/Sherlock Holmes territory and no doubt sold reasonably well in the UK. Not by the truck-load here, one suspects.
Anyway, some 23 years later comes the movie adaptation, starring Bill Nighy as Scotland Yard detective John Kildare who is convinced that music hall star Lizzie (Olivia Cooke) is not the woman responsible for some chilling murders. The killings of which she stands accused include that of her husband, John Cree (Sam Reid) a failed playwright. His demise, however, is exceptional in that it is not gruesome - poisoned by nightcap.The murders preceding it, however, have been decidedly bloody and Hollywood-gory.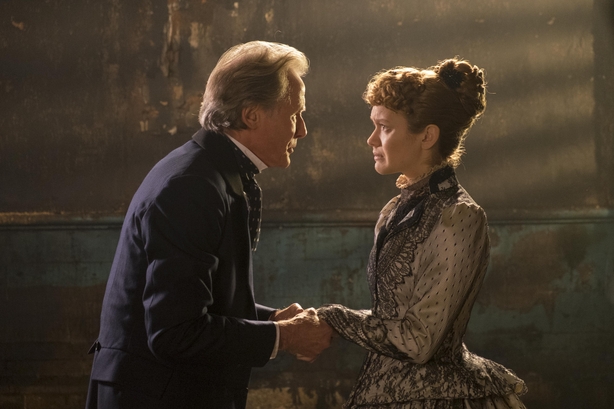 The rather feeble whodunit is worked out in the narrow streets of gas-lit London on the fringes of a popular musical hall. Cue vulnerable ladies of the night, slippery male grotesques and saucy ladies all of whom speak rather tiresome innuendo down the pub.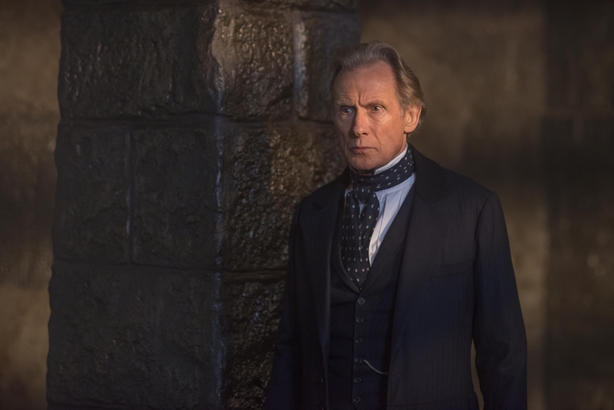 A decent man and no lover of musicals, Inspector Kildare is out to prove Lizzie's innocence amidst this lot of flaky stage-folk, led by shifty actor manager Dan Leno (Douglas Booth) and double shifty "Uncle" (Eddie Marsan). The Inspector has been touched by Lizzie's story of an abusive mother and a childhood spent in poverty, sewing sailcloth and digging graves in the London marshes.
The writers George Gissing and Karl Marx come into the story rather pointlessly while Alexander Pope too is quoted meaningfully and, yes, pointlessly too. The Limehouse Golem is trying to be fiendishly clever, trying to be knowing and nudge-nudge about the melodrama and pratfalls of the story. It's a bit like the infinitely more dreadful Wes Anderson-directed The Grand Budapest Hotel, a truly appalling farrago of a film, with similar literary pretences.
Bill Nighy is, as always, excellent though it doesn't really help matters. He was brilliant too in the recent Blitz-era movie Their Finest, but that was an innocuous piece of Second World War nostalgia which made very little impression here either.
Passable is about the best one can say about The Limehouse Golem, although if you are a Sherlock Holmes or Jack the Ripper fan, it may well float your boat.
Paddy Kehoe
We need your consent to load this YouTube contentWe use YouTube to manage extra content that can set cookies on your device and collect data about your activity. Please review their details and accept them to load the content.Manage Preferences