A rather harmless tale set in Blitz-era London will either tug at your heart-strings or make you tug at your ear in impatience. This innocuous BBC film is not much more than updated Mills and Boon.
It's Second World War-era London 1940, and the UK Ministry of Information are sponsoring the making of propaganda films to aid the war effort. The coy but quietly confident Welsh girl Catrin Cole (Gemma Arterton) finds herself pressed into service to write the screenplay to what will in fact turn out to be a full feature, rather than the usual functional propaganda vehicle.  
She is glad of the money as her boyfriend/pretend husband Ellis Cole is none too flush. They pretend for respectability's sake to be man and wife in the flat they share together. Ellis was wounded in the Spanish Civil War and will not be called up for service. He is trying to a make name for himself as an artist and will soon mount an exhibition.
Catrin has heard a true story concerning twin sisters who attempted to sail their father's boat across the Channel to help rescue British soldiers at Dunkirk. Having tracked down the two girls and verified - well, sort of - the tale, her idea is finally green-lit by the authorities.
Catrin and her screen-writing partner, Tom Buckley (Sam Claflin) will construct a viable, if decidedly sentimental screen-play based on the tale, intended to wow the 30 million (average) UK cinema-goers. So, the two screen-writers set to tapping furiously at type-writer keys, bombs going off around them.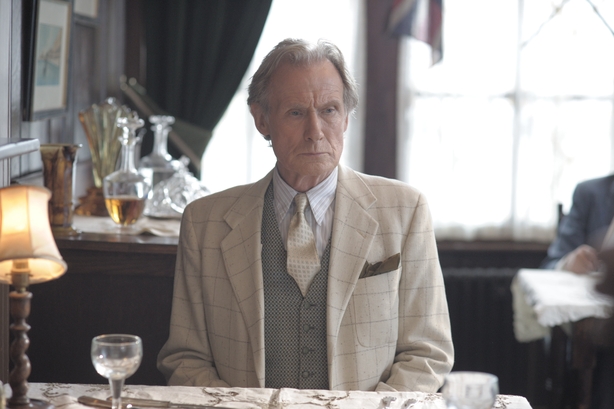 If Mr Churchill and the Secretary of War (Jeremy Irons playing, well, Jeremy Irons) have their way, 90 million American cinema-goers will also be rushing to see the proposed Dunkirk film. With this aim in mind, a young American war hero with no acting experience is drafted in. Can he be coached into a semblance of an actor?
Thus, you get a rather gauche, hollow film-on-a-film set, with a mushy off-set love story at its heart mirroring the on-set love story. Creaky comedy simmers inoffensively like a kettle of war ration tea. Bill Nighy plays the vain actor, Hilliard, who finally has a chance to rescue his flagging career in the film which will eventually be entitled The Nancy Starling, named after the humble boat used by the two sisters in the real story.  
Directed by Danish director Lone Scherfig (An Education, One Day, Italian for Beginners) with a screenplay by Gaby Chiappe, Their Finest is based on a novel by Lissa Evans. It won't tax the targeted audience eager to lap up its coy sentiment and unashamed nostalgia.
The Imitation Game, with Benedict Cumberbatch is a very different kind of English film, also set during the Second World War. If you liked The Imitation Game, then this is not for you.
Paddy Kehoe
We need your consent to load this YouTube contentWe use YouTube to manage extra content that can set cookies on your device and collect data about your activity. Please review their details and accept them to load the content.Manage Preferences