Would you be up to them? 
With all the brouhaha, billboards and bus ads, you'd swear that the shy and retiring Charlize Theron had somehow pulled a handbrake skid on her career as a costume drama icon and smashed through the gates of the - gasp! - action movie genre. This is, after all, the star of Fast & Furious 8, Mad Max: Fury Road, Prometheus, Snow White and the Huntsman, The Italian Job and Reindeer Games. Heck, even as a 21-year-old she was armed and dangerous in 2 Days in the Valley. Varying quality, granted, but Theron does have form.
Word is she was also in something called Aeon Flux. Moving swiftly along...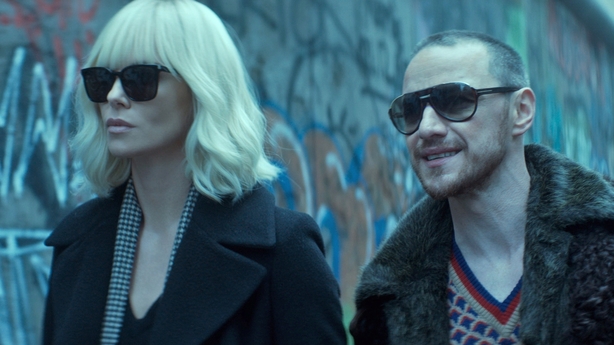 So, given that Theron's basically been prepping for this build-your-own franchise op her whole career, is producing as well as starring and won an Oscar and everything else for the dramatic grit of Monster, it's almost a mystery worthy of le Carré as to why she would sign up for a script that's as hit and miss as Atomic Blonde's - all shoot-'em-up style over spy game substance. In places this Cold War chase is better than either the last Bond or Bourne; at other times it's more disappointing than both of them.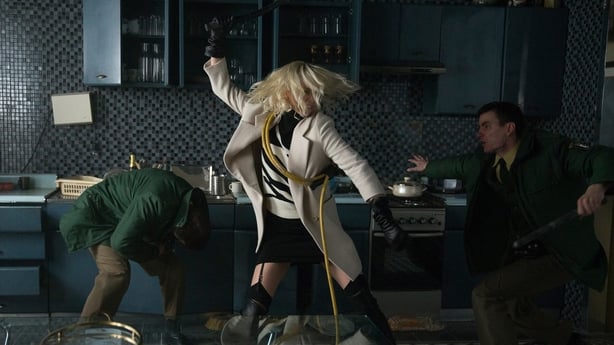 It's November 1989 and Theron's MI6 operative Lorraine Broughton is dispatched to Berlin to retrieve that most dog-eared of McGuffins, a list of secret agents. MI6's station chief in the city (James McAvoy) has gone a bit too native (trench coats, techno, threesomes) for the bigwigs, and Broughton is deemed to be the operative who will get the job done. But she's barely collected her bags from the carousel at Tempelhof Airport when the bodies start piling up.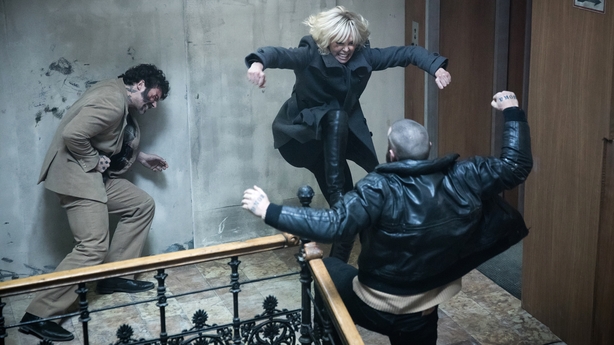 When it comes to set-pieces, setting and period detail, lovers of the rough stuff and all things retro can fill their 10-hole Docs here. Stunt co-ordinator-turned-helmer David Leitch co-directed and choreographed John Wick and brings the same kind of coffee table-smashing, firehose-whipping brilliance to the fight scenes with Theron excelling in all of them. While no one is killed with their own shoe, there are fatalities involving footwear - it's that kind of movie. Throughout, you really feel like you're in a crumbling (in more ways than one) Berlin with the soundtrack - David Bowie, George Michael, New Order and, of course, the Mode - bang (bang) on.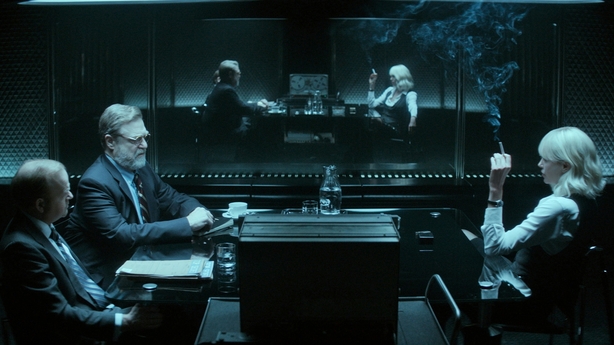 But in terms of Tinker Tailor-like tension, Atomic Blonde is a disappointment. The exposition is like a skip truck arriving in a driveway with the debriefing scenes doing little to up the stakes. Ironically, for a movie about espionage, there's a failure to make the most of the assets. Theron reigns supreme as a scrapper but away from the action her Broughton doesn't elicit enough empathy as a hero - cold rather than cool. McAvoy chows down on the scenery with such gusto that chomping through the Wall itself looks no bother to him. Toby Jones and John Goodman as the behind-the-scenes bosses are underused, while Sofia Boutella turns her small role as a rookie into the character you care about the most. As for the twist, it's so obvious that they could've put Chubby Checker blaring from the jukebox in one of the clubs.
If Theron and Leitch do enough at the box office for a sequel, they must dye harder.
We need your consent to load this YouTube contentWe use YouTube to manage extra content that can set cookies on your device and collect data about your activity. Please review their details and accept them to load the content.Manage Preferences
We need your consent to load this apester contentWe use apester to manage extra content that can set cookies on your device and collect data about your activity. Please review their details and accept them to load the content.Manage Preferences