The animated Spidey is back for another immersive arthouse masterclass
Marvelphobics assemble! The only MCU movie we can actually get with swings back into action and once again we are plunged into the kaleidoscopic, kinetic, and multi-dimensional worlds of Phil Lord and Christopher Miller's ingenious take on Spider-Man.
You've heard of the reboot. Well, this dazzling and eye-popping sequel to 2018's triumphant Into The Spider-Verse spins more webs within webs and does nothing less than bring a beloved but jaded character back to life with a volt of pure electricity. Reanimation has rarely looked so good.
We need your consent to load this YouTube contentWe use YouTube to manage extra content that can set cookies on your device and collect data about your activity. Please review their details and accept them to load the content.Manage Preferences
Five years after its release, the first instalment (and of course there's more to come after this one) of this classic 2D comic book/CGI hybrid still holds the highest-ever rating for a superhero movie on Rotten Tomatoes at 97%. It also won an Oscar for best animation. Whether this sequel can claim a prized place in the hearts of Marvel nuts (and us Marvelphobics) will depend on attentions spans (this is a hardly snippy two hours and twenty long) and, well, how many Spidey-saurs, Spider-Cats (shudder) and, yes, Spider-Punks you are willing to take scuttling around the screen.
As with that triumphant first movie, the screen is alive with some of the most impressive animation ever committed to celluloid. Classic comic book drawing techniques mesh with the latest computer-generated visuals to trippy, zappy, and psychedelic grand effect.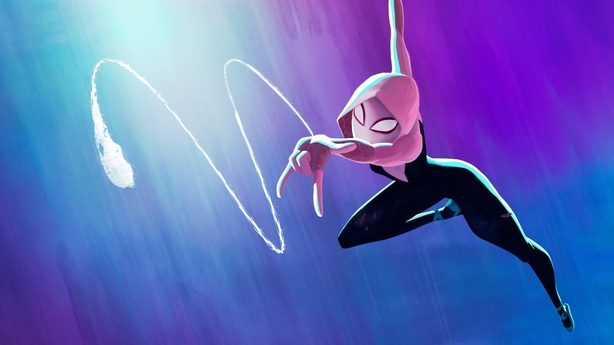 This time out, Miles Morales (Shameik Moore), the hip young webslinger who leads a double life as a crime fighter and a student in a school for gifted kids, has a new super villain to defeat. This is The Spot (Jason Schwartzman), whose body is a series of holes that look like a shapeshifting, unfinished sketch, and he's got a score to settle with our young hero. "I'm more than a villain of the week," he taunts Miles. "I am your nemesis!"
Their first encounter in a midtown bodega leads to a massive ding-dong in The Guggenheim with an early incarnation of The Vulture, recast as a beaked baddy from Renaissance Italy. "You call that art?" he crows as he doodles Da Vinci cartoons in the air while kicking Spidey caboose and we joyfully witness a piece of Jeff Koons' tat smash into smithereens.
It's a breakneck curtain raiser that scuttles about with the unpredictability of that titular arachnid but as the actual plot (usually a tacked-on afterthought in the exhausting MCU) develops, you may feel something you rarely feel when it comes to Marvel's CGIed cast of lunkheads and morally compromised bores - concern.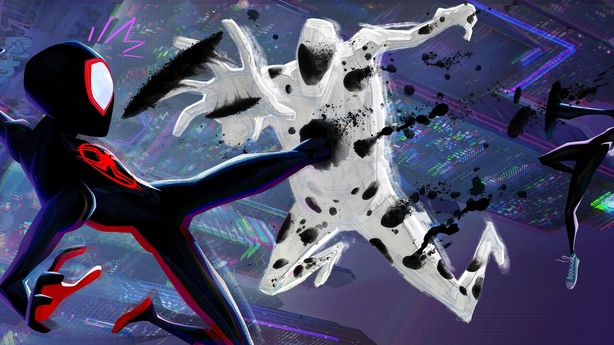 Miles is still causing his parents huge worries with his unpredictability, skittishness, and secretive ways and across town, his friend Gwen Stacy (Hailee Steinfeld) is still living her own Spidey life. However, she's just stormed out of her latest band (in a touching reference to the late Mic Christopher, they're called The Mary Janes) and is at war with her police-captain dad (Shea Whigham).
However, since the events of the last movie and unbeknownst to Miles, she's been recruited into a team of Spideys whose duty it is to keep the equilibrium of the Spider-Verse intact. We are ushered into a head-spinning multiverse populated by as many spider people as there are species of spider or, for that matter, spiders and a story that sees Miles' very existence compromised by a glitch in the Spidey space time continuum. Or something.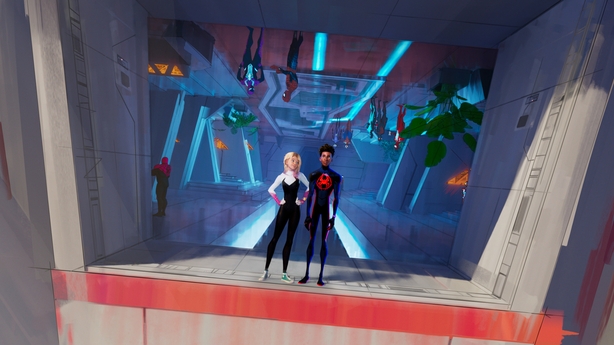 The visual dexterity is pushed to almost maddening limits. Forget the plot, just luxuriate in the eye-popping animation on screen. It bzzzzts with glitchy static in some scenes, while others are like watching 3D without those damn glasses. The work of old school comic book maestros Steve Ditko and Jack Kirby bump up against pop art, op art and in heart-tugging scenes between Gwen and her father, impressionist water colours slide down the screen. Hell, you could even describe those Ben-Day dots as pointillism.
With more than 240 characters across six dimensions, the film's three directors try to wrangle the competing and conflicted multiverses into some kind of narrative order. They don't always succeed, and you may find your mind wandering and your patience tried as interlocking story webs are spun. Sadly, in the last half hour, the whole mad thing falls victim to the MCU's mind numbing maximalism and loses both grace and pace.
However, good chemistry, a witty script, non-stop visual gags, and charismatic performances from Steinfeld, Moore and a deliciously snarky Schwartzman as the Spot keep the sensory overload centred. Kind of.
Sink back and enjoy. You'll need eight eyes to take it all in.
Alan Corr @CorrAlan2