Film director, writer and producer Adam McKay will be honoured at next year's Oscar Wilde Awards.
The annual awards ceremony is put on by the US-Ireland Alliance to celebrate the contribution Ireland makes to film, television and music.
Announcing McKay as the first honouree at next year's ceremony, Trina Vargo, founder and president of the US-Ireland Alliance said: "We're thrilled to be honoring Adam. A great storyteller, of course he's Irish.
"On the maternal side of his family, Adam has roots in Cork, and his paternal side are from Tyrone, Northern Ireland, and Scotland. He even has a home in Ireland."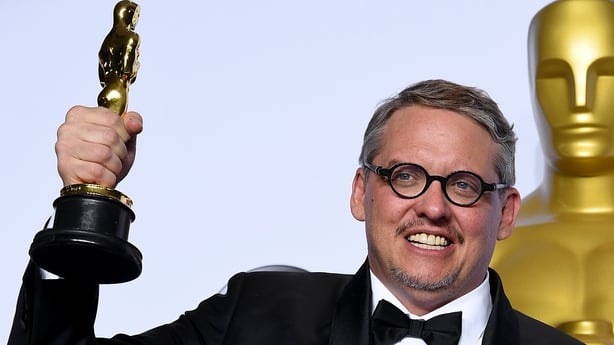 McKay's upcoming includes the highly-anticipated Netflix comedy Don't Look Up, starring Jennifer Lawrence, Leonardo DiCaprio and Meryl Streep, The Menu, starring Anya Taylor-Joy, Nicholas Hoult and Ralph Fiennes, and Fresh, starring Normal People star Daisy Edgar-Jones and Sebastian Stan.
Recent credits also include Olivia Smart's directorial debut Booksmart, the Jennifer Lopez-starring drama Hustlers and the Netflix show Dead to Me in 2019.
The director's 2018 release Vice, starring Christian Bale and Amy Adams, went on to receive many accolades including eight Academy Award nominations, six Golden Globe and BAFTA nominations.
In 2015, McKay and Charles Randolph adapted Michael Lewis's New York Times best-selling book, The Big Short, for the big screen and won Best Adapted Screenplay at the Academy Awards.
McKay is the first 2022 honouree to be announced for the Oscar Wilde Awards, which take place every year before the Academy Awards. Next year's ceremony will take place on March 24 at J.J. Abrams' Bad Robot production company in Santa Monica.
Among the sponsors of the event is Screen Ireland, the national development agency supporting Irish content across all screens fostering Irish artistic vision and creative talent in film, television, and animation.
Previous recipients of the Oscar Wilde Award include Mark Hamill, Jim Sheridan, Chris O'Dowd, Colin Farrell, Caitriona Balfe, Ruth Negga, Sarah Bolger, Lenny Abrahamson, Saoirse Ronan, Brendan Gleeson, Jonathan Rhys Meyers and Neil Jordan.