Anne Doyle has dashed fans' hopes of a return to Waterford Whispers News following her classic cameo on RTÉ Does Comic Relief in June.
As expected, the Nine  O'Clock News legend was one of the stars of the charity telethon, on a night when she reported that a Vatican plane had doused RTÉ with Holy water because it had shown Normal People.
Doyle also told viewers about a €30m Matt Damon museum in Dalkey; the arrest of Dáithí Ó Sé for trying to illegally buy more fadas on the black market; and that First Communion children could now apply for the Covid-19 welfare payment to recover "any loss of earnings".
We need your consent to load this rte-player contentWe use rte-player to manage extra content that can set cookies on your device and collect data about your activity. Please review their details and accept them to load the content.Manage Preferences
But despite the rave reaction to her foray into satire, Doyle has told the weekend edition of The Irish Times that her teaming up with Waterford Whispers News was a one-off.
"Well, what's seldom is wonderful," she told journalist Tanya Sweeney. "I like their stuff and find them very funny so I said I'd do it. 
"I did it like a straight bulletin - you don't want do be doing any comedy, after all. Which of us isn't flattered when someone likes something that you do? It was a funny script, and didn't really require major skills on my part."
Journalist Sweeney also gives readers the bad news that: "Anyone hoping for Anne Doyle: The Podcast will have a wait on their hands too: she is a Luddite, and proud of it."
"I don't do Twitter - I wouldn't trust myself," says Doyle, who signed off as an RTÉ News presenter on Christmas Night in 2011. "I don't consider that I'm not reliable enough or that I'd turn into Donald [Trump] or anything, but I'd be terrified I'd say things I might regret. I don't mean in terms of political correctness or anything, but that you might take a bad notion."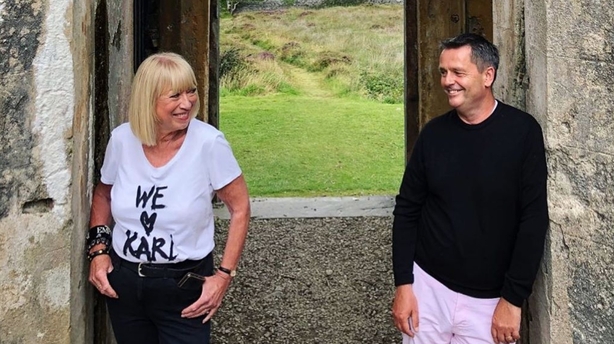 The full interview is in the weekend edition of The Irish Times. Doyle joins her friend and former RTÉ News colleague Aengus Mac Grianna on a visit to Donegal for RTÉ One's No Place Like Home this Sunday at 6:30pm.