After her hilarious return to screens presenting Waterford Whispers News on RTÉ Does Comic Relief, Anne Doyle once again left fans wanting more when she appeared on Monday's Claire Byrne Live on RTÉ One, forming a memorable across-the-studio double act with singer Brian Kennedy.
The Nine O'Clock News legend and Kennedy were in studio to discuss the easing of Covid-19 restrictions when Kennedy turned the conversation to Doyle's classic Friday night cameo during RTÉ Does Comic Relief.
"How good was she on Waterford Whispers?" he asked. "Come on, you have to get your own show eventually, Anne!"
"No, you just want to see me make a holy show of myself again!" smiled Doyle.
We need your consent to load this rte-player contentWe use rte-player to manage extra content that can set cookies on your device and collect data about your activity. Please review their details and accept them to load the content.Manage Preferences
But the clamour for Doyle to reprise her Waterford Whispers anchor role will only grow after her appearance on Monday night - she delivered one great line after another while also emphasing the need for people to realise that vigilance is still needed in the fight against Covid-19.
Doyle said it had been "a great relief to be at the hairdresser's first thing this morning".
"To be honest, Claire, if you met me au naturel with my usual hair, you would understand that the hairdresser is a very important part of my life. It's not a pretty sight! It's a fairly wild beast!"
The Wexford native the shared the funny side of her life during lockdown, and the cravings it caused. 
"I'm very lucky where I live," she explained. "I have great opportunities to drop in locally, say to the National Gallery. I have a curious fondness for the Natural History Museum. I've a weakness for it! 
"And, unlike Brian, I'm not really a very solitary person. Some parts of the day I enjoy being on my own, but yep, I miss the company. I miss being out and about. And I miss simple things like, you know, you couldn't go to the pictures. And I don't go to the pictures all that often, Claire! It's just when you can't do something you want to! 
"And because I don't drive, I found the restrictions... I mean, I did appreciate their point and their value, but I found, you know, the 2km, the 5km... I mean, I looked at the Wexford bus with yearning! I wanted to see the hedgerows going by. And it passes by where I live, you know, and I see it all the time! And I thought, 'Oh God, I want to be on the Wexford bus!' You know that desire? Just for the day to be in a different place."
"Are you worried about the virus?" asked the host. "Does it scare you?"
"No, but I'm very respectful of my own health, but also particularly of other people's," Doyle replied.
"I'm very glad to go back out in the world. I didn't withdraw from it. I did withdraw from it to practise eating and drinking too much! Brian and I were discussing there's so much more of us to love now than there was four months ago!" 
"But no, I'm not scared," she added. "But while always putting health and safety first, I think we do need to look at making a contribution to trying to get our economy running again. Not by endangering people's health, but, you know, we cannot have a country where all the money is going out and none is coming in. I don't mean to be crass about that, but it really is a very important consideration."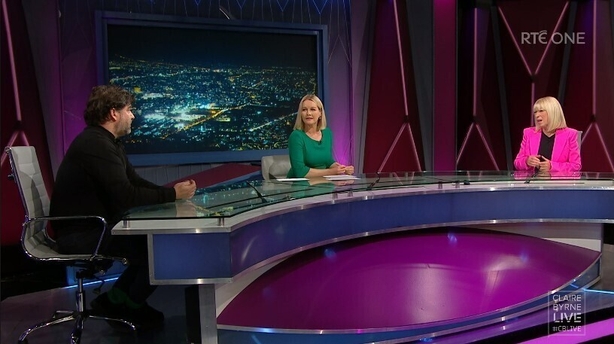 Doyle said that, like Kennedy, she would love to see "courting, old-fashioned style" making a comeback as the restrictions are eased.
She also found time to judge a mask-making competition where virus experts Professor Sam McConkey and Professor Luke O'Neill took to the sewing machines to make an important point about keeping people safe.
Doyle described them as "men happy at their work", but lamented that neither had designed a mask featuring "my county's splendid purple and gold".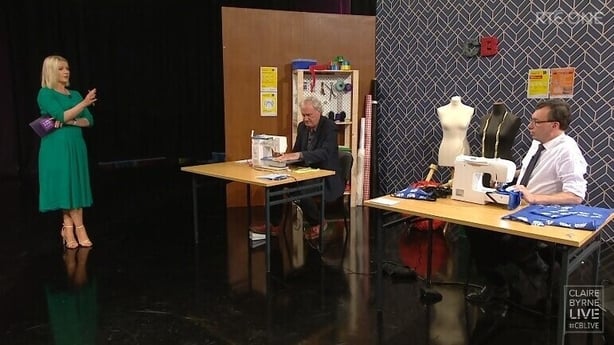 "I suppose a dead heat would be out of the question?" she asked.
When told that she had to pick a winner, she chose Professor O'Neill's creation. Kennedy, who said he felt he was "in a weird episode of RuPaul's Mask Race", chose Professor McConkey's.
Watch the show on the RTÉ Player.