Anne Doyle read her final broadcast on RTÉ One on Christmas Night, exactly 33 years to the day since she first appeared on national television.
She read an eight-minute main evening news bulletin at 8.50pm, shorter and earlier than usual because of the Christmas schedule.
The broadcast ended with a special report which looked back at her long and distinguished career at Montrose.
Among those to pay homage to her were Taoiseach Enda Kenny, broadcaster Gay Byrne and Dustin the Turkey.
View our special tribute gallery

RTÉ Director General, Noel Curran, has also paid tribute to her. He said: "Anne Doyle has for many years been one of the most familiar faces and voices on RTÉ's services and is in the front rank of the public's affections.
"While always reading the News with detachment and authority, she has evident warmth which the public has instinctively recognised.
"Anne has been a vital and dedicated member of our News team, while always remaining recognisably and very much herself. She will be missed by the public and we will miss her."
Managing Director of RTÉ News and Current Affairs, Cillian de Paor, said of his newsroom colleague: "This is genuinely the end of an era in our newsroom. Anne's on-screen professionalism has made her a favourite with our audience for many years.
"We know her for other things – for her wit, her lively personality, her legendary loyalty to friends, her meticulousness and her formidable skills in argument. Ní bheidh a leithéid ann arís."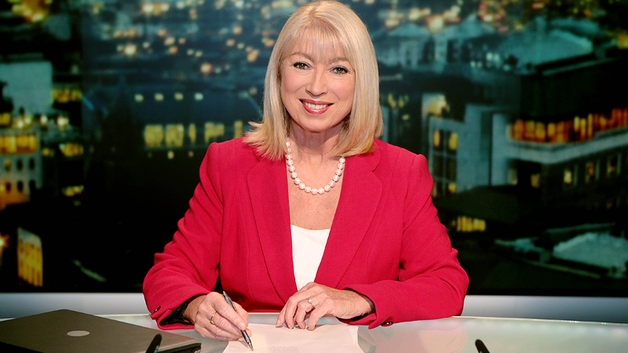 She'll be missed
On Christmas Night, Anne recounted some of the many highlights of her newsreading career with some close colleagues who had dropped in specially to the station following the broadcast and summed her up her long career by saying that: "I've had a wonderful time here in RTÉ and I will miss it hugely, but it feels like the right time to move on.
"I will be 60 in January and there are many exciting projects ahead. I wish all my good friends and colleagues in the newsroom, with whom I have so enjoyed working for over 30 years, every happiness as I take my leave for the final time this evening."
Anne is originally from Ferns, Co Wexford, and is the youngest of seven children.
An Arts graduate from UCD, she first worked as a librarian, then in the Consular Service area of the Department of Foreign Affairs, before joining RTÉ as a newsreader in 1978.
Her interests include animals, particularly cats; literature, poetry, theatre and showbusiness.