On Friday's Late Late Show Colin Farrell echoed the feelings of the entire country during the Covid-19 emergency when he told host Ryan Tubridy: "Some days the head just gets away from you."
The actor joined the final show of the season from his home in Los Angeles and said he has experienced "ups and downs, good days, bad days" during the emergency.
"Some days the head just gets away from you. Other days I've felt connected and centred," he continued. "I've had amazing times with both the kids. Amazing times that I don't think I would have had the opportunity to have. And I've had amazing times with [son] James for 16 years; I've had amazing times with [son] Henry for 10 years.
"But this, the way we've been forced together at such close proximity - we've no escape from each other! It's brought up tensions; we've had arguments, we've worked our way through the arguments, we've made cakes. [I] Try and get a bit of movement going every day, get the lads on the exercise bike and stuff.
"But look, I'm so grateful that I have a home and I have a fridge full of food that we've been able to hunker down. You know, try and play a bit of chess and do a bit of reading and, sure, thank God for Netflix! If I eat any more Ben & Jerry's I may start lactating myself! The diet's been dodgy, but I've been cooking up a storm. We've made homemade Big Macs."
The Dubliner said he had self-isolated for two weeks when he returned to Los Angeles from filming The Batman in the UK, and admitted that it took him some time to find his rhythm.
"I was getting up later than usual every day," he recounted. "I was getting up later - next thing I was going to bed at seven in the morning and getting up at five o'clock. I didn't brush my teeth for two days and stretched out a pair of jocks for three! I had to put in place a plan, get a bit of exercise in and do a little bit of reading every day. And cooking and cleaning has been an amazing thing."
Farrell described it as "such a profound time".
"I don't know what to do; it's day today. And within the day it's hour to hour. I find some days I feel really good and I've an awful amount of gratitude for being alive, for not having encountered it personally, the virus, and nobody I know has gotten it or been lost as a result of it. So I'm very grateful for that."
He said that, like everyone else, the death of George Floyd in Minneapolis had troubled him deeply.
"To be honest man, my heart's broken about it," he said. "To see that with everything that the world is already going through with regards to this pandemic and the amount of loss that's been suffered and experienced by so many people losing loved ones..."
He paid tribute to how Ireland has come together "when the chips are down" and thanked the frontline workers for their "hard-boiled generosity of spirit and compassion and bravery they've shown every day".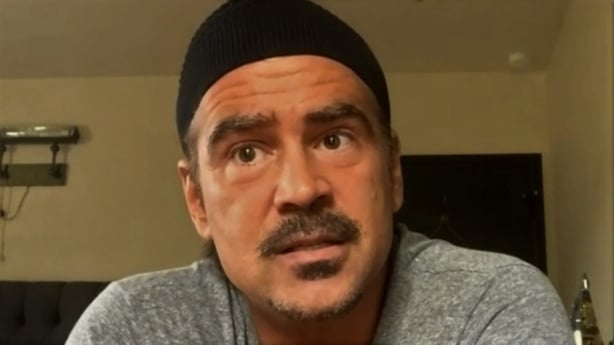 "I don't know if there is going back to normal; I don't even know what normal is," he said. "The world has been very changed. There has been an amazing amount of consideration and compassion and value placed on not only the individual's own life, but extending out into the community that I've felt and I've observed. And that's been incredibly moving.
"This period, you just realise... The delusion that we, or certainly that I've lived in, where I, even without much awareness, moved through the days thinking that I've a greater control over my life than I actually have... I think one of the things that I've become keenly aware of is my vulnerability, our vulnerability as a species."
Farrell said he was hoping for "brighter days ahead".
"Thank God there is the degree of kindness and there is the degree of community that's being demonstrated so readily around the world, because if there wasn't kindness and compassion and generosity and consideration the world would just fall off its axis. God knows there's enough confusion and cruelty and malignancy. So yeah, there have to be brighter days ahead. And fingers crossed for everyone involved."
If you have been affected by issues raised in this story, please visit: www.rte.ie/helplines.
Farrell's new film, the Eoin Colfer adaptation Artemis Fowl, premieres on Disney+ from Friday, June 12.