President Michael D Higgins has said that post-Covid-19, there was an opportunity to put a better fit between the economy and society and the environment.
Paying tribute to the contribution of frontline and essential workers during the coronavirus outbreak, he said consideration needed to be given to how they are paid, their job security and working conditions.
Speaking on RTÉ's Late Late Show, President Higgins said there is also an opportunity to evaluate how we as a country deal with issues such as health, housing and childcare.
The President said: "To think that of all those infected, 34% are people who are delivering themselves into the shadow of Covid every day and I thought not only of them but they have to leave home and their families behind.
"And the others who stand behind, the people who do the cleaning, the postmen who go from house-to-house. These are the essential workers, society couldn't function without them. We pay tribute to them and thank them but we wouldn't just want to leave it that.
"We have to ask ourselves a question - have we underrated the contribution of this most important part of our lives? We need to follow through and look at how they are remunerated, their security and the conditions they are asked to work in. So that is why it is appropriate that we are discussing this in front of the Starry Plough, a monument that celebrates workers."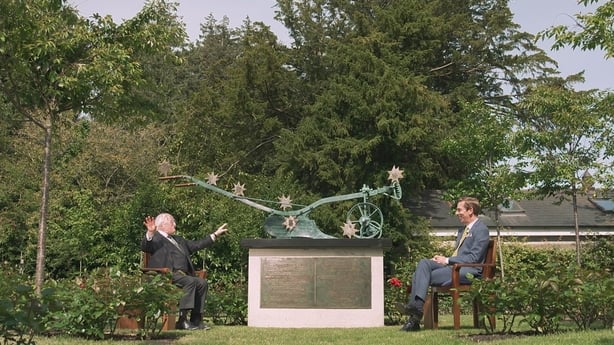 He added that it is not about "blame" but reminding ourselves about what is the nature of work.
"Is it not the case that care work wasn't given the same status as other work and wasn't remunerated enough?" President Higgins asked.
In the interview, conducted at Áras an Uachtaráin, President Higgins said that we have an opportunity to provide a "better fit" between economy, environment and society as the world learns to live with Covid.
"I see coming out of this not just an opportunity of responding or exiting from Covid but actually a whole new shape," he said. "Build the compassion and the kindness into our relationships."
"Across the board there seems to be a great promising moment in which we might say we are going to do health differently, we are going to do housing differently, we're going to do the issue of childcare differently," he said.
He said there has been "huge support" for "something new" to allow us build kindness into our relationships with each other.
The President said we owe it to workers in precarious employment to remove that element, while also giving people a living income to enable them "to participate in society".
"We should come out of the Covid-19 having completely re-thought out the importance of caring".@PresidentIrl Michael D. Higgins. #latelate pic.twitter.com/YXWpyeQHS4

— The Late Late Show (@RTELateLateShow) May 29, 2020
Asked what he would say to people worried about the impact of the pandemic on their livelihoods and families, he said that people should look to and support local economies.
"In the partnerships between workers, unions and employers after Covid, those who are responsible for liquidity will really have to step up. The banking sector has to come to the table with an instrument that can deal with those who are having problems with short-term liquidity."
He added that this also affects rents.
President Higgins also said that lives have been saved because of people making adjustments to their lifestyles during the pandemic.
However, he said that there were mistakes made in the language used in relation to older people. He said we should not have "fudged" what was mandatory and discretionary. He also said he does not like the word "cocooning", saying he would prefer a phrase like "special care in isolation".
President Higgins also called for a review of care work, and role of the State, the voluntary sector and the for-profit sector when the Covid-19 pandemic passes.
Asked about his own experiences during the pandemic, he said that he and his wife Sabina have advantages that others did not have, highlighting concerns about people who were isolating in apartments without balconies or access to the outdoors.
He said that both he and Sabina missed being out with people, but said that many people had written to them wishing them - and their dogs - well.
President Higgins also said that their first grandchild was born earlier this year, prior to the imposition of Covid-19 restrictions, and they are looking forward to being reunited.
He added that he saw great hope for the future. "We owe it to the workers to go back not just to survive but to participate in society," the President added.
---
Read more: Latest coronavirus stories
---