Irish comedian and broadcaster Bernard O'Shea has said that taking part in Dancing with the Stars has given him confidence to take on projects he might not have considered before, as he prepares to make his theatrical acting debut in the Little Miss Sunshine musical next month.
The former Breakfast Republic presenter took part in the dancing competition last year, despite having a "genuine fear of dancing". He went on to describe his experience as "the best thing I've ever done".
O'Shea is now due to make his theatrical debut in the stage production of Little Miss Sunshine, coming to The Olympia Theatre from August 13-17, which is based on the beloved Oscar-winning film. He is playing the role of Grandpa Hoover, made famous by Alan Arkin in the 2006 road movie.
Bernard O'Shea Comedian will make his theatrical acting debut this August as he steps into the role of Grandpa Hoover in LITTLE MISS SUNSHINE @olympiatheatre 13-17 August. @boshea5 stars alongside @LucyOByrne1 who plays Sheryl. #Tickets onsale NOW https://t.co/gUYCN7wwUU pic.twitter.com/BpQsfE3roI

— Ticketmaster Ireland (@TicketmasterIre) July 25, 2019
Speaking to RTÉ Entertainment, O'Shea said that although his gut instinct was "yes" as he loved the film so much, he had some initial doubts.
He said: "I went to see it and I thought 'God will I be able to do this?' and I just went 'No, do you know what, I want to challenge myself here, I want to see can I push myself a little bit more.' 
"Because when I did Dancing with the Stars, albeit I couldn't dance, I was almost like 'Maybe I can do these things'."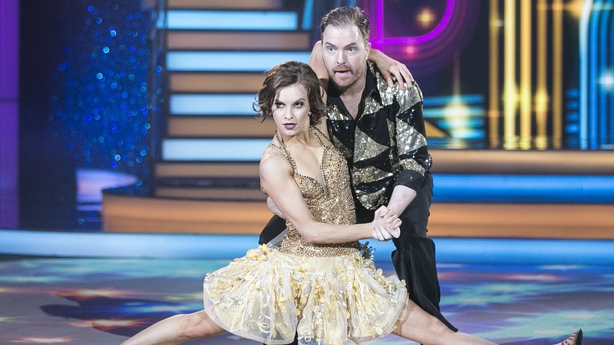 When it was suggested appearing on Dancing with the Stars instilled confidence, he replied: "Absolutely. It was Jennifer Zamparelli that said it to me at the time, we were on Bridget & Eamon and I remember saying 'Oh look they've asked me about Dancing with the Stars', and she said 'Do that show! You better do that show!'
"And she was at me and at me and at me. And it was one of the best things I did, it also drove me to near exhaustion, but it was also one of the best things I ever did. I think I broke my dancer's shoulder because I'm 16 stone and 6 foot 2 so she was dragging me about the place.
"But when I finished up, I thought 'that was difficult, I wasn't great at it, but I did it.'"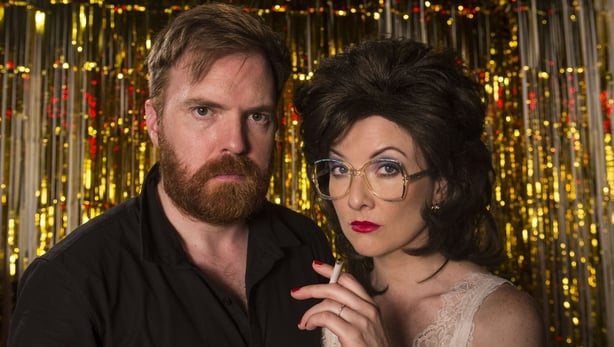 The self-deprecating TV and radio star admitted that he's feeling "really nervous" about taking to the stage next month, despite having years of stage and performing experience under his belt.
"I'm feeling really nervous, but a lot of it, I've not done before, but I've been in acting situations, I've been on stage a lot with the stand-up, I have sung since I'm 12, 13, but putting all three of them together..." he said with a laugh.
"So I'm looking forward to it, I'm looking forward to meeting the cast, I don't know what they're going to make of me. It's like the first day of school! I am nervous but I'm also really looking forward to it. So far they've been really nice."
O'Shea is starting rehearsals next week and has been preparing for the role already.
"I don't want to watch the film again because I think Alan Arkin is one of these national American actor treasures", he said. 
"I've been trying to do the accent," he continued, adopting a gravelly American accent, "But that's fine for four or five seconds, can I do it for an hour? Can I sing like that as well? I don't know!"
We need your consent to load this YouTube contentWe use YouTube to manage extra content that can set cookies on your device and collect data about your activity. Please review their details and accept them to load the content.Manage Preferences
O'Shea has performed in The Olympia Theatre before, but his entrance didn't go quite as planned.
"The last time I played The Olympia, stages have rakes, a slant, and I'd never performed on a stage with a slant. I was doing stand-up and the MC introduced me", he recalled.
"I don't know why, because I never run onto a stage, I'd always just walk out, but I ran out not realising how steep the rake was and I fell straight onto my face, but when you're in a comedy, that's great! 
"I really was in pain, my head was in a lot of pain. So I know there's a rake on that stage anyway that's for certain."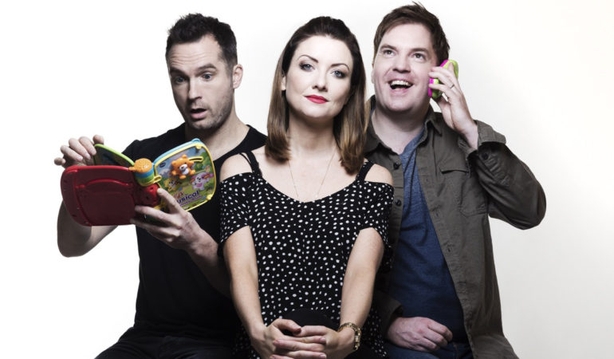 Having finished up on 2fm's morning show Breakfast Republic, which he presented along with Jennifer Zamparelli and Keith Walsh, O'Shea is concentrating on writing and other projects.
It's been a big change to his working lifestyle.
"It's interesting, because I'm in an office, six, seven, eight, sometimes ten hours [a day] depending on how much I have to get done, and I'm on my own. So when I get out it's like a child after eating too much sugar!", he joked.
"It's very different, because I had five years with Keith and Jen and prior to that, me and Jen would be in a box whether it was Bridget & Eamon or radio for roughly 13 hours a day. And then all of a sudden you get out into the big wild world and you're doing other projects and you're meeting other people which is great, but you're also quite solitary.
"I'm writing a book out in October and I'm writing a comedy screenplay, but you're writing it on your own, and that's what I miss, I miss the collaborative thing with other people. But I just had to do it, I had to try and forge it myself."
Although he says it's "odd", the time was right for him to move on from radio.
"Definitely the last year has been very different for me, but if I was still on radio, and I loved radio, but I just had, not enough of it, I just came to a place...", he started, before explaining: "If I was still there I wouldn't be able to do Little Miss Sunshine, I wouldn't be able to do Bernard and Marty, I wouldn't be able to do the other telly thing, there's lots of things I couldn't do."
Little Miss Sunshine comes to The Olympia Theatre Dublin from August 13 - 17. Tickets are on sale now.