The consternation among Game of Thrones fans about the show's ending, and their fascination with the coffee cup and water bottle gaffes in the final series, are "a really great sign", according to HBO's President of Programming Casey Bloys. 
In an interview with US entertainment trade website Deadline, HBO boss Bloys said he wasn't surprised by the reaction to the finale earlier this week.
"To tell you the truth, for a show this big and this sprawling and for a show that has this passionate a fan base, I don't think there is any way that all fans would've been happy," he said. 
"I think based on online reaction, which you do have to take with a grain of salt, it does seem split and I think that's about right - some people are going to love it, some people are going to hate it. But the point is, everybody is feeling really passionate about it."
When asked about fans' fascination with the rogue coffee cup and water bottle onscreen, Bloys replied: "The fascination with that, the divisive reaction to the finale, all of it is a testament to how much people were invested and engaged with the show. Some people have very strong negative options and obviously some positive opinions.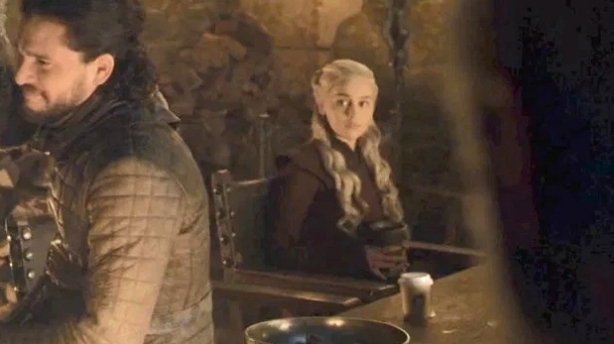 "But I take all of this as a really great sign of what the show has been able to do to stay in the cultural conversation to have people passionately debate the characters and the storylines. That's what you want a show to do."
Looking ahead to the Naomi Watts-starring Game of Thrones prequel, Bloys said it was "too soon to tell" if the series would premiere next year. 
"I have to get a sense from production when we see scripts for a season, how big and involved it is," he explained. "Shooting a pilot in June and having it on the air a year later feels a little rushed, but it's too soon to tell."
When asked for an update on the pilot episode of the planned show, he replied: "The casting was completed a couple of weeks ago. They are busy in Belfast prepping and getting ready to start shooting in a couple of weeks."
Reflecting on the experience of making Game of Thrones, Bloys concluded: "Someone was telling me that maybe it was after Season One, there was a headline saying, 'Ratings show Game of Thrones is no Boardwalk Empire'. It's just a good reminder for everybody that you don't know where the next Game of Thrones, the next water-cooler show is going to come from. It's probably not what you expect. So the best thing you can do is get in business with people you believe in and support them, take shots and see how it goes.
"Game of Thrones, the juggernaut that it is today, is just a good reminder that it doesn't start that way, and when it came out, a lot of people questioned, 'Oh, a fantasy epic at HBO. Does that make sense? I'm not sure that feels like HBO'. You have to continually evolve and push expectation, but keep in mind that everything has to have an extremely high level of quality."