Picture This' trajectory is something to marvel at and Sinead Brennan met them in New York to talk about their whirlwind journey so far, their number one album MDRN LV and the fans that have taken them to such heights.
It was the eve of their album launch, the following morning they would perform on top of the Empire State Building in what has gone down as a real moment for the band, and Picture This' Ryan Hennessy and Jimmy Rainsford balanced self-assured confidence with childlike wonder at being in the position they have found themselves in.
We need your consent to load this rte-player contentWe use rte-player to manage extra content that can set cookies on your device and collect data about your activity. Please review their details and accept them to load the content.Manage Preferences
"This is what we talked about in your f***ing shed three years ago," Ryan said looking to Jimmy.
The four-piece band from Athy, Co. Kildare have achieved so much in just a few years, from number one albums, to sold-out shows and the hugely loyal fan base they have amassed, but being at the epicentre of this whirlwind, they haven't had a chance to really step back and see all they have achieved.
"We haven't really had a chance to step back to be honest. Do we want to? I don't know if that would be good," drummer and producer Jimmy mused.
"It's funny you kind of have little victories privately… It could be the four of us somewhere really normal but we have a moment of 'oh my God this is some craic' you know? And it is, it's a lot of hard work but we were saying today in a taxi somewhere, this is the best, being in a band - don't listen to anyone who is in a band and successful talking about their struggles and stuff - it's the best fun ever, you can't get any better than this."
He added, "You're doing what you love and you get to create amazing things, you have a fan base that loves your music and we are so personal with them as well.
"It's like this massive party that's happening and getting bigger and bigger and you're writing the soundtrack to it."
While a bigger picture reflection has yet to happen, songwriter and frontman Ryan said a gig doesn't go by where he doesn't have a pinch-yourself moment.
"There's always an amazing moment in shows where I'll turn to Jimmy," Ryan said. "I don't know if he even notices, but we'll look at each other for a few seconds and you just have that moment of 'holy s***, we're doing this' and you're standing there and you have this moment and it's like, we're actually here now."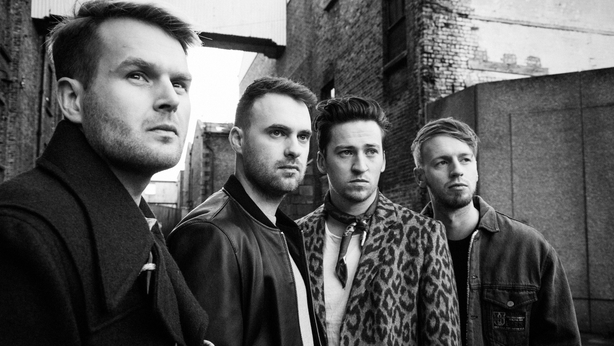 When it comes to writing new music, Ryan will send voice notes of songs to Jimmy, who will then "produce it and make it into a full polished song" a process that has made them into each other's biggest fans.
"I'm always buzzing, I love getting voice notes from Ryan and hearing him, because for me, it's like a fan as well hearing a song for the first time," Jimmy said.
Ryan agreed with Jimmy, having a similar feeling when he is sent back a full song, "It's like me rehearing a song for the first time again, because I'm not very musically capable, in terms of physically playing an instrument or recording, I can't do anything - I can play a few chords on a guitar, that's about it - so I can only write the song, I can't actually see where it should go sonically.
"Jimmy's amazing at that and it's weird how he's never gotten it wrong once, he's never gone away and produced a song and I've gone, 'That's not where I wanted it to go'.
"We've been on the same wavelength since the beginning, and it's like he's giving me back a gift when I hear a song, in a way, I'm like, 'Thanks so much, thanks so much for producing that song like that, it's great, I love it'."
Our @sineadb_rte is in New York City with @picturethis as they launch their new album #MDRNLV from the Empire State Building! Stay tuned for updates 🇺🇸 pic.twitter.com/NWWVF9o4L0

— Entertainment on RTÉ (@RTE_Ents) February 12, 2019
MDRN LV, the follow-up to their 2017 eponymous debut, deals with the myriad of issues our generation faces when it comes to matters of the heart. The songs deal with trust issues, fear of being vulnerable, being vulnerable and getting hurt, confusion, infatuation, technology, heartbreak and the rest. Is modern love rubbish, or is there hope?
"I think we're the most dysfunctional generation there has been, I don't know if there's any chance of coming back from it," Ryan stated.
"I feel like it sounds a bit weird to say, but it's almost like, when I hear stories of how my grandparents met and how my parents met, stuff like that, they're amazing love stories and how they're still together and so strong, and that's across the board for that generation that you don't really hear for this generation.
"Nothing really lasts and people don't work at relationships as much.
"I don't know if love is really even the same thing that it was a long time ago, but on the other hand, this album is about embracing that, dysfunctional relationships and friends and ideas you have in your head, it's about embracing that because people are always talking about how modernity is bad and how it's failing us, but we're here to embrace it and be like, well it also has it's good sides."
He continued, "There's a lot of character in modern love and there's so much character in people's relationships, you hear the most crazy stories you can't believe - for the wrong reasons a lot of the time - but this album is about embracing that, and it's only natural for relationships to go through all of the things that we talk about on the record."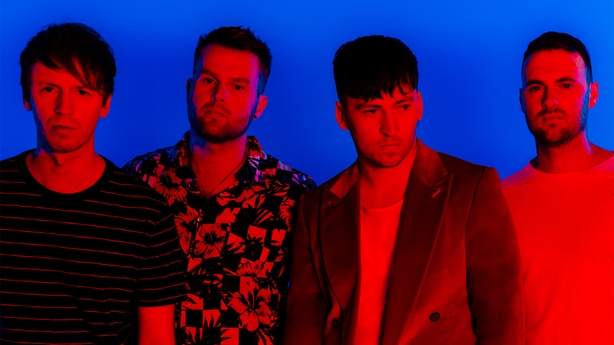 Last year when Picture This announced MDRN LV and their tour, including their (now sold out) 5 night stint in Dublin's 3Arena, they gave fans a taster of where they were going with their sound by releasing One Drink, which is very different to their previous hits.
"It's a more extravagant version of ourselves, and I'm sure the third album is going to be even more extravagant," Ryan said.
"That's why we released One Drink first because it was the most different sounding song we could've done and we wanted see how our fans would react to that and they embraced it."
Was it a relief?
"It was a big relief, that was the most scared I've been in the lifetime of this band," he admitted.
"It was good to put that foot forward first to see how they reacted and they completely embraced it and we gained loads of new fans as well which is always great.
"We didn't want to leave the fans we've had since the beginning behind, and they're growing up with us, they're going through the same things and listening to the same music we're listening to and I think that's reflected in the album."
We need your consent to load this YouTube contentWe use YouTube to manage extra content that can set cookies on your device and collect data about your activity. Please review their details and accept them to load the content.Manage Preferences
Picture This interact with their fans a lot on social media – as Jimmy says "sure why wouldn't we?" – and while Ryan writes from his own personal experience he likes to "keep our fans in mind thinking, will someone relate to this, will someone feel like singing this back to me in a stadium."
Sometimes a song will surprise him.
"Everything or Nothing, when we released that, for some reason I didn't think people were going to relate to it the way they did, I think I thought only I have gone through that experience, so that was the most cathartic experience i've had from releasing a song," Ryan revealed.
"I thought, 'Wow people understand what I'm talking about here. Moments like that are really amazing, to see people really connect with something you've written from a personal place."
As soon as I mention the 3Arena shows, they become visibly excited, with Jimmy in particular lighting up.
"It's going to be like a movie, I can already see it in my head being like, it hasn't happened yet but it already feels like a memory, it's in my head that this is going to be amazing," Jimmy said excitedly.
Ryan added, "I've never been more excited for anything in my life as I am for those shows. It's crazy. I just can't wait for the first night and to be walking out on stage."
MDRN LV is out now. Picture This play Dublin's 3Arena from Wednesday March 27 – Sunday, March 31. They will play Belfast's Botanic Gardens on Friday, June 21 and Saturday, June 22.
We need your consent to load this YouTube contentWe use YouTube to manage extra content that can set cookies on your device and collect data about your activity. Please review their details and accept them to load the content.Manage Preferences