Picture This launched their new album MDRN LV from the top of the Empire State Building in New York on Wednesday.
They did it! @picturethis perform at the Empire State Building to launch their new album #MDRNLV - out Friday! #PictureThis pic.twitter.com/zcwtmVM4sO

— Entertainment on RTÉ (@RTE_Ents) February 13, 2019
The band took to the Observation Deck on the 86th floor of the iconic building on 34th Street to play songs from their second album, which is released this Friday. 
We need your consent to load this Facebook contentWe use Facebook to manage extra content that can set cookies on your device and collect data about your activity. Please review their details and accept them to load the content.Manage Preferences
Speaking to RTÉ Entertainment at the Empire State before the launch, frontman Ryan Hennessey said: "We're very excited about album time in general and to be launching it from the top of the Empire State is crazy, we didn't think it would ever happen,"
"We didn't think it was gonna happen, we wanted it to happen but we thought the Empire State Building was a bit of a reach, but our manager and label pulled it off somehow and we're very excited."
Our @sineadb_rte is in New York City with @picturethis as they launch their new album #MDRNLV from the Empire State Building! Stay tuned for updates 🇺🇸 pic.twitter.com/NWWVF9o4L0

— Entertainment on RTÉ (@RTE_Ents) February 12, 2019
When Picture This announced the details of their follow-up to their eponymous 2017 debut, they played live from the balcony of the Westbury Hotel in Dublin City Centre, so playing 86 floors up in the Manhattan skyline is a big jump for the Athy band.
"We wanted to do it from somewhere iconic, we didn't really think of anywhere, we just wanted a cool setting," Hennessy said of the idea.
Performing #MDRNLV live from the @EmpireStateBldg @RTE2fm pic.twitter.com/hajvHm0DUU

— Picture This (@picturethis) February 13, 2019
"We were thinking like a rooftop in LA or somewhere where you have that backdrop and our manager said, 'What about the Empire State' and we were said 'Yeah if that was possible' and then he was like 'well we got it'."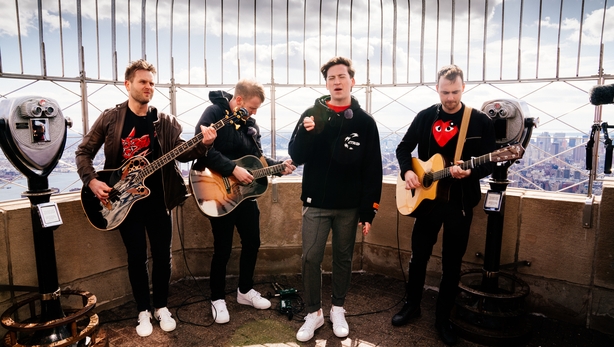 MDRN LV, which features singles One Drink and Everything or Nothing, is released on Friday and the band are looking forward to sharing it with their fans.
"It's always a strange time releasing an album because it feels like its not yours anymore once it's released," Hennessy said.
"Like we have had the album for the last year and for us now to release it, we're giving it over to the fans now on Friday; it's not ours anymore, it's theirs."
The band, who are set to play a five-night sold-out stint at the 3Arena in March, previously told RTÉ Entertainment that their fans are "everything to us".
Keep an eye out for our full interview with Picture This, coming soon. Stay up to date with all the action from New York City on our Facebook and Twitter.
The Eoghan McDermott Show will be broadcasting a special show live from New York City, including performances by Picture This from the Empire State Building, on Thursday on RTE 2fm.
MDRN LV is released on Friday. 
Sinead Brennan in New York