Time's Up, politics and diversity were the big talking points during the Golden Globes ceremony on Sunday night, with stars calling for continued change in Hollywood.
Last year's Golden Globes featured a red carpet black-out in a bid to raise awareness for the Time's Up and #MeToo campaigns, and while colour returned to attendees' clothing, the strive for gender equality was still very much alive.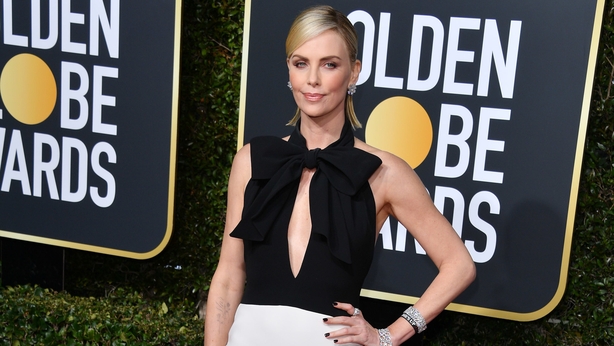 This year a number of stars, including Julianne Moore, Idris Elba, Charlize Theron, Laura Dern and Rachel Brosnahan, wore Time's Up x 2 ribbons as a follow-up to the pins that were a fixture on the red carpet circuit in 2018. Time's Up x 2 aims to encourage companies to double the number of women in decision-making positions.
Regina King, who won the Best Supporting Actress award for her performance in the film If Beale Street Could Talk, used her acceptance speech to issue a Time's Up x 2 challenge while pledging to only work on projects where 50% of the people involved were women.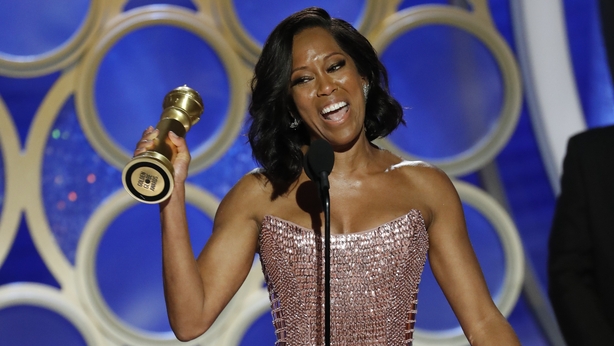 "So often everyone out there hears us on the red carpet and says we are using the time to talk about ourselves and I just want to say Time's Up x 2," King said while accepting her award.
"The reason why we do this is because we understand our microphones are big and we are speaking for everyone and I'm going to say in the next two years everything I produce - I'm making a vow and it's going to be tough - will be 50% women and I challenge everyone out there who is in a position of power, not just in our industry but in all industries, I challenge you to challenge yourselves and stand with us."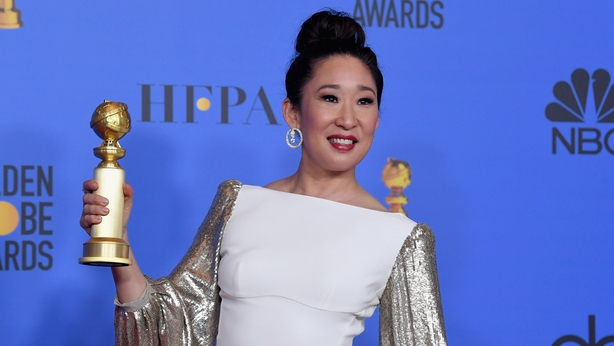 The ceremony's co-host, Sandra Oh, who is the first Asian woman to host a major awards show in the United States, used her opening monologue with Andy Samberg to note the "moment of change".
"I wanted to be here to look out into this audience and witness this moment of change. And I'm not fooling myself. I'm not fooling myself," Oh said.
"Next year could be different. It probably will be. But right now, this moment is real. Trust me, it is real. Because I see you. And I see you. All of these faces of change. And now so will everyone else."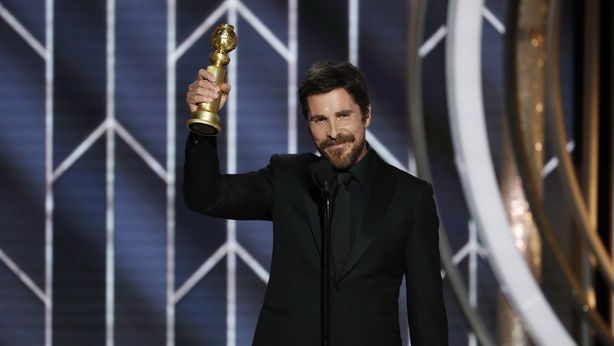 Christian Bale's portrayal of former US Vice President Dick Cheney in Vice saw him win the award for Best Actor in a Motion Picture – Musical or Comedy, and while accepting his award he turned political saying, "Thank you Satan for giving me inspiration on how to play this role."
US President Donald Trump was given less attention at this year's ceremony than last, going unnamed in winners' speeches.
The Assassination of Gianni Versace: American Crime Story producer Brad Simpson did, however, speak about how the negative forces at play in the series are still relevant today.
"As human beings, we should resist in the streets, resist in the ballot box and practise love and empathy in our everyday lives," Simpson said while accepting the award for Best Limited Series or TV Movie.
"Our show is a period piece but those forces are not historical, they are here, they're with us and we must resist."
Simpson also said, "They tell us we should be scared of people who are different of us. They tell us we should put walls around ourselves. As artists, we must fight back by representing those who are not represented."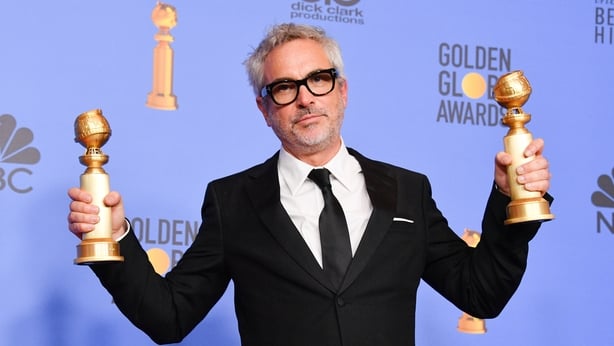 Mexican director Alfonso Cuarón, who won the Best Director honour for his film Roma, which was also named Best Foreign Language Film, spoke about how cinema can "tear down walls and build bridges".
"These experiences and these new shapes and these new faces, we begin to realise that while they may seem strange, they are not unfamiliar. We begin to understand exactly how much we have in common," he said.
The Golden Globes ceremony and red carpet arrivals are on RTÉ2 on Monday night from 9:00pm. The Oscar nominations will be announced on Tuesday, January 22.