Vogue Williams and Spencer Matthews have taken to Instagram to share some cute photos of their baby boy Theodore who they welcomed in September.
The couple introduced Theordore to the world with a Hello! magazine photoshoot and now they have given followers another glimpse of their son on social media.
The Irish TV presenter posted a picture of Theordore wearing a knitted babygrow with the caption: "Look at that smile....Theodore you are my world ❤️❤️❤️!"
Former Made In Chelsea star Matthews posted a close-up shot of their baby boy yawning, with the caption: "What's up guys!! I'm Theodore and daddy thinks I look the cutest in my bunny hoodie."
Matthews also posted a photo of him grinning widely while holding his son in his arms.
On Wednesday morning, the 29-year-old reality star published a selfie of himself and one-month-old Theodore lying in bed, writing: "Morning from the Matthews boys!!"
Last weekend, Williams posted a snap of herself and Matthews out on a "date night" but revealed that the exhaustion of parenthood caught up on them.
"When we had a date night and almost fell asleep at the table at 8pm...Day dates are the way forward, Theodore in tow and bed by 7", she captioned the picture.
Williams and Spencer tied the knot in an intimate ceremony in Scotland in June after becoming engaged in February.
Williams previously admitted she knows her partner will be a great dad because he's so "good" with children.
Speaking to OK! magazine, she said: "He's going to be a hands-on dad. He's so excited.
"He just has a thing with children - they love him and he loves hanging around with them. He's going to be a really great dad."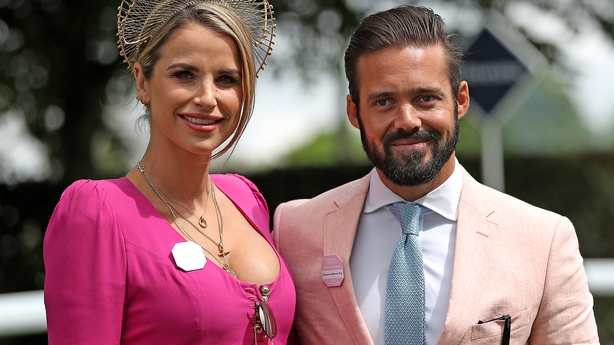 Williams previously revealed she is already thinking of welcoming another child to their family.