Made in Chelsea star Matthew Spencer popped the question to Irish model and presenter Vogue Williams following a live performance of The Lion King in London.
The 28-year-old reality star got down on one knee after taking the 32-year-old Dublin model and DJ to see the popular Disney musical on Wednesday.
After announcing their happy news, Spencer said in a statement: "I've known Vogue was the one for a long time.
"We're very happy and in love. She's my best friend and I can't wait to spend the rest of my life with her."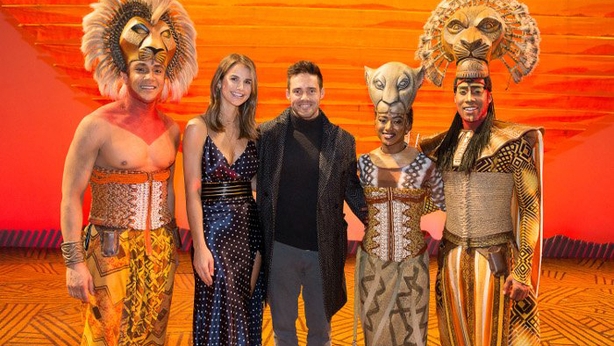 A spokesperson for the pair said: "The couple are absolutely over the moon and thrilled to share their exciting news."
The reality TV star added that he wanted the engagement to be "special" and explained why he went for the theatre proposal.
"The engagement had to be special, and as our first trip away together was to Disneyland Paris, it felt like the perfect fit.
"The Lion King is also one of the greatest stories of all time, so I figured that having just had a romantic evening watching it, she'd probably say yes!", he said.
Vogue Williams took to Instagram on Thursday to post a photo of herself smiling widely with her diamond engagement ring proudly on display. Spencer posted the same image on his Instagram account along with the caption "SHE SAID YES" and a heart emoji.
Matthews previously said Williams "is absolutely the one" for him, adding that marriage is a possibility for the couple.
"[Marriage] is a possibility I wouldn't rule out. You've caught me at a really loved-up moment. Vogue's going to be mortified", he said last October.
People have taken to Twitter to wish the newly engaged couple their best wishes.
A huge congrats to @VogueWilliams and @SpencerMatthews on their engagement! ☺️ Lovely news x

— Melanie Finn (@Melfinn1) February 1, 2018
Congrats to newly engaged @SpencerMatthews and @VogueWilliams - some cheery celeb news for once! And all thanks to The Jump!

— Lebby Eyres (@LebbyE) February 1, 2018
Argh amazing news ❤️❤️ congratulations to you both ❤️😘

— Claire💜 (@ClaireNaylor78) February 1, 2018
Congratulations to you both. Wishing you many years of happiness xx

— Ger Kearney (@GerKearney25) February 1, 2018
@VogueWilliams Congratulations Vogue and Spencer! Thrilled for you both. You're punchin well above your weight here Spencer! Lucky man. Looking forward to seeing the Sparkler. #congratulation

— Mayree Ann O'Carroll (@Banrion1) February 1, 2018
Congratulations to you both , you seem so suited ! Loved spenny in MIC but now he finally looks settled and content. Love Vogue humour too x

— TRACEY CONNOLLY (@TRACEYCON) February 1, 2018
Omg so so happy for them both! Beautiful couple inside and out xx

— penny andrews (@penny149) February 1, 2018
@SpencerMatthews @VogueWilliams Congrats on engagement fair play Spencer. U can't beat the Irish💚

— Siobhan White (@Siobhan27062154) February 1, 2018
Congratulations on your engagement @VogueWilliams and @SpencerMatthews 🎉💍💞 lovely couple xx pic.twitter.com/YGnDp9Yrpy

— Vicky 🍁🍂 (@vickybartlettx) February 1, 2018
Couldn't be happier for these two. Absolute couples goals! Congratulations @VogueWilliams and @SpencerMatthews! Such a gorgeous couple xxx https://t.co/3IF3c9mQQs

— Amy Brookbanks (@AmyBrookbanks) February 1, 2018
Williams was previously married to Westlife star Brian McFadden before they split in 2015 after almost three years of marriage.