Westlife have officially confirmed their plans to reunite and have delighted fans with the announcement that they will embark on a huge stadium and arena tour next year, along with releasing a new album. 
The group made up of Kian Egan, Nicky Byrne, Mark Feehily and Shane Filan, shared a short video on Facebook and Twitter to confirm that they have reunited.
The 30 second piece concluded with the announcement: "New Music. New Tour."
October 3, 2018
Speaking to The Sun, Filan said: "We still have a lot that we want to achieve as a band and we want to bring our new music to fans all over the world."
Nicky added: "While we were away, we realised what Westlife really meant to the fans — and to us."
Kian said he can't wait to rock out on stage, saying: "This time around our children will get to enjoy Westlife and see their daddies on stage."
Meanwhile, Mark said the band is as close as ever, adding: "It felt so great to be back in the studio together and hanging out with each other again. It just felt right."
"We're fresh, ready and so excited for this new next chapter of Westlife."
The reunion means the four-piece are set to play their first dates since their farewell shows in Croke Park in 2012 and their first new album since 2010's Gravity.
Fans were overjoyed by the news and took to social media to express their delight:
Finally!!!!! 🙏🏻 Hardest secret I've ever had to keep. Good luck lads ❤️ https://t.co/4FKHLzA8pH

— Jenny Greene (@djjennygreene) October 3, 2018
Well. It's official! @NickyByrne's going back on the road with the @westlifemusic boys ❤️

We'll be front row centre at the first gig, cowboy hats and all 🤠🎶

Tune in to Nicky & Jenny tomorrow morning from 10am for all the juice ☕️ pic.twitter.com/NzOtxTU7kv

— RTÉ 2FM (@RTE2fm) October 3, 2018
Well I have to say this is literally the best thing that could EVER happen to me ever in my life ever ever ever. And I have also never sobbed so much in the space of 5 minutes #Westlife

— Jess Doyle (@JessDoylex) October 3, 2018
So happy to have u guys back can't wait for the album and tour!! #Westlife

— claire moffat (@clairedrury10) October 3, 2018
I'm still shaking 😂 #westlifeareback  #Westlife #WestlifeReunion

— I ❤️ Pandas (@jacqueline65wl) October 3, 2018
Guys it's real, its really happening ! I just... OMG I can't believe it, my dream will finally come true !! I will see my fav band live ! OMG 😭😱😱 #WestlifeReunion #Westlife

— Lia 🎶 (@lia23_w) October 3, 2018
Last month, fans were whipped into a frenzy by a report claiming a reunion is "definitely happening".
At the time, The Irish Sun quoted a source as saying the band will be getting back together, but without original member Brian McFadden.
The insider told the newspaper: "It's signed, sealed and delivered and it's definitely happening - and it absolutely does not include Brian McFadden.
"The other guys have been lined up to return to the studio and record some new songs and tour dates have even been organised, so it's definitely going ahead this time. There's been a lot of speculation, but this time it's a done deal and contracts have been signed."
Westlife announced they were splitting "amicably" in 2011 after 14 years and 26 top ten hits.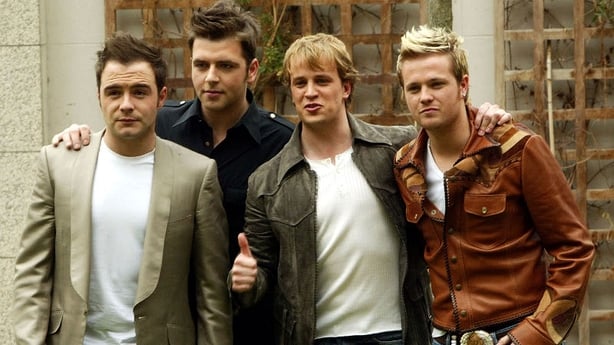 Since they parted ways, Shane Filan has released three solo albums, Nicky Byrne has presented a show on 2fm and co-hosted Dancing with the Stars,Kian Egan has appeared as a judge on The Voice of Ireland and Mark Feehily has released two solo albums.
Meanwhile, ex member Brian McFadden has been touring with Boyzone star Keith Duffy as Boyzlife, a mash-up between the two boybands.
Take a trip down memory lane with some photos of Westlife over the years here.