The sun came out last night over Croke Park as 85,000 fans came out to wish a fond farewell to Westlife after 14 years in the music business. Suzanne Byrne reports
Westlife kicked off that they called "the biggest weekend of our lives" last night with the first of two farewell shows in Croke Park in spectacular fashion.
Four effigies of band members, Shane Filan, Nicky Byrne, Kian Egan and Mark Feehily, appeared on stage and suddenly burst into flames before the real Westlife ascended the stage to sing their opening number What About Now.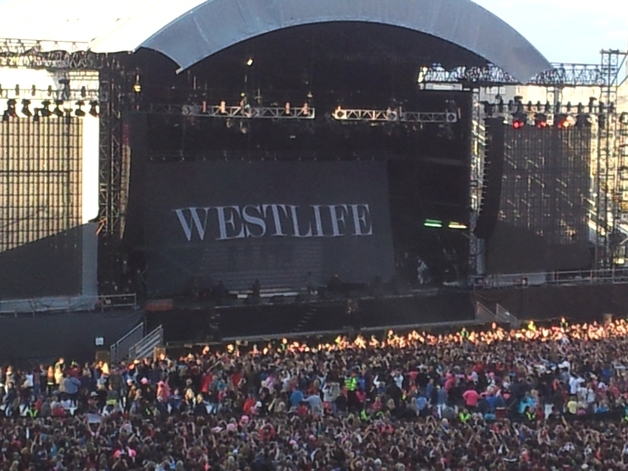 Dressed in leather jackets and casual trousers the foursome were in fine voice as was every single fan in the audience – male, female, young or old, they could all be seen singing along.
An overwhelmed Shane Filan choked back the tears after their second song, What Makes A Man. The 32-year-old Sligo native could clearly be seen taking in what a momentous occasion it was for the four lads who have 14 number one singles under their belt as well as racking up 45 million album sales during their 14-year career.
Up next was My Love from their second album Coast to Coast which led to the first of many arm-swaying moments of the night.
Kian Egan then welcomed the crowd and said "This is the weekend we have been waiting for. Ireland you have made us feel very special. Tonight we want to give you the best memories of Westlife ever. We don't want anyone to walk out sad. 14 years is more than anyone expected."
With that, the crowd joined them in rousing rendition of Safe from the 2010 album Gravity.
Hundreds of flags – including some from Germany, Czech Republic and Spain – and banners were held aloft throughout the crowd. As Nicky spent some time reading them he said: "I will miss reading the banners at the concerts. You know, they got dirtier and filthier the older our fans become."
After a quick change of clothes the boys took the stage in fetching blue jackets for a rocked-up version of Uptown Girl and gave us a glimpse at some of those infamous Westlife moves. Ok so they're wasn't many of them during their 14 years – they seemed to prefer the safety of a stool until the obligatory stand-up at the key change moment - but they are masters of microphone dipping and toe crossovers which they showed off in abundance last night.
As we waited for Westlife to be joined by their family on stage Nicky quipped: "So what are all the men going to buy for their girlfriends and wives at Christmas now that there will be no more Westlife gigs. Tickets to One Direction!"
With everyone in place, Shane, Nicky, Kian and Mark, dedicated Queen of my Heart, to their families both present and those who have passed during their careers. Both Kian and Nicky lost their dads during their success and Nicky said: "Even though our dads may not be with us tonight, we know they are here in spirit and are proudly looking down on us".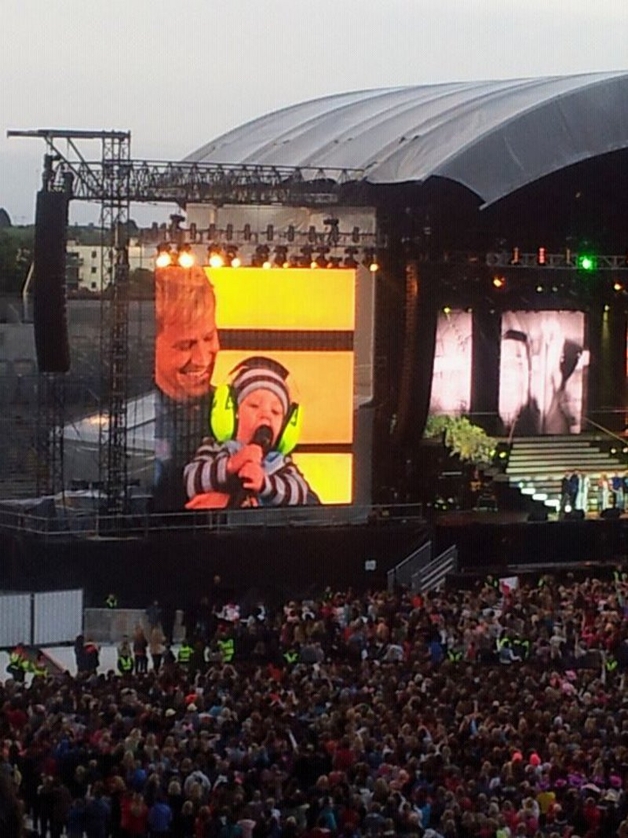 Then, in possibly the cutest moment of the night, Kian's 6-month-old son Koa decided he could do a better job than daddy and took the mic from him.
They finished this section with a nod to their 2004 swing album, Allow Us To Be Frank, with Ain't That A Kick In The Head.
Another costume changes saw the lads don some pretty interesting shirts with tight fitting jeans. Bounding back onto the stage the crowd went wild as they belted out the Black Eyed Peas number I Gotta A Feeling. Cue fireworks a whole lot of dodgy-daddy-dancing and as the music changed to the LMFAO's Party Rock Anthem there was some interesting attempts at shuffling.
The medley of covers continued with some fancy fire effects for the Kings of Leon's Sex on Fire which was followed by The Pussy Cats Doll's Don't Cha - tight jeans, big screens and plenty of hip thrusting sent the already excited fans into a frenzy.
A version of Robbie William's Let Me Entertain You brought on the chicken dance and then they finished this segment with Bohemian Rhapsody - during which Kian played the guitar.
After yet another outfit change – white and grey trousers, vests and jackets – the boys continued the party with When You're Looking Like That.
Shane, Nicky, Kian and Mark then made their way through the crowd – high-fiving fans along the way - to a smaller second stage in the middle of the standing section and where they immediately started a Mexican Wave around the stadium.
Before they sang Mandy, Mark said: "I can't even explain what it feels like to be home tonight."
Next up was Swear It Again which Mark described as, "a very special song that started our careers." The track was Westlife's very first number one from their debut multi-million selling album Westlife.
As the sun went down on Croke Park each member of Westlife took their turn to say goodbye to their fans.
Kian said: "We haven't used the word farewell until this weekend. When we started in the band when we were 15 or 16 we never dreamed we would play Croke Park, then we met Louis Walsh and he is the man that made all our dreams come true. He brought us to Simon Cowell and they made Westlife a worldwide hit. And now we are here saying goodbye, and it's not easy, it's not easy at all."
Nicky followed with: "I want each and every one of you to know you have played a vital role in making Westlife what we are today. We will never forget you. You have given us a million memories".
A teary eyed Mark was up next: "This goodbye is too difficult to put into words. We've dreamt about this night. This is our heartfelt thank you to you. Not only supporting us in our music but in different parts of our lives. You are like friends."
Last to speak was Shane and he said: "We've come from playing infront of 240 people to 85,000, it's very hard to walk away from this. But everything has to come to an end."
And with that, the strains of You Raise Me Up could be heard, mobile phones lit up and were swayed in the air as the stadium sang in unison.
A bow and wave goodbye and the boys then left the stage, building anticipation for their final encore.
After five minutes of stomping, screaming and chants of 'we want more', Westlife appeared one last time dressed in jeans, shirts, bow-ties and suit jackets. The crowd roared appreciatively and jump up and down through World Of Our Own.
After an emotional version of Flying Without Wings it was time for the lads to take their final bow, and with one last look around the stadium in amazement they were gone.
For anyone going to tonight's gig, this is definitely a party for the fans - you will leave with a smile, no voice and sore hands from clapping. Enjoy!