Homecoming 1993 and young teenager Cameron Post (Cholë Grace Moretz) is caught having intimate relations with her girl pal Coley Taylor (Quinn Shepherd) in a car. Cameron's parents died in a car accident, so her carer Ruth (Kerry Butler) sends her off to the kind of place that used to be called a 'reformatory' in this country.
The mind-bending institute, where she will board and attend school classes, is called God's Promise and it is run by a few creepy cult types led by Reverend Rick (John Gallagher Jr) and his odiously oleaginous sister Dr Lydia Marsh (Jennifer Ehle), with help too from Rick's girlfriend Bethany (Marin Ireland). These so-called reformers exude wholesomeness, ineptness and oily awfulness in equal measure.
On arrival at the institute, Cameron - now to be deemed 'a disciple' henceforth - is handed a contract and there is a suitcase search. Her Breeders cassette is confiscated, Reverend Rick figures they don't preach God's message.
We need your consent to load this YouTube contentWe use YouTube to manage extra content that can set cookies on your device and collect data about your activity. Please review their details and accept them to load the content.Manage Preferences
Even before God's Promise, Cameron met Coley when they were in the same Bible Study group. A stiff, loveless religiosity is the low hum throughout this slow, but reflective indie movie, based on a novel by Emily M Danforth. 
The Miseducation of Cameron Post shows how sexuality and gender identity issues are not at all safe in the wrong hands. One assumes there may well be places like this in the US, thriving in their pointless way, 25 years after the time period in question.
The institute presides over a dour schedule of humourless sessions where the hapless teenagers intone the following: "Change must come through God, but within me I must be the change" or "I will not pray for God to change me because God does not make mistakes and I am the one who is tempted by sin."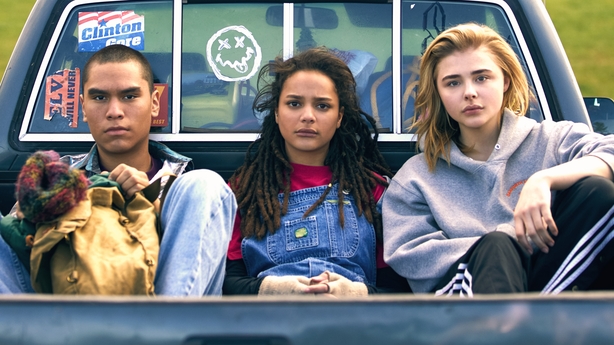 It seems Reverend Rick is himself the perfect paragon of radical self-improvement. "Reverend Rick used to struggle with same sex recovery," a fellow 'disciple' tells Cameron. "He's been in recovery for years but now he and Bethany are boyfriend and girlfriend."
A reflective work, which is worth seeing for its treatment of delicate themes.