Logan Marshall-Green plays a technophobe car mechanic who becomes half man, half machine in Leigh Whannell's nasty little future-shock of a flick 
It is the near future; the skies are constantly patrolled by drones, cybernetics have a steady grip on humanity, Alexa is getting too big for her boots, and your car can hijack itself and dump you on the wrong side of town.
This is what happens to the aptly named Grey Trace and his wife Asha in this stylish and blackly funny sci-fi thriller from Saw and Insidious writer Leigh Whannell and Blumhouse, the warped minds who brought you Happy Death Day, Get Out, and The Purge.
After the innocent couple are attacked by thugs with suspiciously sophisticated weaponry at a homeless encampment and the cops can't seem to solve the case, old school technophobe Grey's only hope for revenge and justice is an experimental computer chip implant called Stem.
We need your consent to load this YouTube contentWe use YouTube to manage extra content that can set cookies on your device and collect data about your activity. Please review their details and accept them to load the content.Manage Preferences
Warning; clip contains graphic scenes
Left paralysed by the attack, he's fitted with this seemingly innocent piece of artificial intelligence and Whannell's neat little movie becomes a kind of Six Million Dollar Man meets Death Wish hybrid with lots of schlock, smart jabs at technology and more than a touch of early Cronenberg.
Logan Marshall-Green plays the Luddite Grey with mounting fear at his new role as a reluctant vigilante and tech wunderkind Eron (Harrison Gilbertson as a kind of shrink-wrapped version of Nander Wallace from Blade Runner 2049) is good value. Upgrade also features one of the funniest fight scenes I've seen in years, suggesting that perhaps Whannell should go full comedy for the - hoped for - sequel.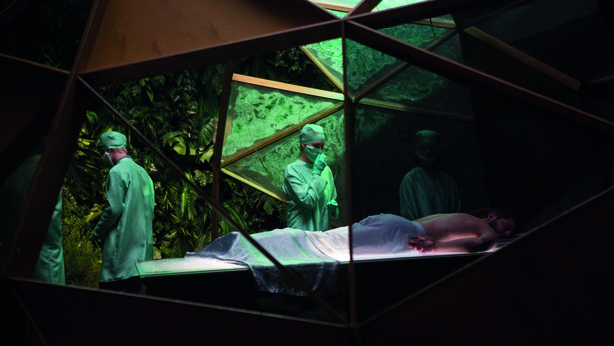 This is a nasty little future-shock that doesn't overdo the philosophical argument about man versus machine. Stem takes on something of HAL's deadpan sincerity from 2001: A Space Odyssey and some scenes borrow (perhaps knowingly) from The Matrix but tin foil hats off to Whannell for making a small budget go a long way in what is a smart and funny cyberpunk gem.  
Alan Corr @corralan