Brendan O'Carroll has said that Mrs Brown's Boys fans are in for a treat when the 'new' Rory Brown is revealed in the show's Christmas Day Special.
In an interview on Saturday's Marian Finucane Show on RTÉ Radio 1, O'Carroll was remaining tight-lipped about the identity of the actor who has signed up to play Agnes' son following the departure of Rory Cowan earlier this year.
"The new Rory... Well, it's not the new Rory; it's the old Rory - but he's had plastic surgery and the bandages come off on Christmas Day," he explained. 
"What does he look like?" asked Finucane.
"Rory!" replied O'Carroll, laughing. "Honestly! Honest to God, he looks like Rory."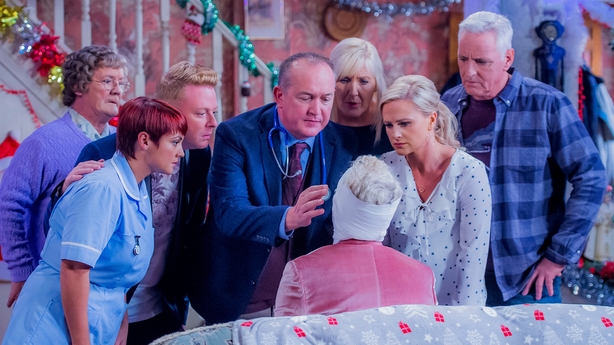 "The reveal is very, very good," O'Carroll continued. "And what I love about this episode is that everybody goes, 'There's no change'. Except Agnes, who goes, 'It's not Rory!'"
O'Carroll admitted that he considered doing a "magical shower" reveal like the infamous 'Bobby Ewing dream season' on Dallas, but the plastic surgery story "seemed to be the easiest way to do it".
When pressed on the identity of the new Rory, O'Carroll said: "Well, if I tell you that the newspapers will be down on him like [a flash]. And it will be revealed. And I want it to be revealed at Christmas. 
"He's very soft spoken, much more soft spoken than Rory is. Just as camp, though!"
We need your consent to load this YouTube contentWe use YouTube to manage extra content that can set cookies on your device and collect data about your activity. Please review their details and accept them to load the content.Manage Preferences
O'Carroll did reveal that it was his co-star and wife, Jennifer Gibney, that had suggested who they should ask to play Rory. 
"And I went, 'My God, yeah. If he was free it would be great'," recalled O'Carroll. "It's not just enough being free for the TV series; he's got to go to Australia for two months in January. 
"I called him and he said, 'Let me think about that. I'll have to think about that'," O'Carroll continued. 
"Two days later, we were touring in Newcastle, we were gigging in Newcastle... He called me and said, 'Hey, how you doing? I'd like to talk to you about it'.
'Well, good'," I said. 'I'm home the weekend'. And he said, 'No, no - I'm across the road from your apartment'. In Newcastle.
"He flew over, and he came in and talked about it and I said, 'Done'. So we did a make-up test and a look test and we just went, 'Oh my God... Perfect'."
Listen back to the interview here.
The Mrs Brown's Boys Christmas Special, Mammy's Mummy, airs on Christmas Day on RTÉ One at 9pm, and on BBC One at 10pm.
The follow-up, Mrs Brown's CSI Mammy, is on RTÉ One on New Year's Eve at 9.45pm, and on BBC One on New Year's Day at 10pm.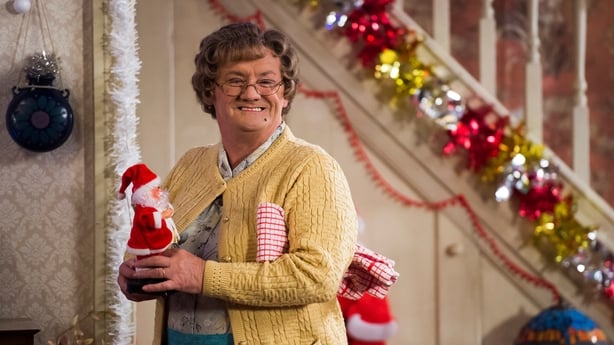 Click here for our bumper Christmas TV Preview.
We need your consent to load this YouTube contentWe use YouTube to manage extra content that can set cookies on your device and collect data about your activity. Please review their details and accept them to load the content.Manage Preferences