Neven Maguire - Halloween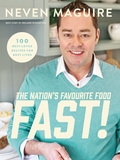 Neven Maguire joins Marian to talk about some recipes for the humble pumpkin.
PENNE WITH PUMPKIN, CRISPY PANCETTA, SAGE AND PARMESAN
Look for small organic pumpkins called Jack O Lantern, now grown all over Ireland. They are a vibrant orange and they are the ideal size for this recipe. Once the pumpkin is peeled and seeded you should end up with just over 450g (1lb) of diced flesh, the perfect amount to feed a family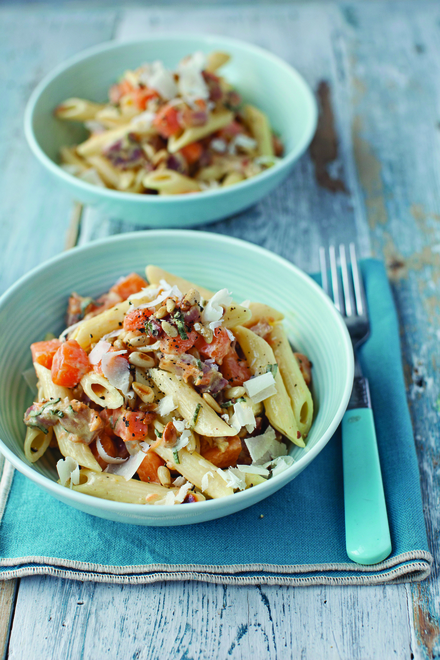 Serves 4–6
Ingredients
500g (1lb 2oz) penne or rigatoni
4 tbsp olive oil
175g (6oz) pancetta or smoked
streaky bacon lardons
800g (1lb 12oz) small pumpkin,
peeled, seeded and finely diced
4 tbsp finely shredded fresh sage
250g (9oz) carton mascarpone
cheese (Kilbeg if possible)
50g (2oz) freshly grated
Parmesan, plus extra to garnish
25g (1oz) toasted pine nuts
sea salt and freshly ground
black pepper
Method
Bring a large pan of salted water to the boil. Add the penne or rigatoni and cook for 10–12 minutes or according to the packet instructions, until al dente.
Heat a large heavy-based pan with the olive oil, then add the pancetta or smoked streaky bacon lardons. Cook for 2–3 minutes, stirring occasionally, until the pancetta begins to go crispy.
Remove with a slotted spoon and set aside until needed.
Add the pumpkin to the pan with the sage and mix well to combine.
Season to taste and cook for 8–10 minutes, stirring occasionally, until the pumpkin is cooked through but still holding its shape. Stir in the mascarpone and simmer for 1–2 minutes.
Drain the pasta and add to the pumpkin with the reserved crispy pancetta. Stir in the Parmesan and season to taste. Divide among warmed wide-rimmed bowls and finish each one with a sprinkling of Parmesan and a good grinding of black pepper. Sprinkle over the pine nuts to serve.
Pumpkin Pizza with Cashel Blue and Pickled Red Onion

These authentic pizzas are incredibly easy to make, as you only need to
prepare the toppings. Pizza da Piero artisan pizza bases are now readily
available in supermarkets and good delis. They are made in Ireland and
make a fantastic pizza that will be better than anything you can order
to be delivered.

Makes 2 large pizzas
Ingredients
3 tbsp olive oil, plus extra to drizzle
450g (1lb) pumpkin, peeled,
seeded and diced
2 large ready-made artisan pizza
bases (see intro)
225g (8oz) Cashel Blue cheese,
broken into chunks
2 handfuls of wild rocket leaves
Pickl ed red onion:
4 tbsp caster sugar
4 tbsp red wine vinegar
1 red onion, very thinly sliced
(on a mandolin is best)
sea salt and freshly ground
black pepper

Preheat the oven to 240°C (475°F/gas mark 9).

Heat the oil in a heavy-based frying pan over a medium-high heat.
Sauté the pumpkin for 8–10 minutes, until it is cooked through
but still holding its shape.
Meanwhile, make the pickled red onions. Put the sugar and vinegar
in a small pan and bring to a simmer until the sugar has dissolved.
Remove from the heat and add the red onion slices. Season to
taste and set aside to allow the flavours to combine.

Put the pizza bases on 2 large baking sheets and arrange the sautéed
pumpkin and Cashel Blue on top. Bake for about 5 minutes, until the
base is crisp and the blue cheese has melted. Remove the pizza from
the oven and add mounds of the sweet pickled red onion, draining it
of any excess liquid. Scatter over the rocket, drizzle with a little olive
oil and transfer to warmed platters to serve straight to the table.

Variation
If you prefer a more traditional pizza, sauté an onion until
softened and then add a can of plum tomatoes and a pinch of sugar.
Season to taste and mash to a pulp with a potato masher. Blitz to a
purée with a hand blender and then spread as a tomato topping on
the pizza bases.
Top with chunks of raw chorizo and mozzarella and
a sprinkling of pink peppercorns, or try slices of Milleens cheese
with pieces of sun-dried tomatoes for a change.
Fig Jam
1 tbsp rapeseed oil
1 red onion, thinly sliced
100g (4oz) ready-to-eat figs, finely chopped
1 garlic clove, crushed
75ml (3fl oz) red wine
1 tbsp balsamic vinegar
½ tsp caster sugar
½ tsp chopped fresh thyme
Heat the oil in a pan over a medium heat and sauté the red onion for 10 minutes, until softened. Stir in the figs, garlic, red wine and balsamic vinegar. Simmer for about 10 minutes, until most of the liquid has evaporated, then stir in the sugar and thyme. Season to taste, then blend until smooth and leave to cool.
Onion Jam
25g (1oz) butter
2 red onions, thinly sliced
50g (2oz) light muscovado sugar
75ml (3fl oz) red wine
3 tbsp balsamic vinegar
1 tbsp dark soy sauce
sea salt and freshly ground black pepper
To make the onion jam, melt the butter in a heavy-based pan. Add the red onions, sugar, red wine, vinegar and soy sauce. Sauté for 5 minutes over a medium heat, tossing occasionally.
Sprinkle over 1 tablespoon of water, then reduce the temperature and cook gently for 25–30 minutes. The onions should make a soft, sticky, sweet and sour jam. Season to taste and leave to cool. Transfer to a bowl, then cover with clingfilm and chill until needed.
DATE JAM
Makes about 450g (1lb)
50g (2oz) granulated sugar
450g (1lb) Medjool dates
2 tbsp brown sugar
2 tbsp crème de cassis
2 tsp balsamic vinegar
Place 300ml (1/2 pint) of water and the sugar in a heavy-based pan. Bring to the boil, then reduce the heat and simmer for 10 minutes, until the dates are completely soft. Stir in the brown sugar, crème de cassis and vinegar, then blend in food processor for 5 minutes, until smooth. Transfer to a squeezy bottle and use as required.
COOK AHEAD
This keeps very well in the fridge for up to 3 weeks in the squeezy bottle.
PICKLED CUCUMBER
Serves 4
4 tbsp rice wine vinegar
2 tbsp caster sugar
sea salt
1/2 small cucumber, peeled, halved, seeded and thinly sliced
Place the vinegar in a bowl and stir in the sugar and a good pinch of salt until dissolved. Tip in the cucumber, stirring to combine, and set aside for 1 hour to allow the flavours to develop. Use as required.
PREPARE AHEAD
This can be made up to 2 days in advance and kept covered in the fridge until needed.
Pickling Liquor
40 (1 tablespoon ) Peppercorns
80 (1 tablespoon) coriander seeds
½ bunch dill
¼ bunch thyme
¼ bunch tarragon
4 shallots,diced
1 litre white wine vinegar
540g castor sugar
800ml water
8 lemons, juiced
Sweat down the peppercorns, coriander seeds, dill, thyme, tarragon and shallots. Add the white wine vinegar and sugar and bring to the boil. Remove from the heat, allow to chill, add the water and lemon juice.