Neven MaGuire - Valentines Food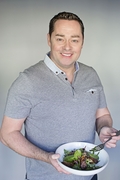 Neven MaGuire joins Marian in studio to talk about some Valentines recipes.
'Healthy Home Chef' airs Wednesdays at 7:30pm on RTÉ 1. 'The Nation's Favourite Healthy Food' is available in stores nationwide and online at nevenmaguire.com.
Crispy Goat's Cheese with Apple and Hazelnut Salad
Serves 4
If you prefer to bake the goat's cheese, simply cook it in an oven preheated to 180°C (350°F/gas mark 4) for another 5–10 minutes, until warmed through and soft. Look out for Irish apples in the supermarket, particularly when they should be in season, and if they're not there, ask the manager why! Apples are one of our few indigenous fruits and there is no excuse for the shops not supporting Irish farmers.
25g (1oz) fresh white breadcrumbs
1 tbsp finely chopped fresh
lat-leaf parsley
1 tbsp sesame seeds
2 tsp very finely chopped skinned,
toasted hazelnuts
1 egg
25g (1oz) plain flour
150g (5oz) log of Corleggy goat's cheese, cut into 4 slices
sunflower oil, for deep-frying
Salad:
2 crisp Irish eating apples
juice of 1 lemon
50g (2oz) rocket leaves
2 tablespoons extra virgin olive oil
50g (20z) skinned, toasted
hazelnuts, roughly chopped
sea salt and freshly ground
black pepper
To prepare the crispy goat's cheese, mix the breadcrumbs with the parsley, sesame seeds and chopped hazelnuts in a shallow dish and season to taste. In a separate dish, beat the egg and season lightly.
Season the flour and place in another shallow dish.
Lightly coat the goat's cheese in the seasoned flour, then dip each one into the beaten egg, gently shaking off any excess. Place in the breadcrumb mixture so that it is completely coated. Set on a baking sheet lined with parchment paper and place in the fridge for at least
10 minutes to firm up.
Preheat the oven to 180°C (350°F/gas mark 4). Line a baking sheet with parchment paper.
Heat the oil in a deep-sided pan or deep-fat fryer to 180°C (350°F) and cook the breaded goat's cheese for 1–2 minutes, until golden brown. Carefully remove from the oil and transfer to a plate lined with kitchen paper to drain off any excess oil. Arrange on the lined baking sheet and place in the oven for another 3–4 minutes, until heated through but still holding their shape.
Meanwhile, finish making the apple and hazelnut salad. Using a mandolin or a very sharp knife, cut the apples into wafer-thin slices and toss in the lemon juice to prevent discoloration. Cover each plate with a layer of slightly overlapping apple slices and add a small mound of the rocket, then drizzle with olive oil. Put a goat's cheese fritter into the centre of each plate and add a grinding of black pepper. Scatter over the hazelnuts to serve.
Tuna and Hummus Bruschetta
Tuck into this healthy snack to avoid that blood sugar dip and tide yourself over until dinner. This hummus is so easy to make and beats shop-bought every time.
Canned tuna is a great option to use, as it's so low in saturated fat. It's also a good source of vitamin B6 and phosphorus and a very good source of protein, niacin, vitamin B12 and selenium.
8 slices of sourdough bread
olive oil, for drizzling
1 garlic clove, cut in half
2 vine-ripened tomatoes, sliced
handful of baby spinach leaves
2 x 120g (4 ¼oz) cans of tuna in spring water, drained
2 tbsp rinsed capers
fresh flat-leaf parsley and basil leaves, to garnish
HUMMUS:
1 x 400g (14oz) can of chickpeas, drained and rinsed
2 garlic cloves, crushed
1 tbsp light tahini (sesame seed paste)
1 tsp ground cumin
1 tsp smoked paprika
5 tbsp water
2 tbsp lemon juice
2 tbsp extra virgin olive oil
sea salt and freshly ground black pepper
SERVES 4
To make the hummus, place the chickpeas in a food processor with the garlic, tahini, cumin and smoked paprika. Blend to a paste. Add the water, lemon juice and olive oil through the feeder tube, then season to taste and blend for a few minutes. Remove from the food processor and place in a suitable container with a lid or cover with cling film. This can be made a few days ahead and stored in the fridge.
Toast the sourdough bread in a toaster or grill under a medium heat until golden. Drizzle each slice with a little olive oil and rub with the cut garlic clove. Spread the bruschetta thickly with the hummus, then arrange the tomato slices on top, followed by the spinach, chunks of tuna and a sprinkling of capers. Divide the bruschetta among plates or use one large platter, then season with pepper and scatter over the parsley and basil to serve.
Speedy Coq au Vin
Serves 4
25g (1oz) plain flour
450g (1lb) skinless, boneless
chicken thighs, well trimmed and quartered
2 tbsp olive oil
knob of butter
175g (6oz) button onions or small shallots, halved
175g (6oz) button mushrooms, trimmed
100g (4oz) pancetta (streaky bacon lardons)
450ml (3/4 pint) chicken stock
(from a cube is fine)
150ml (¼ pint) red wine
2 tsp Worcestershire sauce
1 tsp chopped fresh thyme, plus
extra leaves to garnish
2 tbsp chopped fresh
flat-leaf parsley
sea salt and freshly ground
black pepper
garlic mashed potatoes (page 000), to serve
steamed French beans, to serve
This coq au vin is made with chicken thighs, which have a more succulent flavour, but you could use chicken breasts if you prefer. I love it with the garlic mashed potatoes, but buttered noodles would also work well and take much less time to prepare.
Season the flour and toss the chicken pieces in it until lightly coated, shaking off any excess. Heat the oil in a large sauté pan over a medium-high heat and tip in the dusted chicken. Sauté for 3–4 minutes, stirring occasionally, until just beginning to brown.
Add the butter and toss until evenly coated, then add the onions or shallots, mushrooms and bacon and cook for another 3–4 minutes.
Pour the stock into the pan with the wine and Worcestershire sauce, then add the thyme. Bring to the boil, then reduce the heat and simmer gently for about 15 minutes, until the chicken and vegetables are cooked through and the sauce is slightly reduced and thickened. Stir in the parsley and season to taste.
Place the garlic mashed potatoes on warmed plates and spoon over the coq au vin. Garnish with some thyme leaves and add some French green beans to serve.
Salmon with Citrus
Butter En Croute
These are perfect for serving at a dinner party – just dust the bottom layer of pastry with a little semolina or polenta to prevent them from going soggy if you are making them more than 1 hour in advance. If you are buying pastry, look out for all-butter varieties, as the flavour is just so much better. Serves 4
50g (2oz) unsalted butter, softened
1 tbsp chopped fresh flat-leaf parsley
2 tsp chopped fresh tarragon
2 tsp chopped fresh dill
finely grated rind of ½ lemon
finely grated rind of ½ orange
500g (1lb 2oz) puff pastry, thawed if frozen
a little plain flour, for dusting
4 x 175g (6oz) organic salmon fillets
(about 2.5cm (1in) thick), skinned and boned
50g (2oz) baby spinach leaves
1 egg yolk beaten with 1 tbsp milk
sea salt and freshly ground black pepper
peas with mint, to serve
Place the butter in a small bowl and beat in the parsley, tarragon, dill and lemon and orange rind and season generously. Spoon onto a sheet of clingfilm or non-stick parchment paper and shape into a roll about 2.5cm (1in) thick, then wrap tightly. Chill in the freezer for at least 10 minutes to firm up (or keep in the fridge for up to 48 hours until required, if time allows).
Preheat the oven to 200°C (400°F/gas mark 6). Line 2 baking sheets with parchment paper.
Cut the pastry into 8 even-sized sections and roll each one out on a lightly floured surface into a 12.5cm x 18cm (5in x 7in) rectangle, trimming down the edges if necessary. Arrange 4 of the rectangles on the lined baking sheets. Place a salmon fillet in the centre of each one and cover with the spinach leaves, then season to taste. Unwrap the citrus butter and cut into 16 x 0.5cm (¼in) thick slices. Arrange 4 slices in an overlapping layer on each piece of salmon.
Brush the edges of the pastry bases with a little of the egg wash and lay a second sheet of pastry on top, pressing down to seal. Crimp the edges by gently pressing the edge of the pastry with a fork. Continue all the way around the edge of the parcel. Repeat until you have 4 parcels in total. Season each one with a little salt and pepper.
Brush the pastry parcels with the remaining egg wash and bake for 25–30 minutes, until the pastry is cooked through and golden brown.
To serve, arrange the salmon parcels on warmed serving plates with some buttered peas with mint.
WARM CHOCOLATE AND PECAN BROWNIE WITH BOOZY FUDGE SAUCE
Who doesn't like a good chocolate brownie? The pecan nuts add extra texture and bite. If the brownies have gone cold and you want to heat them up in a hurry, pour over some of the fudge sauce and flash under a hot grill until bubbling. Any leftovers can be frozen and used to make an ice cream sundae or to flavour ice cream.
Serves 8
FOR THE BROWNIE:
400g (14oz) plain chocolate, finely chopped (at least 70% cocoa solids)
225g (8oz) butter
4 eggs
275g (10oz) caster sugar
100g (4oz) self-raising flour
75g (3oz) cocoa powder
100g (4oz) pecan nuts, roughly chopped
FOR THE FUDGE SAUCE:
150ml (1/4 pint) cream
25g (1oz) butter
1 tbsp caster sugar
175g (6oz) plain chocolate, finely chopped (at least 70% cocoa solids)
50ml (2fl oz) Coole Swan Dairy Cream Liqueur
crème anglaise (page 000), to serve
Malteser ice cream (page 000), to serve
spun sugar curls (page 000), to decorate
Preheat the oven to 160°C (325°F/gas mark 3).
Place 100g (4oz) of the chocolate in a heatproof bowl with the butter and set over a pan of simmering water until melted, then stir to combine. Remove from the heat and leave to cool a little.
Meanwhile, whisk the eggs in a bowl until stiff and holding their shape, then whisk in the sugar until you have achieved a stiff sabayon that can hold a trail of the figure eight. Sift the flour and cocoa powder into the sabayon and lightly fold in. Add the melted chocolate mixture with the remaining finely chopped chocolate and the nuts and continue folding gently until all the ingredients are just combined. Pour the chocolate mixture into a deep-sided 30cm x 25cm (12 x 10in) baking tin lined with parchment paper. Bake for 35–40 minutes, until the top is crusty but the centre is still a little soft.
Meanwhile, make the fudge sauce. Place the cream in a pan with the butter and sugar and bring to the boil, stirring. Reduce the heat and simmer gently for a few minutes, until thickened and toffee-like, stirring occasionally to prevent the mixture from catching. Remove from the heat and leave to cool.
Place the chocolate in a heatproof bowl set over a pan of simmering water until melted. Whisk into the sauce until smooth and well combined. Leave to cool completely, then transfer to a bowl and stir in the Coole Swan liqueur. Cover with clingfilm and keep in the fridge until needed. It should keep happily for up to 1 week.
Remove the brownies from the oven and allow to cool in the tin for about 5 minutes, then remove from the tin and peel off the parchment paper. Transfer the fudge sauce to a pan
and gently heat through, or pierce the clingfilm and heat in the microwave and pour into a squeezy bottle.
To serve, cut the brownies into 7cm (2 3/4in) circles using a straight-sided cutter. Arrange on warmed plates and drizzle over the hot fudge sauce followed by a little of the crème anglaise. Add quenelles of the Malteser ice cream to each plate and decorate with the spun sugar curls.
COOK AHEAD
These brownies can be made up to 2 days in advance and kept in the fridge until needed. Remove from the fridge and preheat the oven to 140°C (275°F/gas mark 1) for 10–15 minutes to warm through before serving. The fudge sauce will keep for 2–3 days in the fridge – just reheat gently to serve.
Lemon Posset with Passion Fruit
Serves 4
Ingredients:
* 600ml cream
* 150g caster sugar
* juice and rind of 1 lemon
* 2 large passion fruit
* Shortbread, to serve
Method:
Place 600ml of cream in a pan with the sugar, lemon rind and juice. Cut the passion fruits in half and scoop out the seeds and pulp. Bring to the boil and boil for 3 minutes.
Leave the mixture to cool slightly and then strain through a fine sieve into a jug. Pour into 4-6 stemmed glasses, depending on their size. Chill for at least 1-2 hours, but overnight is best.
Set on plates and serve with shortbread on the side.