Taylor Swift dropped the much-hyped video for her track Ready For It on Friday and and it turns out we probably never could have been ready for it.
The chart topper released the track in September and fans were quick to speculate that it was about her new love with English actor Joe Alwyn.
Although the lyrics appeared to reference some of her past relationships and finding true love, the video for the song is a mind-boggling experience on the first watch. And perhaps many of the subsequent watches too.
Don't worry, we're here to unpack it for you along with some top-notch fan theories which have been endorsed by Ms Swift herself when she liked them on Tumblr.
We need your consent to load this YouTube contentWe use YouTube to manage extra content that can set cookies on your device and collect data about your activity. Please review their details and accept them to load the content.Manage Preferences
It looks like budget was no issue in this slick three-and-a-half minute video that looks more like a sci-fi film (Ghost In The Shell, anyone?) than a traditional music video.
Swift plays two versions of herself, one is an smug robot clad in black, while the other is a defenseless cyborg trapped in a glass box.
Robot Swift struts through some sort of futuristic, post-apocalyptic world. She heads to a heavily guarded warehouse where she meets the other Taylor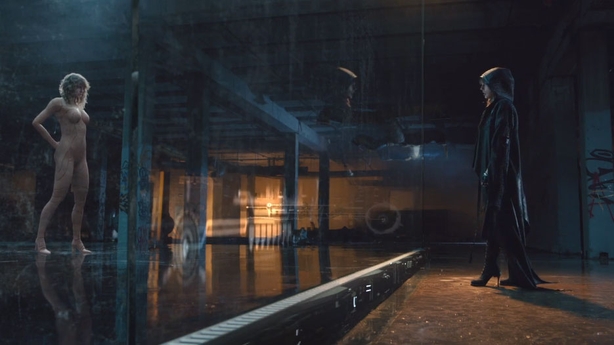 Cyborg Taylor attempts to break out of her jail by donning a metal bodysuit and laser gun, but when this fails to breach the fortress, she appears on a white horse, which seems to be a throwback to her 2009 Grammy-winning track White Horse.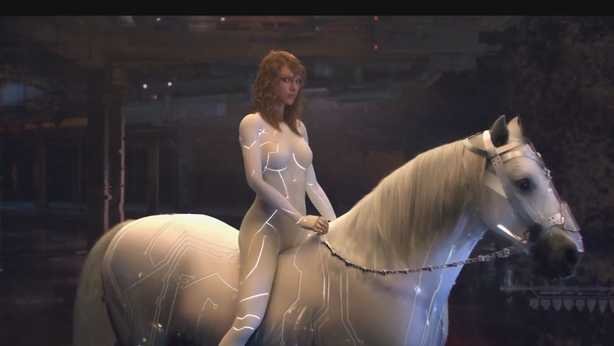 Good Taylor then summons energy from electricity around her and lets out a scream, perfectly timed with the chorus kicking off again. This blasts the walls of her jail and causes robot Taylor's face to fall off in tiny pieces.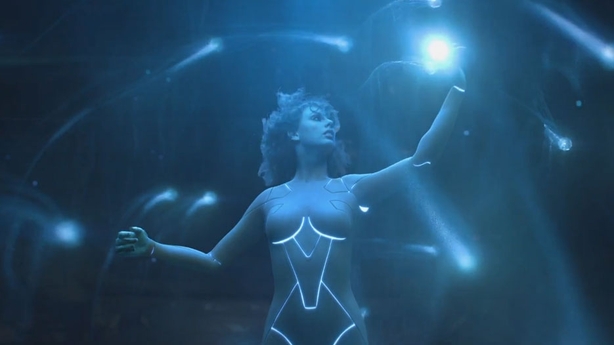 Afterwards, robot Swift is electrocuted while standing on a platform that reads: "They're burning all the witches."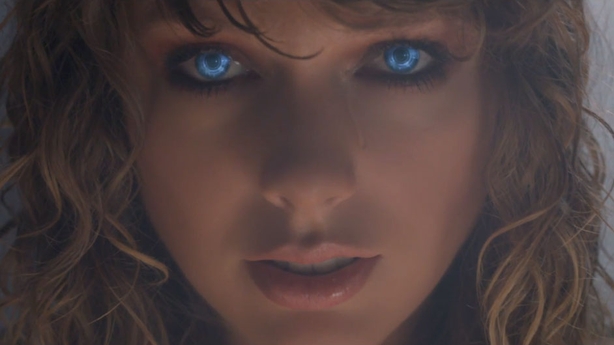 Ready For It closes as cyborg Taylor walking down an escalator, her eyes glowing blue as a single tear runs down her face.
The most likely theory on the meaning behind the video is that the black-clad, "evil" robot is the media's version of Swift. The robot has a snake crawling up her face at one point which could reference Swift's celebrity feuds, such as her beef with Kanye West and Kim Kardashian. 
However, by the end of the video the "real" Swift manages to break free from her cage and sets off to live her life on her own terms.
The below fan theory from Tumblr has been widely circulated and even 'liked' by Swift herself, so could prove to be an excellent insight.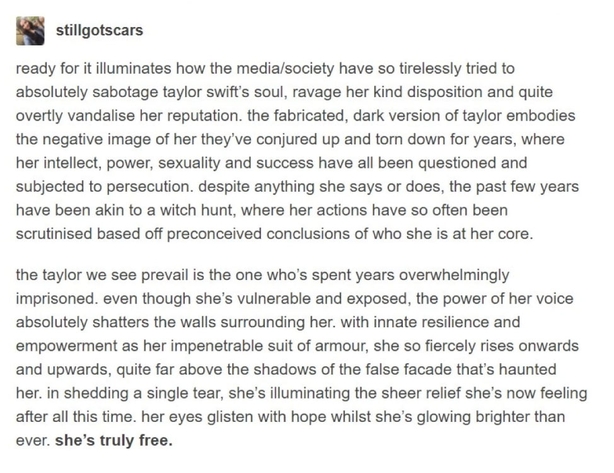 Also, the video's director Joseph Kahn has been retweeting some reactions from fans that back up this argument.
PURE happiness for freeing yourself because you took control of YOUR OWN NARRATIVE!!!#ReadyForItMusicVideo@taylorswift13 @JosephKahn 😭 pic.twitter.com/jSqHb3G6s2

— Zainub Amir (@zainubamir) October 27, 2017
WHO FREED TAYLOR SWIFT? TAYLOR SWIFT. #ReadyForItMusicVideo

— Alex Goldschmidt (@alexandergold) October 27, 2017
#ReadyForItMusicVideo What I took from it is that Taylor freed herself from how others view her life on display. @JosephKahn @taylorswift13

— Chris (@ChrisCrocker) October 27, 2017
Whatever the meaning is behind the video, it's clear that Taylor's fans are LOVING it.
"Who are you?"
I'm you, but stronger. #ReadyForIt pic.twitter.com/u5lkkOMcTT

— Ale | 14 DAYS (@indiexswiftie) October 27, 2017
OmGGGGG I wasn't Ready For it👏👏👏👏👏👏👏👏👏👏👏👏👏👏👏👏❤😉 I Love this Video 👏👏👏 @taylorswift13 #ReadyForItMusicVideo #ReadyForIt pic.twitter.com/7Gt2Zskk1Z

— Joanne ❤ Follow Me (@jhosyvanlima) October 27, 2017
This woman is absolutely incredible. No one can touch Taylor! This video was incredible!!!! #ReadyForIt

— Tamekia ➰ (@TheLifeOfTam) October 27, 2017
She's free. #ReadyForItMusicVideo pic.twitter.com/pzQ8ibvCH2

— Taylor Swift News (@TSwiftNZ) October 27, 2017
THE LIP CURL WHEN SHE SAYS "ARE YOU READY FOR IT" IM- pic.twitter.com/fqdeQOQUUV

— Marley (@marleyharper) October 27, 2017
.