Ed Sheeran has moved to put an end to speculation that his departure from Twitter was due to criticism of his Game of Thrones cameo, saying that the timing was "just a coincidence".
The Castle on the Hill star took his Westeros bow as an unnamed soldier in the opening episode of season seven of Game of Thrones on Sunday night in the US and, inevitably, the slings and arrows followed.
#GoTS7 SPOILER ALERT: Special cameo by @edsheeran in Ep1. What will his songs reveal? Don't miss the encore tonight at 9pm (8pm Thai.Jkt). pic.twitter.com/HlJnVANbk7

— HBOAsia (@HBOAsia) July 17, 2017
Sheeran's cameo consisted of just two lines: "It's a new one", in reference to a song that Arya Stark (played by Maisie Williams) heard him singing; and his description of King's Landing as "worst place in the world".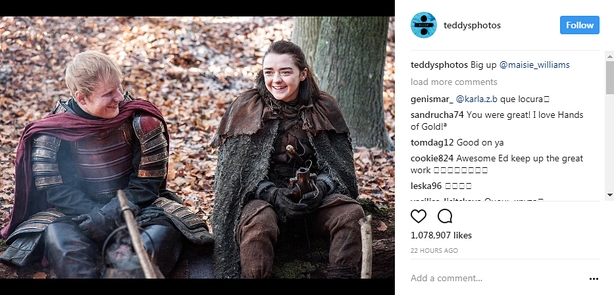 Writing on Instagram in the wake of the fan furore and his Twitter exit, Sheeran said: "Last I'll say on this. I came off Twitter Coz [sic] I was always intending to come off Twitter, had nothing to do with what people said about my Game of Thrones cameo, because I am in Game of Thrones, why the hell would I worry what people thought about that. It's clearly f****** awesome.
"Timing was just a coincidence, but believe what you want."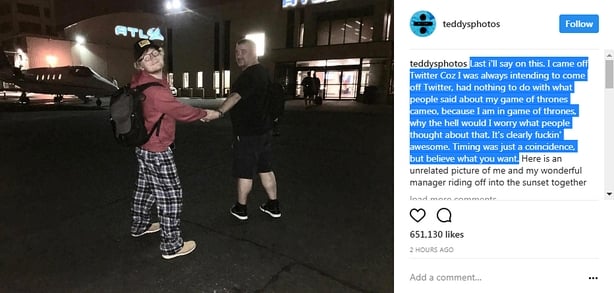 Game of Thrones director Jeremy Podeswa earlier defended Sheeran's divisive cameo in his season opener, saying "he's a lovely actor and a lovely person".
The director - who has also helmed other episodes like The Red Woman and Unbowed, Unbent, Unbroken - defended Sheeran's casting, saying he was "appropriate for the part because he needed to sing".
"If people didn't know who Ed was, they wouldn't have thought about it twice," Podeswa told Newsweek.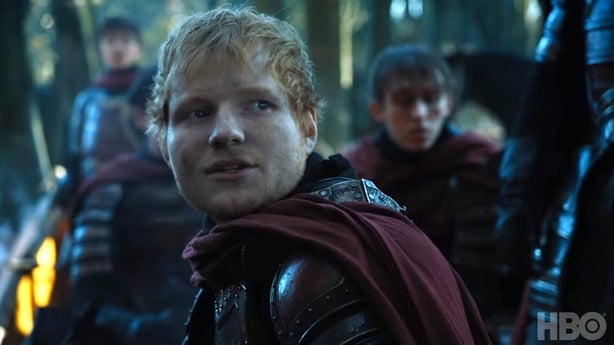 "The hoo-ha seems to be from things that are outside of the world of the show," he continued.
"In the world of the show he did a lovely job, and he looks like he belongs in that world."
"I think people interrogated it too much; they're bringing so much of his [superstar] presence into the thing which is far beyond what anybody was thinking going into it," Podeswa added.
"He is known to the producers of the show and some of the cast, and he's a gigantic fan of the show. As everybody knows, the show really eschews stunt casting - it's never, ever done that."
Game of Thrones continues on Sky Atlantic, Mondays at 2am and 9pm.