Ed Sheeran has walked away from his Twitter account with fans speculating that the backlash he has received for his Game of Thrones cameo may be the reason.
The singer-songwriter had deleted the account earlier on Tuesday but it is currently online with tweets ending in April 2015.
Sheeran's description on the page reads: "I don't use this anymore, please follow me on @teddysphotos on instagram, lots of love x."
The Castle on the Hill star took his Westeros bow as a soldier in the opening episode of season seven of Game of Thrones on Sunday night in the US and, inevitably, the slings and arrows followed.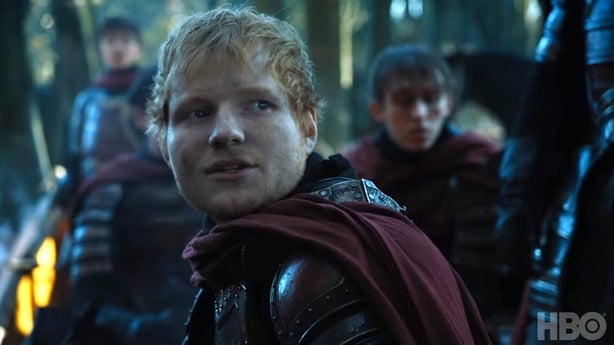 Sheeran's cameo consisted of two lines: "It's a new one", in reference to a song that Arya Stark (played by Maisie Williams) heard him singing; and his description of King's Landing as "Worst place in the world".
#GoTS7 SPOILER ALERT: Special cameo by @edsheeran in Ep1. What will his songs reveal? Don't miss the encore tonight at 9pm (8pm Thai.Jkt). pic.twitter.com/HlJnVANbk7

— HBOAsia (@HBOAsia) July 17, 2017
Some fans of the HBO fantasy phenomenon felt that Sheeran's presence distracted from the story and were less than complimentary about his acting abilities, but others came to his defence.
#GoT Having Ed Sheeran was a abit of fun, what is with people and getting so precious over fictional TV

— Jack Tosney (@jack_tosney) July 18, 2017
You think Ed Sheeran featuring in #GoT is a big deal? I remember when the Pet Shop Boys popped up in Neighbours. Now, that was huge.

— Pete Gould (@PeteGould_) July 18, 2017
I sort of feel bad for Ed Sheeran for all the hate he's getting for that #GoT cameo. Is it dumb? Yes. But still, poor guy.

— Haley (@haleysaurusrex) July 18, 2017
Did Ed Sheeran make anyone else cringe on #GoT last night or?

— Tom Rees (@TheTomRees) July 18, 2017
When I see Ed Sheeran in Game of Thrones ! #GoT #GameOfThones pic.twitter.com/eC1S3G4NLF

— Sriram Krishna (@itskrish5) July 17, 2017
ED SHEERAN?! This show has reached its peak #GoT

— Rach (@rachelstarvaggi) July 17, 2017
Seriously tho, Ed Sheeran's #GoT cameo would've been less subtle if he'd leaned out of the TV & headbutted you.

— Liam MacAoidh (@Lemon_McGee) July 18, 2017
Why is the Shape of Ed Sheeran infiltrating my #GameOfThrones #got really???? pic.twitter.com/1zbUG957Af

— Kelley Andrews (@KelleyJAndrews) July 17, 2017
People going on about hating Ed Sheeran on #GoT & the new doctor who - you'd be much happier if you stopped talking about it.

— Fiona Ray (@feelouise) July 18, 2017
Sheeran recently told British newspaper The Sun that he had "come off Twitter completely" following the abuse he had received online.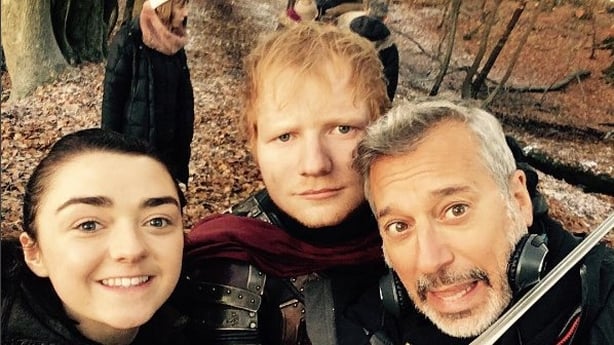 "I go on it and there's nothing but people saying mean things. Twitter's a platform for that," he said.
"The head-f*** for me has been trying to work out why people dislike me so much."
Prior to deleting his account, updates on Sheeran's Twitter page had been automatically generated from his Instagram account - a platform he is still using.
In other Sheeran cameo news, he is voicing the character of a musician on The Simpsons.
#GameOfThones' singing soldier becomes a singing 'toon: Your first look at Ed Sheeran on #TheSimpsons https://t.co/SIs5XtLoRT pic.twitter.com/xURG41YNi5

— Dan Snierson (@dansnierson) July 17, 2017
Entertainment Weekly, which first reported the story, says Sheeran's character, Brendan, will star in the episode Haw-Haw Land in the upcoming 29th season and will be a love interest for Lisa.
"He keeps alternating [between], 'You're not that great, but you could be fantastic', and she keeps falling for him because of his talent," The Simpsons executive producer Al Jean told Entertainment Weekly.