Any Ed fan worth their salt knows he had filmed scenes for season 7 of Game of Thrones and rather than keeping us in suspense for a couple of weeks, the Shape of You singer popped up in last night's opening episode.
*Warning! Spoiler Alert!*
It's been no secret that Ed Sheeran had filmed a cameo for the penultimate series of Game of Thrones; we just weren't expecting to see him in the very first episode.
#GoTS7 SPOILER ALERT: Special cameo by @edsheeran in Ep1. What will his songs reveal? Don't miss the encore tonight at 9pm (8pm Thai.Jkt). pic.twitter.com/HlJnVANbk7

— HBOAsia (@HBOAsia) July 17, 2017
If the excitement of the show returning wasn't enough, superstar Sheeran graced our screens, singing - naturally.
The 26-year-old, who plays a soldier from King's Landing, was singing around a campfire when he caught the attention of Maisie Williams's Arya Stark as she rode through a forest on horseback.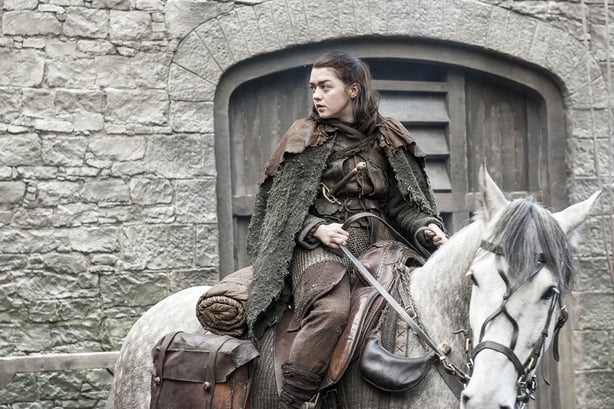 Stark told Sheeran's unnamed character: "It's a pretty song, I've never heard it before."
"It's a new one," Sheeran replied.
The lyrics are from a song that appears in George R.R. Martin's source material, the Song of Ice and Fire books: "For hands of gold are always cold, but a woman's hands are warm."
The soldiers then spend some time chatting with Arya, not knowing her identity, nor believing her when she says she's heading to King's Landing to kill Queen Cersei Lannister…
After the show aired at 2am on Sky Atlantic, Sheeran posted a photo on Instagram with the caption: "Throwback to the time I was a Lannister."
Fans praised Sheeran on social media.
When I see Ed Sheeran in Game of Thrones ! #GoT #GameOfThones pic.twitter.com/eC1S3G4NLF

— Sriram Krishna (@itskrish5) July 17, 2017
Arya telling Ed Sheeran that she's gonna kill the queen. She's thinking out loud #GameOfThrones #WinterIsHere

— Big D (@D3333licious) July 17, 2017
It doesn't get any better than seeing @edsheeran make an appearance on @GameOfThrones 🙌🏽

— Malik Heard (@_MalikHeard) July 17, 2017
Ed Sheeran's really looking for that castle on the hill, huh #GameOfThrones

— Jessica Derschowitz (@jessicasara) July 17, 2017
You can watch the first episode from season 7 of Game of Thrones on Sky Atlantic at 9pm tonight.

Make sure you're up-to-date by clicking here before you tune in!