From knowing the tradition that Johnny Logan kick-started to the country that decided ABBA were worth nul points, we've got all the trivia you need to be the smug-know-it-all this weekend!
Long before The X Factor or The Voice hit our screens the Eurovision was the song contest everyone wanted to be part of – boy how that's changed! While it may not exactly lead to global superstardom for its competitors, we are strangely obsessed with it in this country.
That may have something to do with the fact that Ireland currently holds the record for winning – seven times thank you very much! - however following a dismal run of late, our crown could soon be contention.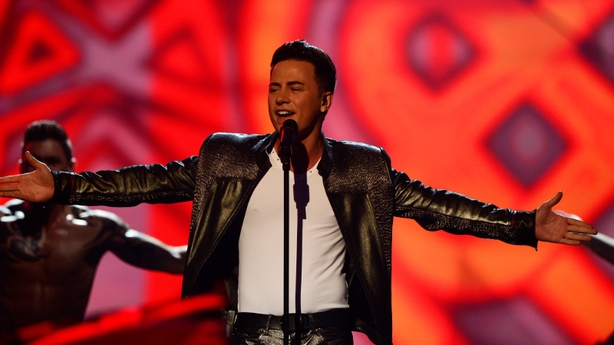 The last time we made it through to the Grand Final was in 2013 when Ryan Dolan sang Only Love Survives….we came last with a paltry and unfair 5 points thanks to a change in the voting system.
Brendan Murray is tasked with the job this year and he is Dying to Try and make it out of the second Semi-Final tomorrow night with his big soaring Westlife-style ballad.
So to get you in the mood for Brenda's performance tomorrow night (dig out those Tricolours and glitter), we've rounded up some the most interesting and downright whacky Eurovision facts.
1. The Eurovision Song Contest was first staged in Switzerland on 24th May 1956.
2. That iconic piece of music you hear at the start of every contest is called Prelude To Te Deum by Marc-Antoine which is also known as the Eurovision Anthem.
3. The first contest featured just seven countries, each of whom performed two songs.
4. Johnny Logan began a tradition in 1988 when he reprised his 1987 winning song, Hold Me Now. Every year since then the champion from the previous year sings their winning song. G'wan Johnny!
5. When Ukrainian singer Rusiana won Eurovision in 2004, she was rewarded with a seat in Parliament.
6. The youngest winner ever was 13-year-old Sandra Kin from Belgium in 1986 - check out the shoulder pad and dicky bow combo!
7. All Eurovision songs must be no longer than three minutes. Instrumental music is banned. So are live animals.
8. Previous to 1971, groups of more than three were not allowed to enter Eurovision - which meant ABBA would not have been able to enter. Thank God it was changed by the time they burst onto the scene with Waterloo in 1974.
9. Speaking of ABBA, the UK gave them the dreaded 'nul points'. Like seriously?
10. Despite its fame, the term "nul points" is never actually used. Instead you hear "pas de points" or "zero point."
12. Norway scored most nuls (four) and came last the most (11 times). But the Portuguese are the longest-running losers. Since their first appearance in 1964 they have never made the top five though all that could change this year.
13. Ireland are top of the medal table with seven wins under our belt but Sweden are just behind us, with six. And if Robin Bengtsson's (Sweden's 2017 entry) cheekbones and Justin Timberlake-esque song is anything to go by, we could be sharing our throne by Saturday night.
14. In 2006 Brian Kennedy became the 1000th act to sing on the Eurovision stage with Every Song Is A Cry For Love. He came a very respectable tenth.
15. The title of some of the songs entered into Eurovision have been bonkers over the years - Boom Bang-a-Bang (UK, 1969), A-Ba-Ni-Ba (Israel, 1978), Bana Bana (Turkey, 1989) and Bourn Badaboru (Monaco, 1967) and of course Diggy Loo, Diggy Ley (Sweden 1984)
16. In 1983 the Turkish Eurovision entry, Opera, consisted entirely of the word 'Opera' being repeated over and over, while in 1968 Spain's cleverly titled, La La La contained no fewer than 138 La's. Naturally it won.
17. However the zaniest song ever (and that's saying something) has to be the 2013 interval act, Swedish Smorgasbord, sung by host Petra Mede. It's send-up of Swedish culture included lyrics about recycling, H&M, Ikea, Abba, The Girl With the Dragon Tattoo, Bjorn Borg, queueing, Vikings, and same-sex marriage.
18. In 1978 Jordanian TV broadcast some flowers instead of the Israeli entry. And when Israel won, Jordan pretended it was Belgium.
19. The winning country must host the competition the following year but it's so expensive that some countries have pleaded poverty to get out of it, including the Netherlands, France, Monaco, and Luxembourg...where the living standards are all really low, ahem. The UK have stepped in four times to host the show instead.
20. In 1981, Italy boycotted the contest saying it was "too old-fashioned."
Don't miss Brendan Murray in The Eurovision Song Contest: Semi Final 2 tomorrow night on RTÉ 2 at 8.00pm