Eurovision commentator Marty Whelan has told RTÉ Entertainment he has brought his "lucky underpants" to this year's contest in Kiev - and he wants to be wearing them on Saturday.
After the disappointments of recent years, Ireland is hoping for a great night in Thursday's second Semi-Final in Kiev when Brendan Murray sings Dying to Try.

"Thursday is our Eurovision because we're in the semi-final," Whelan told RTÉ Entertainment before flying out to join the preparations. "And if we don't get out of it that is our Eurovision."
"I really want this guy to be in the final," the lyric fm presenter continued. "He's a good guy; he has a really good voice, it's a nice little tune. It'd be great if we could make it."
Whelan described Nicky Byrne not making it to the final last year as "ridiculous".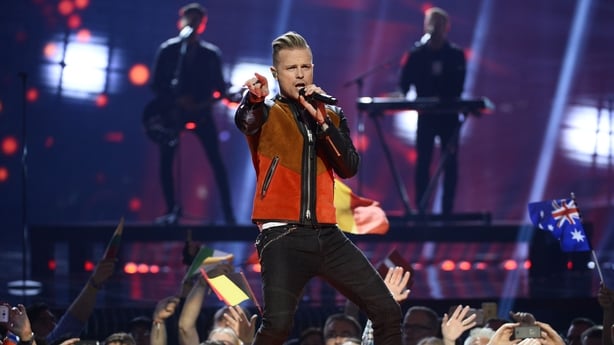 "It's awful," he said of Irish disappointments. "I tend to take it personally. I tend to feel, you know, 'The lousers!'
"You go to the meeting the following day - because we've a commentators' meeting every other day. What happens is I go to the commentators' meeting and they're all coming up going, 'Oh sorry about that'. And I'm going, 'What do you mean you're sorry?! You better get your country to vote for us you loo-lah!'"
Whelan said that with Ireland winning the Eurovision more than any other country, there's "a certain national pride going on".
A helping hand for our man in #Kiev from the talent #Eurovision2017 #BrendanMurray @brendan_m96 @RTE_Ents @RTE_GUIDE pic.twitter.com/wav19hDt3V

— Marty Whelan (@martylyricfm) May 8, 2017
"It's not the commentators' fault," he added. "It's down to the people who vote across Europe and all the rest of it, and only they can decide.
"But you really feel, 'Come on, we're good enough to be in the final!' And we are."
"We really need to be in the final on the big night," Whelan concluded. "I've my lucky underpants and everything - and I want to wear them!"
The bun fight #Eurovision @RTElyricfm @MichaelComyn pic.twitter.com/StzckqRaER

— Marty Whelan (@martylyricfm) May 8, 2017
Watch Ireland in the Eurovision Song Contest Semi-Final this Thursday on RTÉ2 at 8pm.
Here are the acts to watch out for in Tuesday's first Semi-Final (same time, same channel).