Nicky Byrne has said that the Eurovision Song Contest has changed so much that not even U2 could win it in its current form.
Speaking on to Ray D'Arcy on his RTÉ Radio 1 show, the singer and radio presenter said that despite missing out on the final in Stockholm this year with his song, Sunlight, he has no regrets about representing Ireland in the contest.
"I really felt we could get Ireland with this song back to where, I felt, it belonged," he said. "I love the Eurovision and I won't not love it." 
When a caller to the show suggested Byrne should reunite with his former Westlife bandmates to represent Ireland next year, he admitted he was unsure if they would do any better as a group than he had solo.
"Obviously, it'd bring more audience from a Westlife point of view. But I don't know... Listen, I think you could send U2 and I think it doesn't really matter anymore."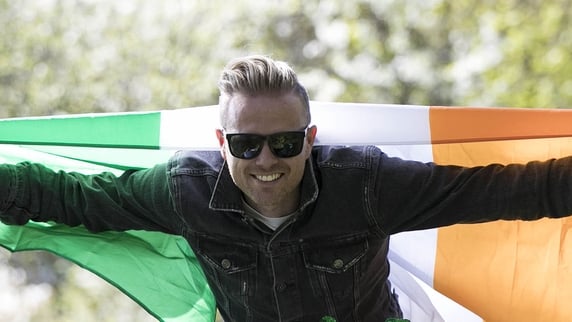 Flying the flag - but unsure how we can fly high in the competition again
So what about Ireland's future in the competition? Byrne feels there is no "magic recipe" for Ireland to have success in the Eurovision again.
"I think there's no formula to winning," he said. "I think there's a big Eurovision 'mafia' that are planning next year's Eurovision now, and certainly come January they're looking at what countries are going to do what. And somehow - and I don't know how you do it because I was talking to Linda Martin about this the other day - you need to get into that top five or top ten with the Eurovision hardcore fans from the start. 
"We were always popular; we were always, 'Oh, the guy from Westlife's doing it. Oh, it's a decent song. Oh, they'll do well'. But we were never like, 'Oh, have you seen the Russian entry? Have you seen the French entry?' And I could never work that out."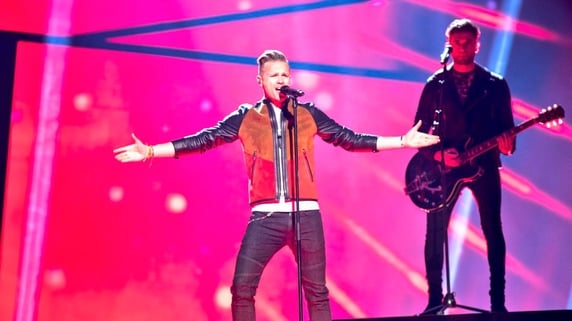 Nicky Byrne performing Sunlight in the Eurovision Song Contest 
When asked by D'Arcy if there was a politics to taking part and whether he had played the game, Byrne replied: "We played. We did every selfie, we shook every hand - we were holding babies at one point." 
"I don't think it's that," he continued. "I think every year is different and I don't think you can copy the year before. Do we come up next year with a young Justin Bieber or a real female diva?"   
Byrne pointed to the success of the Swedish model of selecting a Eurovision entry, where the song is chosen in the annual competition Melodifestivalen over a number of weeks. "But that obviously involves a brand new TV show and huge budgets," he said.
Having presented the RTÉ music show The Hit in the past, Byrne said using such a format to select Ireland's Eurovision entry was "an option". However, he conceded that despite Ireland trying a similar Eurovision song approach with the show You're a Star in the past, the "big buzz" it created at home did not translate into success on the international stage. 
Byrne believes his failure to qualify for the final will scare off other high profile Irish acts from entering. "The big thing in the back of my mind was, 'If I do well here - as in well for Ireland - I think you could look at anybody [taking part].
"I would have been saying to any band or any artist, 'Get yourself in there. Get your name in the hat, because it can only - if you do well - be good for you and the country'."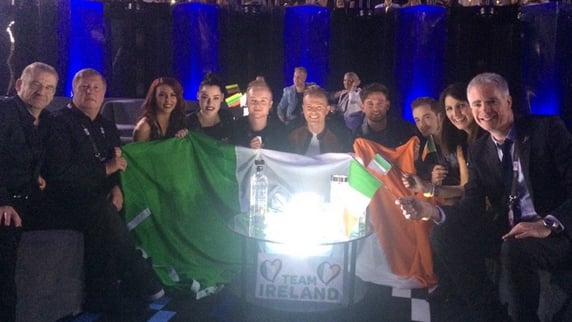 All smiles before the crushing disappointment of the results
Byrne also contends there is "a snobbery and a cynicism" to the Eurovision here and in the UK that does not exist in the rest of Europe.
"It's like the World Cup to them and they give it their best," he said. "I think what happened is there was a big buzz around it this year [in Ireland] and then the fact that we didn't qualify..."
When D'Arcy put it to Byrne that he himself had created that buzz, he replied laughing: "It's my fault! And now people hate me even more!"