Ian Thomson's eclectic and erudite romp through the work of Dante Alighieri - born in Florence in 1265, died in Ravenna in 1321 – features sharp observations and piquant elucidations concerning Divina Commedia (The Divine Comedy) and its author.
Thomson sets the tone from the off, beginning with an amusing epigraph which ran in Private Eye in December 2017, a `Very Late News' about how the 14th century Italian poet Dante Aligheri and how he would be glad to see the back of that year, saying  "Phew, I've been trapped in this circle of hell for so long, I can't wait to get out of it." 
As for the matter in hand, this welcome book - whose subtitle is A Journey Without End  - is no skit, despite the Private Eye reference. Dorothy L Sayers offers a more relevant reflection on the work of the great Florentine in another epigraph to the work. `To understand Dante is not, of course, necessary to believe what he believed, but it is, I think, necessary to understand what he believed.'
There have been myriad translations in English of Divina Commedia including a recent offering from Clive James, which appears to have won some and lost some fans - a quote from Ciaran Carson's version is favoured instead for the back cover.
Many  painters and indeed writers and have muscled in on Dante, or at least had something to say about him. William Butler Yeats saw `the greater part of the The Divine Comedy as a catalogue of the sins of Italy' which is pretty obvious to anyone who has read the first book, The Inferno - yes, Dante particularly despised usury and in his adaptation of The Inferno, Ezra Pound re-imagined it as a corrupt London bank. Yet selfishness, deceit, subterfuge and sexual licentiousness got hellish punishments too in the Inferno, so we can presumably infer that he hated those sins also. The Inferno is not big on compassion, to say the least.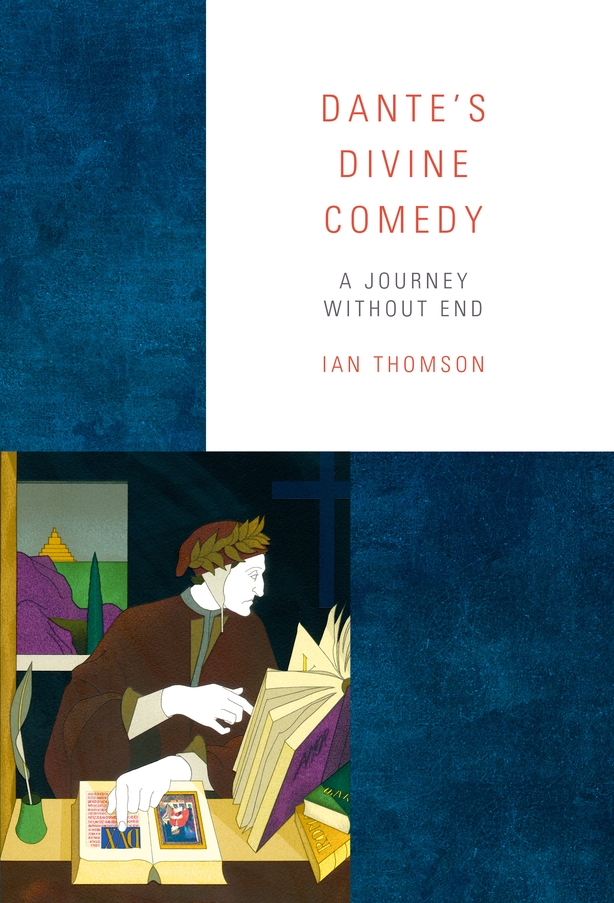 Dante did not write his most famous, book-length narrative poem in Latin, he wrote it in his Florentine dialect, which was something of a break with literary tradition. Born in 1265 in the self-same Florence, then one of the richest and most populous cities in Europe, Dante was scion of a family who were middle-ranking merchant aristocracy. Moreover, the poet's father was also owner of two substantial farms outside the city.
The all-consuming love of the poet's life was the legendary Beatrice dei Portinari who it is believed died in her birthplace of Florence in 1290 at the age of 24. "Throughout The Divine Comedy she is divine grace and the embodiment therefore of a revealed Catholic ideology, " Thompson writes of the lamented Beatrice.
The author believes that La Via Nuova (The New Life) is the work by Dante Alighieri which Bob Dylan is referring in one of his best-known songs, Tangled Up in Blue. In that immortal ballad, the female subject famously `opened up a book of poems written by an Italian poet in the thirteenth century.'
This welcome vade mecum to the life and work of Dante has a generous spread of themes and scenes from The Divine Comedy throughout the 282-page volume, with paintings by Botticelli, illustrations by Gustave Doré, William Blake, Henry Fuseli and Dante Gabriele Rosetti, along with a Raphael fresco featuring Dante's head crowned in laurels, a measure of the esteem in which he was once held.  
A book to treasure.