There is no apology in Shirley Hazzard's stories about her characters' milieu, they are in the main cultivated people, with some means at their disposal.
The lives of chauffeurs, of maids and workmen are not to be countenanced. Somebody looking at book shelves in one of her stories sees a collection of poetry by the French Symbolist poet Stephane Mallarmé, or they spot 20 volumes of Balzac's Comedie Humaine.
While the good taste may in general be frugal and sensible, that air of lightly-worn privilege, whether due to an Oxford education, or a wealthy family background abides throughout this 350-page volume. 
The author, who was boirn in 1931 and died in 2016, enjoyed a later flowering at the age of 75, with the publication of her novel The Great Fire in 2003. The novel commences in Japan in 1947, and subsequently takes in Hong Kong, England and New Zealand. It follows its protagonist, the decorated British war veteran Aldred Leith as he travels through post-war Asia.
He is thirty-two years of age and he becomes besotted with a teenage girl. The novel won the U.S. National Book Award for Fiction and a Miles Franklin literary award. It was also shortlisted The Women's Prize for Fiction (then called the Orange).
The Great Fire was Hazzard's first novel since The Transit of Venus, which had been published in 1980. John Banville hailed the latter work, describing it as "intricately plotted and gorgeously written."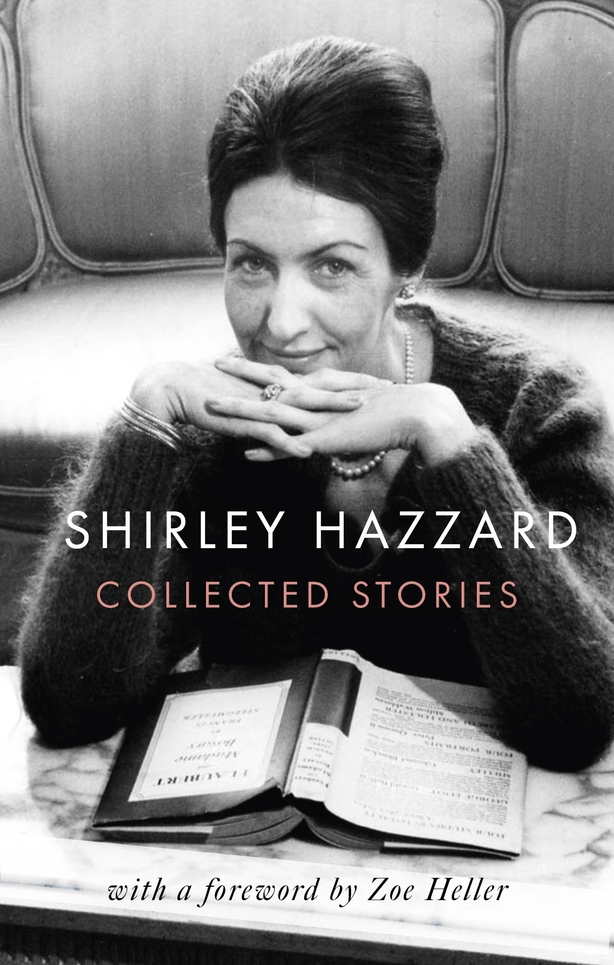 Hazzard grew up in Australia, her Scots father and Welsh mother had met on Sydney Harbour Bridge, but the marriage was not a happy one. The family moved to New York in 1951 and the author spent much of the 1950s working for the UN in New York. She was in her twenties and the work involved a posting to Naples for a year, which was to become a city dear to her heart.
This mostly dispiriting or humdrum experience, saturated in bureaucracy, appears to have fed into some of the stories in this book, notably the long and not particularly distinguished story, Official Life. "There was no advancement for women at the UN,"  the author recalled in an interview conducted with The Guardian at her home in the isle of Capri in 2003.
The writer spent most of her later life in Manhattan, with regular sojourns to Capri where she owned a small apartment. On that island, she struck up a long friendship with the spiky, volatile Graham Greene, whom she had met when he was sitting at a nearby table at her regular restaurant. Indeed the pair linked up in charming circumstances, as she supplied the final lines of a verse of poetry that he was quoting to someone. The somewhat challenged but enduring friendship yielded a memoir. 
In 1963, the writer met and married Francis Steegmuller, translator of Flaubert's letters and biographer of Cocteau and Apollinaire. The couple were introduced to each other by Muriel Spark at one of her parties. They were seemingly quite happy together until Steegmuller's death in 1994, aged 88. 
The New Yorker fiction editor William Maxwell gave Hazzard the necessary break. She sent a short story to him in 1961, her first one in fact. "I sent it to the New Yorker absolutely cold, not even bothering to keep a copy,"  she told that Guardian journalist. Maxwell replied with a cheque and a cheerily encouraging note: "Of course we'll publish your story."
That story, Harold, from the collection of tales entitled Cliffs of Fall, was the first of many works of fiction and non-fiction from her to be published in the magazine. The tale depicts with admirable concision an ex-pat milieu sitting in the garden of an Italian villa at night, having dinner and talking to each other. The titular Harold arrives late (with his utterly controlling mother) to the table. He appears gauche and lacking in confidence, and the response is not particularly enthusiastic when he expresses a wish to go inside to fetch his poems for recitation.
Harold, against expectations, turns out to be a poet of great merit, and at least a few of the listeners are rapt. Hazzard, however, does not make a big deal of the young man's gift, she does not build it as a sensational discovery - the gift for verse is almost left hanging at the close of the tale.
Particularly strong also is the story Vitorio, which concerns a young English couple, Jonathan and Isabel. They find themselves lodging for a brief stay with an elderly widower named Vitorio, whose house is situated near an Italian piazza in Siena.
Jonathan is a classicist who is writing a series of books concerning Italy's architecture, churches and paintings -  it was Perugia last year, this year it's Siena. Vittorio, as it happens, is also a classicist and, despite the loss of his wife Teresa some years before, he finds himself enraptured by the young woman.
The collection draws on two individual volumes of stories, Cliffs of Fall and People in Glass Houses, along with a final Uncollected section. There are 28 stories in all, characterised by an epigrammatic, impish wisdom and observational acuity. Perfect for the beach - if we make it that far this summer.