Sara Baume's invigorating self-portrait of an artist provides insight into the creative process, but it also reflects on grief, materiality, legacy, and most unusually, birds.
'Art must arise from daily life, he believed, and the person who labours must be inseparable from the product of their labour- it must synchronously be a product of their will, their pains, their talents, their tenderness.' 
handiwork is visually appealing to the reader as each segment is divided by a photo of a model bird crafted by Baume in 2019. The bird is quickly established to be the symbol of handiwork, not only through the printed pictures but also through the continuous inclusion of facts on their habitats, migrations and appearances.
Birds, in fact, are the glue that holds the narrative together, linking reflections on encounters, spaces, memories, and items into a cohesive series. Tactile and auditory descriptions create an affinity between the reader and the woman who has graciously allowed them into her world.
This short book is an ode to the ordinary, where amidst meditations on theories of art and the life of an artist, the quotidian is elevated. It is not the masterpieces and the extraordinary that people truly cherish, but the comforting everyday. The image of the bird perfectly captures this sentiment: 'I am concerned, fundamentally, with my daily birds.'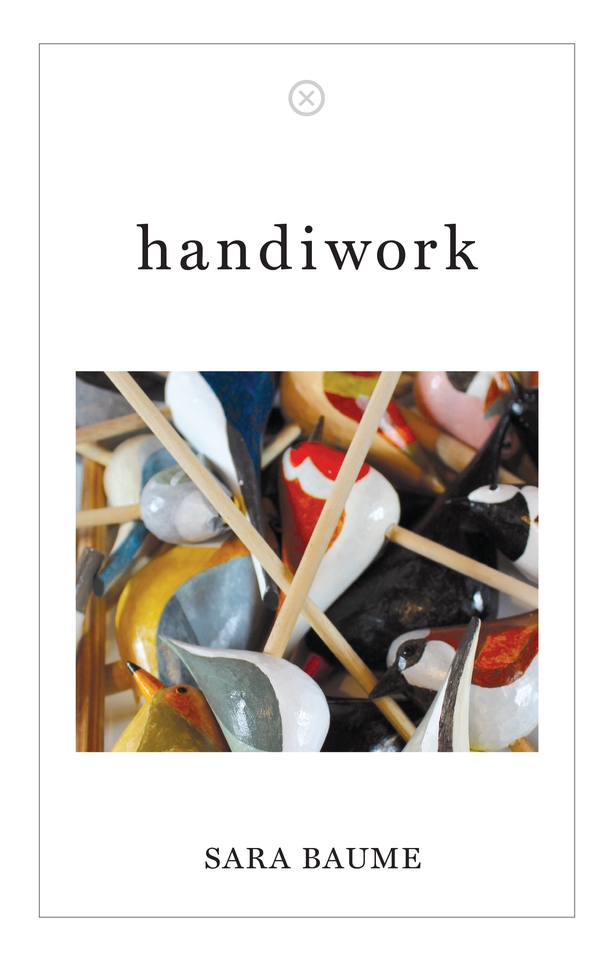 The message is timely and one likely to resonate with a reader who has found even their ordinary lifestyle disrupted by the strange times we have lived through. Despite its championing of the ordinary and its unusual style, to consider handiwork as purely a charming or quaint read is to neglect the complex emotions developed. Its appeal lies in Baume's simplistic yet profound storytelling in a work which is both soothing and poignant.
At the heart of handiwork is grief for a deceased parent. This mourning is not immediately apparent, but slowly the reader is taken into the confidence of the artist as she processes her loss whyich is bound up with nostalgia, sorrow, gratitude, confusion.
Moreover, the reader is invited to mourn with Baume. A touching connection of creativity,is drawn between three generations of her family,  an artistic legacy passed on through generations. handiwork weaves art and experience together, binding the art and the artist as one. This study in the creative process would not be possible without the exploration of pain as this too is part of Sara Baume's metier. Her candour allows for a piece which amounts to a beautiful and emotional tribute to her father. 
handiwork demands to be experienced and felt. It is no less than Baume's will, her pains, her talents, her tenderness.
Read an extract from handiwork.