We're delighted to present an extract from handiwork by Sara Baume, the latest novel by the author of Spill Simmer Falter Wither and A Line Made by Walking, published by Tramp Press.
handiwork is a contemplative short narrative from acclaimed writer and visual artist Sara Baume. It charts her daily process of making and writing, exploring what it is to create and to live as an artist. handiwork offers observations at once gentle and devastating, on the nature of art, grief and a life lived well.
---
When we first arrived, there was a busted feeder beside the concrete garden wall beneath the sycamore, and Mark, who is taller, hung up an identical but intact one on the lowest, thickest branch, and it lasted only a day or two before a rampant south-westerly blew it down. For the first couple of weeks we shifted the feeder about between different points of the washing line and the tree, until the wind dislodged it for the final time and it cracked, like its predecessor, against the wall.
The feeder had travelled with us from our former garden where it had dangled from a nail in the cement of the back of the house for five years, attracting no attention from other than a passing chaffinch, and since then I have convinced myself that songbirds will only successfully establish in gardens they recognise from collective memory – gardens their ancestors frequented in generations past.
Instead of the chirrup of feeding songbirds, ours is the cackle of far-off gulls.
Afternoon, I am less in need of the comradeship of strangers' voices. In contrast to the near-silence of the practice of writing, handiwork requires constant move- ment and generates its own soft, sputtering racket, like a summons, I sometimes think – like incantations of the meeting of material and tool.
Listen: Sara Baume talks handiwork on RTÉ Arena
It is important to listen, so the birders say, as important as it is to watch – or even more – because often you will only know which direction to turn your head from the sound of the song.
The sound of the mixing station is the muffled tinkling of a teaspoon, and then the soft bump-bump-bump of plastic packaging against laminated countertop.
The sound of the carving station is the stabbing and scraping of sharp steel against moist plaster.
The sound of the painting station is the dabbing of a blunted brush against thrice-primed china.
The sound of the sawing station is the puttering of a diminutive motor, and then the rasping of light wood against the teeth of a slender blade.
Often I sit outside on the garden bench in order to sand, and this sound – in summer inescapably accompanied by gull-cackle and insect-hum – is the shush-shush-shushing obliteration of the finest splinters and final anomalies.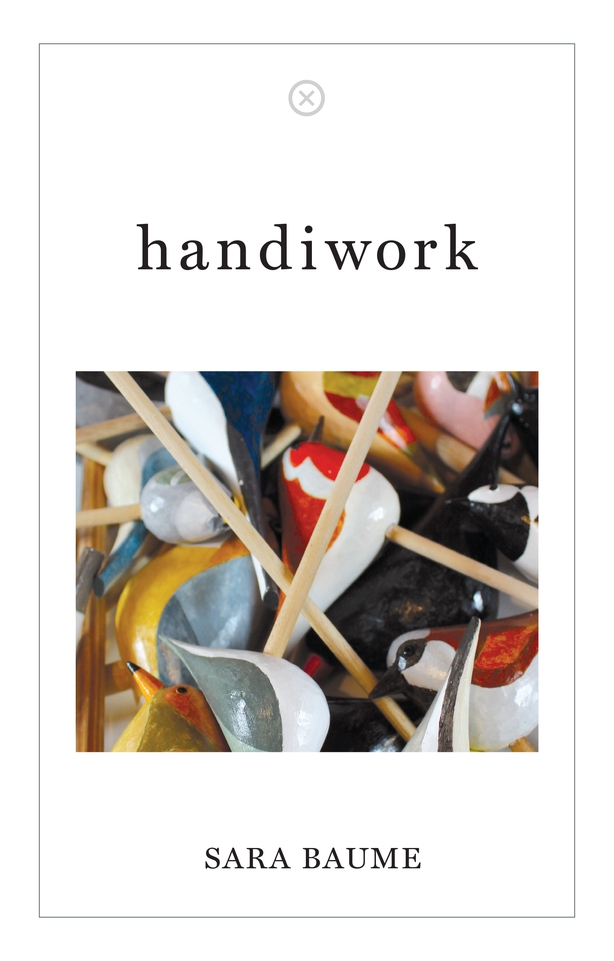 Handiwork is out now, and available from Tramp Press and book retailers online.