Megan Nolan's debut novel provides an unsettling account of one young woman's desire to feel real. Acts of Desperation details the life of the young narrator in Dublin as she navigates her obsessive love with Ciaran, a Danish writer, and her equally toxic relationship with food and alcohol.  
The power of Acts of Desperation is derived from Nolan's honest tone, direct expression and unwavering commitment to depicting just what it means to be truly unhappy. Her ability to convey vulnerability, frustration and isolation is exceptionally engaging, as she welcomes the reader into the most intimate thoughts of her narrator.
The novel's profound interiority through the 'I', the first person singular, allows the reader to singularly inhabit the narrator's mind, voice and worldview. Moreover, the overwhelming emotions experienced by the narrator may require the reader at moments to close the book and decompress.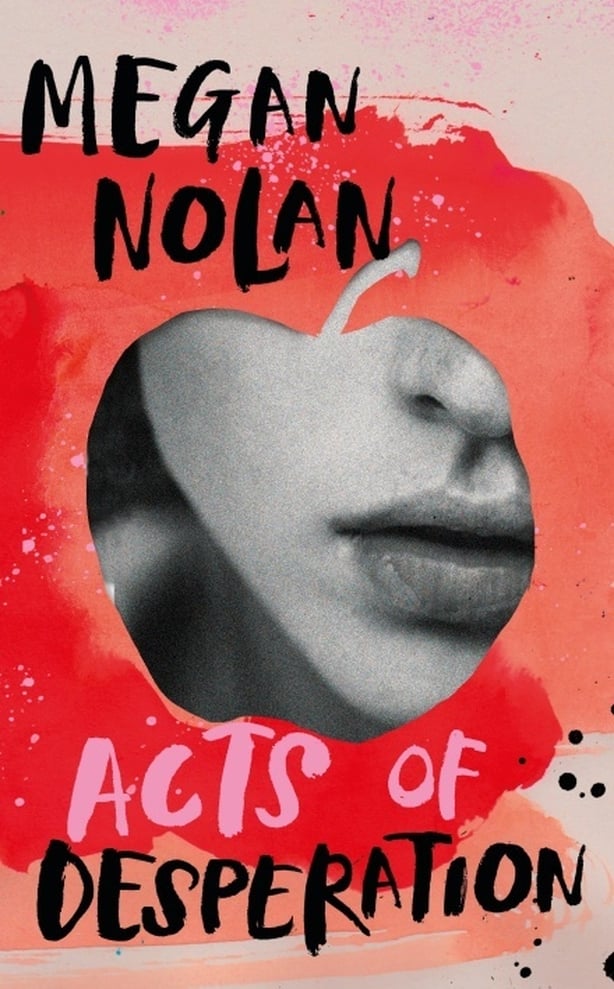 Nolan's representation of the relationship between her narrator and Ciaran attests to her ability as a writer to immerse the reader within one character's perspective. There is a clear acknowledgement of the toxicity between the two main characters, but Ciaran's 'coldness' is presented subtly in the early stages of their relationship.
His annoyance at her drinking, preventing her from chewing on her nails, or being unfriendly in company are but a few of the early red flags which are willfully ignored. The reader is led by the narrator's belief that this is a love which can work, one which can make her happy, as logic is challenged by her foolhardy denial. 
Ciaran as a character is almost unimportant, with the intensity of the novel being generated through the narrator's understanding of herself in relation to the object of her desire. The reader learns of the narrator's jealousy, as she imagines Ciaran looking at other women. We also learn about how she tries to inhabit his taste, to comprehend so fully his type of woman, and to compare herself to her observations. The impulse to anticipate her competition extends beyond jealousy, becoming a sexual experience in itself. Nolan's skill in writing without boundaries, divulging all of her narrator's innermost thoughts, allows the reader to experience the world completely through a set of eyes and a mind which are not their own. 
The considered structure of Acts of Desperation occasionally saves the reader from a total immersion within the narrator's mindscape. The novel is divided into sections based on a series of months between April 2012 and May 2015. These provide snapshots into the narrator's life, and particularly into the development of her relationship with Ciaran.
We need your consent to load this YouTube contentWe use YouTube to manage extra content that can set cookies on your device and collect data about your activity. Please review their details and accept them to load the content.Manage Preferences
Shorter, more reflective pieces from '2019, Athens' also punctuate the text. These segments are informed by hindsight, as the narrator considers her relationship with victimhood, sex, food, and her body, maintaining a certain distance from the intensity of the main narrative. The narrator's comparative maturity and self-comprehension in these contemplations ease the reader so invested in this woman's past self.
The 2019 narrator, however, is not a reformed figure free from her insecurities. An air of cynicism, anger and isolation colours these passages. It is through the first of these sections that the narrator reflects on rape. Nolan's treatment of sexual assault in Acts of Desperation is curious, as the assault and the victim's trauma are not the focus of the novel.
Instead, sexual assault is framed as part of a wider narrative about the de-humanisation and the social conditioning of women. 'It takes so much out of you to make yourself say no when you have been taught to say yes, to be accommodating, to make men happy.' 
The narrator does not find solace in the notion of solidarity in suffering with her fellow women, and feels alienated by the feminist image of the empowered woman. Her need to be validated by men is a source of great shame and she defines herself as a 'slut,' or as a woman 'owned' by her boyfriend in order to make sense of who she is. This internal conflict between social conditioning and independent womanhood is one which will resonate with almost every female reader. 
A reader may find his or herself wondering how much Nolan knows of the mindset which she has laid bare in this work. However, to interrogate the possibility of Nolan's work being semi-autobiographical is to miss the significance of the novel. Acts of Desperation holds biographical elements for many people. For people who struggle with their relationship to their body, food, or sex. For people who feel isolated by the world in which they live. For people who are low, who are in pain, who will do anything to feel they are loved. 
For many people, reading Acts of Desperation will be the literary equivalent of finding that oddly specific German term for an experience or feeling which you never imagined could be captured in words. 
Read this novel to feel real.