Almost seventy years after his death, the literary work of Graciliano Ramos (1892-1953) are hugely popular in his native Brazil and his short novel, São Bernardo, shows an intuitive understanding of rural society in the country's North-East in the 1930s.
The fiction, written for both an adult readership and for children, and the two memoirs written by Graciliano Ramos (1892-1953) are still a massive draw for readers in his native Brazil. São Bernardo is an interesting introduction to the work of the author who was jailed under the dictator Getúlio Vargas on suspicion of participating in a communist revolt. Far from deterring him in his quest, the author ultimately joined the Communist party some years after his release from prison.
Ramos's career was a particularly colourful one and he didn't appear to chain himself to a desk until he finally focused on books, at which endeavour he reportedly worked long and hard over individual sentences to get down the correct nuance of what he wanted to say.
In his youth, he decided to run a general store, as his father had done, after some years spent working as a journalist. In 1928, he became mayor of his town, Palmeira dos Indios, having been disinclined to take the post prior to that, not least because his predecessor had been shot. Under pressure exerted by a powerful local family he finally agreed to become the mayor. As soon as he took up office, however, he passed a series of anti-corruption laws which presumably set some noses out of joint - the usages 'powerful family' and 'anti-corruption laws' somehow ring alarm bells in their conjunction.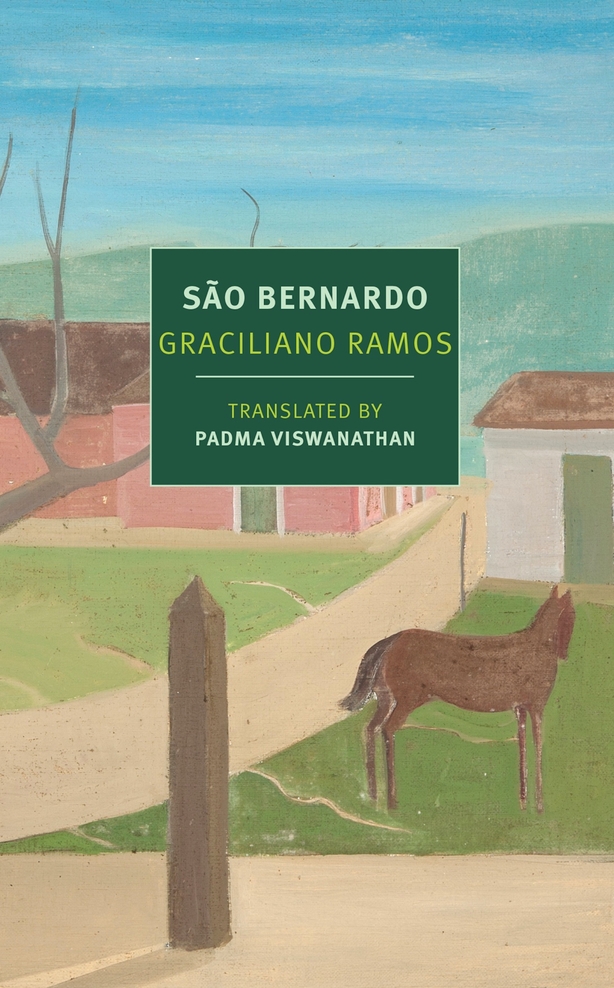 What propelled Ramos towards a career in fiction-writing is itself of interest. A publisher noticed a particularly vivid municipal report penned by the politician and coaxed him to produce something intended for a general readership. His first novel Caétes won him a notable degree of attention and critical acclaim and, aside from a further three novels, he also translated Booker T Washington's Up from Slavery and The Plague by Albert Camus. His memoir of imprisonment was published in 1953, the year in which the author died of lung cancer.
São Bernardo runs to 167 pages in Padma Viswanathan's fluid translation from the Portuguese and the tale is immersed in the practicalities of running a large ranch, managing crops, beasts and farm workers in sight of a dam. Debts and loans are a constant, like Maria Edgworth's Castle Rackrent.
The protagonist, 50-year old Sr Paulo Honório is an uncouth ranchero, who lacks the milk of human kindness to say the least. He thinks nothing of shady dealing and he employs foul tactics to acquire the titular farm, São Bernardo, or St Bernard in English. Causing offence or hurt is not an issue, he is himself a former tenant of São Bernardo, who grew up in poverty, a steely but damaged survivor.
Honório never really knew his father or mother, as he tells us early on, and he was effectively reared by the now elderly Margarida, whom he first helped selling the sweets she made and whom he wishes to provide for now that he enjoys a degree of prosperity (not that you would know it, he whinges so much about his business affairs.)
Our protagonist was jailed for murder as a young man but has put the incident behind him, although the fact somehow haunts the story and is dredged up again in the welter of paranoia and jealousy that envelops him as the tale nears it conclusion.
Sr Paulo is an edgy and defensive individual anyway from the off, uncomfortable with the fact that he is now, whether he likes it or not, a member of the respectable bourgeoisie, fraternising with the local lawyer and the editor of the local newspaper. He is still scheming, still up to no good, as the country goes through a complicated period of political upheaval. One should note that NYRB Classics in translation, such as this one, often have useful introductions which fill in the political background. Readers of this new edition of the novel would benefit from such information, not provided in this instance. Sure, we can always Google, but still.
Anyway, back to the story. One day, Honório spies an attractive young woman, named Madalena, a local school teacher. She is educated, unlike himself - he is ever-conscious of his peasant cunning. She, on the other hand is comfortable and assured with her education, although she earns relatively little. Honório, in his boorish way, persuades Madalena to give up her teaching post to marry him and settle on the farm. The nuptials are conducted as though she were another acquisition, albeit a particularly valuable one, there is no formal courtship as such. The marriage is a disaster and Madalena's grandmother Gloria, who reared her, arrives in São Bernardo as part of the transaction, willingly invited by the impetuous Honório. Jealousy rears its head about suspected lovers,a kind of inertia sets in among Honório's retinue and things appear to slide towards rack and ruin.
One is reminded a little of another ranch tale from South America, Juan Ramón Ribeyro's Silvio in El Rosedal. That tale also concerns a restless, unwed rancher, the eponymous Silvio, who is the envy of the neighbouring landowners because of his farm's potential.
As in Ramos's tale, São Bernardo, a young woman and, in this case, her mother, are similarly invited by the protagonist Silvio to live on the estate, once again to highly disruptive effect. Not quite a contemporary - he came a bit later - Ribeyro (1929-1994) is mildly Borgesian in approach, both stylish and imaginative. He is more of a strictly 'literary' writer perhaps, who in any case, wrote in Spanish, unlike Ramos who wrote in his native Portuguese. His collection of stories, Word of the Speechless, which includes the aforementioned Silvio en El Rosedal, is available from NYRB Classics in an attractive edition published last year.
Unlike Ribeyro, Ramos is not interested in elegant flights of fancy, or indeed fantasy of any kind. His language is grounded, conversational even, as one might expect from a man who ran a general store. Moreover, his sentences are veined with local usages and argot, some of which usages were even obscure and unfamiliar to the translator. Did the author coin a few of his own metaphorical allusions? It certainly seems so.
Likewise, he is certainly less European in orientation than Ribeyro. Ramos' metier, at least in the novel under review, is a kind of gnarled subtlety and rueful wisdom that lends a quirky, canny element to his appealing story.