The Italian writer and parliamentarian, Natalia Ginzburg (1916-1991) closely adhered to her own family story for Family Lexicon, her autobiographical novel, a marvellous work which should be much better known.
Born in Palermo in Siciliy, Natalia Ginzburg (neé Levi) was involved in political activism all her life and served in the Italian parliament from 1983 to 1987. Her husband, Leone Ginzburg, was tortured to death by the Fascists, but she never wrote at any noticable length about that traumatic episode. No doubt it was just too painful to recall the circumstances in print.
The curious charm of Ginzburg's writing has been well noted long before your present reviewer discovered her. Colm Tóibín, Rachel Cusk, Tim Parks, Hermione Lee and Tessa Hadley have all paid tribute to the novelist's peculiar skill with words and that understated, dry delivery that was an abiding characteristic.
In Family Lexicon, which was first published as Lessico famigliare in 1963, the writer makes her family's avowed anti-fascist activism part of the easy, fluid weave of the novel with no sense of undue self-satisfaction or smug hubris spoiling the effect. The scarifying, hot-tempered biologist Giuseppe Levi is the head of the household, depicted with humour whose cumulative effect after a myriad of appearances from the doughty paterfamilias is affection of some, perhaps limited kind.
He is married to the long-suffering but optimistic mother of the piece, Lidia. The Levis have lived in other cities in Italy, but they have now settled in Turin. Friends drop in, they themselves visit, there is a loose network of decent folk, trying to resist the boorishness of Mussolini's Italy. A grandmother dies, a political desperado on the run stays for a while, there is a shortage of money in the early years. The financial situation get better and Lidia begins to spend too much on getting dresses made. Meanwhile, her daughter is critical of her dress sense and there is gentle bickering, quite different in effect from the violent confrontations between the sons, Carlo and Alberto.
The parents, Giuseppe and Lidia, swear by early morning cold showers, while Giuseppe is obsessed with mountain climbing and skiing. He prefers rude huts to stay in, deliberately eschewing home comforts while on the slopes. His is a brilliant portrait, but if, as appears likely, the depiction is an accurate representation of Ginzburg's actual father, then there must be a dose of artistic licence. The real father cannot have been a pleasant man to live with, all that shouting and contemptuous dismissals of people, alllied to suspicion for his children's friends and even prospective marriage partners. In truth, he seems a bit unhinged.
As with many families in which the operations of resistance were conducted in secrecy, the family are mostly surprised that eldest brother Mario - who had hitherto revealed no anti-Mussolini feelings - turns out midway through the 290-page story to have assisted the transport of anti-fascist pamphlets and flyers.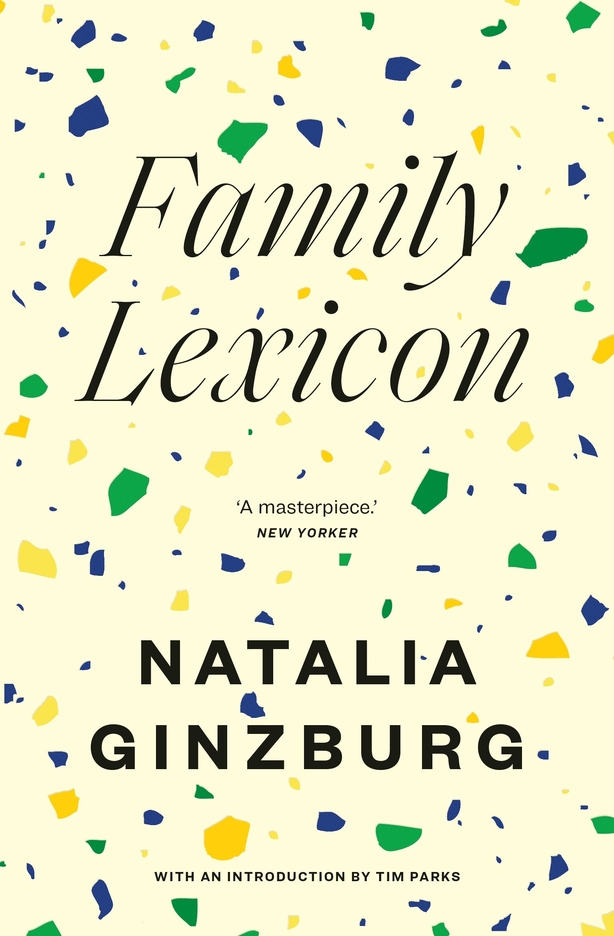 In the heat of an ambush in which the Italian police are shooting at him, a Swiss border guard sends out a boat. Mario is carried by the ferryman to safety into neutral Switzerland and eventually ends up in Paris, living in penury, where his parents come to visit him.
The next brother, Alberto, is imprisoned for anti-fascist activities and later becomes a chain-smoking doctor. Meanwhile, the youngest brother Gino marries Piera, a member of the wealthy Olivetti dynasty, whose fortune is built on the sale of typewriters. Conversely, Adriano Olivetti marries Paola, the older of the two daughters in the Levi family. The ties with the kindly Olivettis are strong throughout the tale.
Important names crop up in conversation, like the artist and doctor Carlo Levi, whom we first hear about when it is mentioned that he has been imprisoned. Levi's life, incidentally, was brilliantly explored in Francesco Rosi's 1970s film, Cristo si è fermato a Eboli, (Christ stopped at Eboli). That film was based on Levi's memoir, a profoundly sympathetic account of his exile to two poverty-stricken remote villages in southern Italy in 1935-1936.
Family Lexicon is a valuable companion work to Natalia Ginzburg's enchanting novel, Voices in the Evening, which is also available from Daunt Books, who make marvellous editions. Ginzburg had a remarkable ability to tell a story plainly, but she had a zestful verve and brio in her narratives which must have made the books pure pleasure to read in the Italian original.
Moreover, it is remarkable that her immense literary talent flows so well into at least the two cited English translations of her many works, and hats off to Jenny McPhee for doing the honours in this instance.