As I was reading John Boyne's new novel, word came through of the murder of journalist Lyra McKee in Derry. She was 29, gay and at a very good place in her life. In the days following her death, her 'letter to her 14-year-old self' was circulated widely, it's worth recalling the opening.
"Kid, it's going to be ok. I know you're not feeling that way right now. You're sitting in school. The other kids are making fun of you" and she goes on: " It's not nice. And you can't ask an adult for help because if you did that you'd have to tell them the truth and you can't do that. They can't ever know your secret."
That was Lyra's struggle, it was John Boyne's struggle too as he grew up in an Ireland where homosexuality was still illegal, and I have no doubt that most trans teenagers could also identify with Lyra's words.
Listen - John Boyne talks to Ryan Tubridy:
We need your consent to load this rte-player contentWe use rte-player to manage extra content that can set cookies on your device and collect data about your activity. Please review their details and accept them to load the content.Manage Preferences
This book is written for young adults, just as The Boy in the Striped Pyjamas was, and while it may lack the subtlety of that book, My Brother's name is Jessica packs a powerful punch at times. It tells the story of the Waver family - Mom, the over-ambitious politician, Dad, her sidekick and their two sons Jason and Sam, the 13-year-old narrator. Jason is the stereotypical handsome 17-year-old boy, the best footballer in the school with the prettiest girlfriend.
However, the narrative changes when Jason tells Sam the following: 'I don't think I'm your brother at all, in fact I'm pretty sure I'm your sister'. Cue family uproar as the various members try to come to terms with this news and the impact it will have on them all.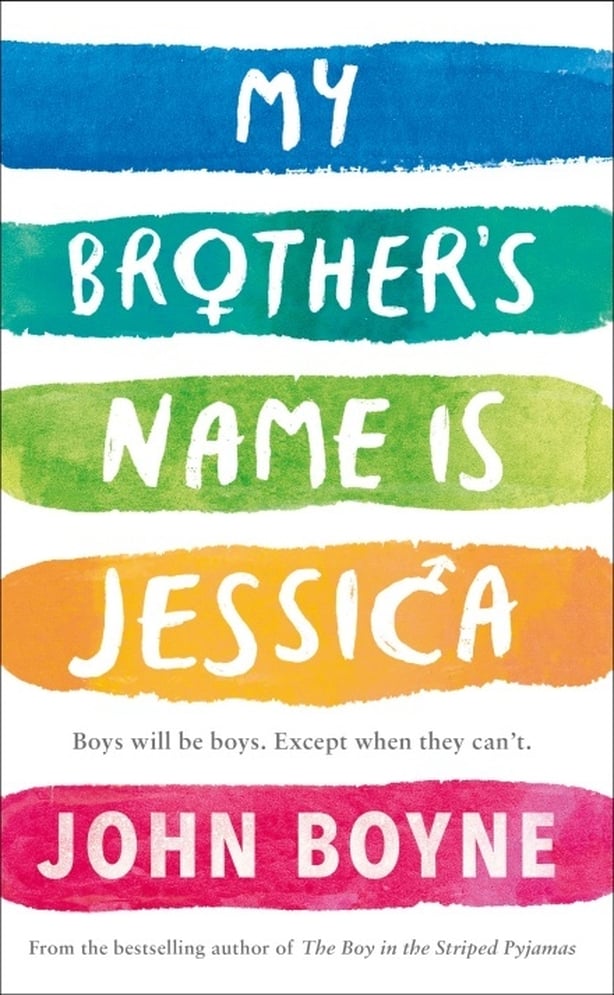 Now some people never got beyond the title, accusing Boyne of 'misgendering' and 'deadnaming' (we're all on a learning curve here). He is well able to defend himself on that, but to illustrate how he has presented the story, let me quote two passages…
First off, here's Sam, sharing a room with Jason on a family holiday (we don't yet know that Jessica is the name she has chosen):
After a few minutes I changed the sound of my breathing to make it seem like I was asleep. But the problem with pretending to be asleep is that you can't look up when you hear someone opening another beer, and another, and another after that and then falling down into the bed to the sound of their tears…..
And here's Jason explaining to a doctor:
I was born a boy but for as long as I can remember, I've believed there was some sort of mistake made. By God or whoever. It's as if the body that I have is not the one that I'm supposed to have. The truth is I've always believed that I'm actually a girl. I've bottled those feelings up for all my life and never spoke about them until recently….. Right now every day I live as Jason feels like twenty-four hours of dishonesty. And I don't want to be a dishonest person.
I think this 256-page novel can help start conversations, and (hopefully) lead people onto transgender authors. The fact that Boyne is a well-established writer will ensure a greater audience. And he's still a wonderful wordsmith...
...I walked past the sequence of football team photographs that stretched all the way back to before the First World War, where the boys wore haunted expressions and had dark, unhappy eyes as if they knew their lives were about to be cut short...