Ian Maleney's essays about growing up on a farm close to an Offaly bog amount to stimulating perspectives on memory and the sense of place.
In Fidelity, the author recalls the early experiments with sound recording which led to him becoming a recording engineer. He has been fascinated by the possibilities of sound for some 15 years at time of writing, and his exploratory piece comprises diary entries from December 29, 2015 and Midsummer's Day, 2016.
There is something in Maleney's writing that reminds one of Brian Dillon's fastidious attention to psychic response, he has Dillon's acute sense of hyper-observation. Maleney is punctilious about sound recording. "Because recording is a sequence of decisions, and each decision will enforce its own subsequent constraints on future decisions, it's no exaggeration to say that everything matters, " he argues.
In the same piece, he writes: "I am trying to listen to myself listening," and you almost hear a sigh of frustration. Thereby he modifies the epigraph from Marcel Duchamp's The 1914 Box as follows: One can look at seeing; one can't hear hearing.
The author's belief that he could tell the story of his native place in sound comes to grief as he sees it, his faith in recording as a repository of place, a talking book, if you will. "I am only now realising that I can't show people what it's like to hear something, least of all something as vague and disparate as a landscape," he writes. He notes too how he would like to record the horses running in the field beside his parent's house in the middle of the night.
He records sounds near the family home on the bog and is prompted by strange, unbidden thoughts about death and how he would like his ashes spread where he is standing. Fidelity ends quite beautifully, he is sitting with his mother on round bales in the farmyard, watching the sun set on a summer's night, the cattle lowing nearby.
In at least two of these essays, he recalls the basic recording studio/rehearsal space his father made for him and his brother. Part of the charm is the way the book revisits tropes such as that music space with its newly-fitted plug sockets. He is exploring the familiar and finding the strange within it, the same activity or location is reviewed, widening out the possibilities and resonances. That feature of his home-life, the studio in the cattle shed, becomes a talisman in his memory bank.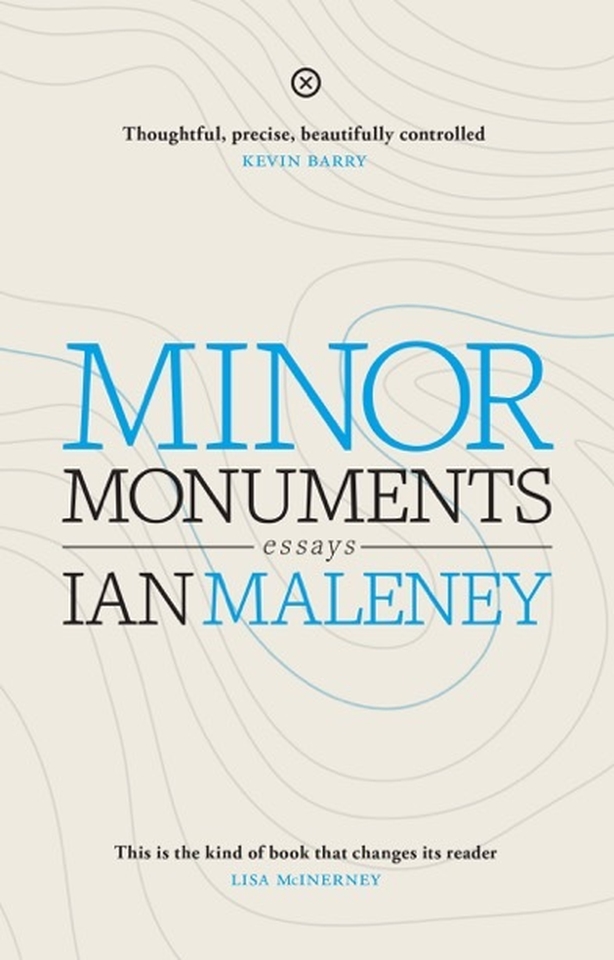 He is also a field recordist in the essay entitled And the wind it tremendously blew. He sets up for comparison Pat Collins' film Silence, and Richard Skelton's Landings, a book and accompanying sound installation. From Silence, he cites reference to the Irish word tost, whose meaning is teased over by Collins's protagonist Eoghan, who is travelling home to Tory in conversation with Michael Harding. The word tost, they conclude, has no direct translation into English, it's the `gap between noise.' This is all very well, but in truth there is no 'direct translation' of anything when it comes to languages – all one does is look for verbal equivalents. So tost is a translation of silence, and no more about it.
Nothing, of course, is meant to be scientific, these are personal impressions, this is rhapsodic writing. The author writes: "A photograph of a person who has since died does not make them seem alive again, but a recording of their voice can be enough to recall them to the room, to make their presence felt. " Now that would not hold true necessarily for this writer, and the reader may also find him or herself concurring or not. Maybe Maleney is too hung up on sound and its importance.
The author's grandfather John Joe is suffering from Alzheimer's disease, and John Joe and the author's grandmother Kathleen are brought vividly to life in a cameo within And the wind it tremendously blew. In the essay Below, he writes of the associations bound up with his grandparents' house, which lay close to his parents' house but was utterly different territory. Here the lads would savour a prized arena of make-believe in boyhood games. "I think it is a house where the past lives as a peaceful tenant of the present," he writes in one of his finely-cadenced sentences.
Boora bog, close to Shannon waters, is the centrifugal point of the collection and the author wanders further afield in some of these twelve essays. The essay Machine Learning begins with an account of the life of the Princeton mathematician John von Neumann, who grew up in Budapest. This preamble, as it were, leads the author into an essay on Alzheimer's disease which, he posits, may be `an existential illness.' "Alzheimer's is feared because it attacks fundamental notions of personhood and identity," he writes.
Ian Maleney's stimulating pieces will chime with many readers, they are not hidebound by category and are at once outward-looking and inclusive.
Read an extract from Minor Monuments here