We're delighted to present an extract from Minor Monuments, the new essay collection by Ian Maleney, published by Tramp Press.
Set around a small family farm on the edge of a bog, a few miles from the river Shannon, Minor Monuments is a collection of essays unfolding from the landscape of the Irish midlands. Taking in the physical and philosophical power of sound and music, and the effects of Alzheimer's disease on a family, Ian Maleney questions the nature of home, memory, and the complex nature of belonging.
---
And The Wind It Tremendously Blew
The first time Niamh came with me to my parents' farm, I took her to the bog. It's not much of a destination, but it's about the only place you can go if you want to get out of the house. We followed the road down by my grandparents' place, which is next door to ours, and around the back of the cattle-sheds. At the end of our fields there's a shaded lane that takes you through to where the bog begins. The lane forks at the end and becomes two grass-covered paths that go deeper into the bog.
Listen: RTÉ Book On One - Ian Maleney reads from Minor Monuments
We need your consent to load this rte-player contentWe use rte-player to manage extra content that can set cookies on your device and collect data about your activity. Please review their details and accept them to load the content.Manage Preferences

We hung a right towards the elevated, heather-covered bank where my grandparents used to save their turf. Getting to the high bank means wading through some tall, stiff grass growing from very wet ground. Even in summer it can be a messy business. Neither of us were adequately dressed, but we got as far as the bottom of the bank and stood for a while next to a sheer six-foot face of deep brown peat. Niamh took a photo of me there with her phone. I had my hands in the pockets of my hoodie and I looked back over my shoulder towards her, windblown, my face balled up in a squint. Upon uploading it to Facebook, she added the caption,
Out here in Jutland In the old man-killing parishes I will feel lost Unhappy and at home.
*
The bog is a quiet place. No matter how often I go there, no matter how closely I listen, it remains a quiet place. There are three primary sounds: the wind in the scattered trees, the birds, and the remote sounds which are not of the bog but which are audible there all the same; chainsaws, lawnmowers, tractors – engines beyond the horizon. These elements combine in different measures on different days. A windless day leaves the far-off hums exposed and sharpens the hollow bark of a dog on a distant farm. The birds come alive in the early evening and their pinprick calls are soft and charming. On a stormy day there is nothing but wind; a dull blast obliterating all else as it makes its way across the plain.
I have stood in all kinds of weather out on the high bank with my recorder aloft. Standing up there once, I could hear a very faint drone, a sound I thought might be a train, or even motorway traffic on the far side of the Shannon. Something miles and miles away. Rooted like a tree as the minutes crawled past, I closed my eyes and tried in vain to make sense of this vague shadow of a sound. Then I looked up. A gigantic swarm of midges were forming a dark, humming cloud a foot above my head. My legs took action before my head had time to think and I ran wildly towards home, plunging through the chest-high grass. Breathless at the edge of the bog, my vision of myself as an intrepid field recordist in tatters, I began to laugh at my instinct for flight.
Niamh and I returned to the bog some years after that first visit, to record sounds for a project she was working on. She wanted to capture the squelching and burbling of the sodden ground. I jumped in and out of liquid earth, lost a wellington, made all sorts of noises. On our way home, we walked through my grandparents' back yard where my grandmother was filling buckets of turf. We stopped to chat with Nana for a while, and my grandfather came out to join us.
John Joe wasn't particularly mobile at this stage, and I remember how long it took him to cross the narrow strip of concrete to where we were standing. He was nearly bent double over his walking stick. 'He won't even know who you are until he comes over near you now, honestly,' Nana said as he shuffled towards us. She warned Niamh that he would repeatedly ask her the same questions. 'Do you know this fella, John Joe?' she said. 'Ah, I'd know now if I could get time to look at him,' came the reply. 'Oh Lord, I know you well but I just can't put a name on you.' Nana explained to him that I was his grandson, that I was from just up the garden. You could tell he was better at bluffing than he was at remembering. When he found out Niamh lived in Dublin, he sang a little bit of 'Molly Malone' for her. Always a charmer, he took her hand and said she was a lovely girl, a lovely, lovely girl. 'Don't squeeze the hand off her now, you were very fond of them,' Nana said. 'I'm not!' he protested, laughing. 'That's what has me in trouble now with you.'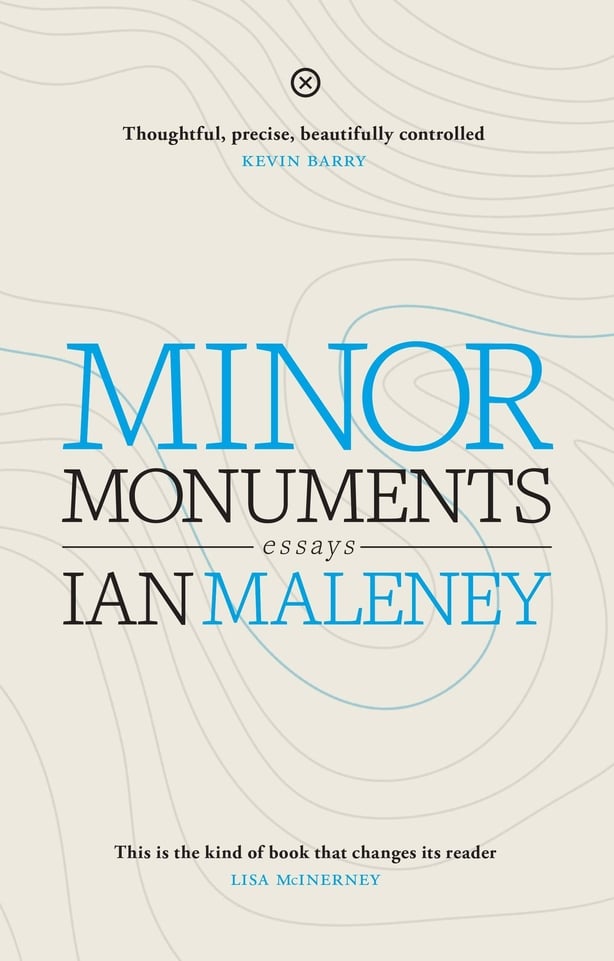 Nana pushed him again to remember who I was. 'We reared him,' she said. 'Well,' he replied, 'we dragged him up.' We talked a little about my brothers, the cattle my father had recently bought, the way the weeks were passing quicker than ever. As ever, Nana couldn't get over how it was October already, the year nearly gone. John Joe piped up. 'It's like the woman said one time when she pegged the clock out through the window – time flies.' The Alzheimer's is a curse, as Nana would say, but it's easier if you've got a sense of humour.
When we left, they walked together towards the back door of the house, bickering playfully about tea-time and slices of currant bread. I can only remember all this because Niamh had accidentally left the recorder running. It had been working the entire time, recording the conversation from a pocket of her backpack. She cut this section out for me, and I have it still. It's only three years ago, but it feels like so much longer. As the clip ends, their voices are fading away, becoming quieter and quieter still.
Minor Monuments by Ian Maleney (published by Tramp Press) is out now.
Read Paddy Kehoe's review of Minor Monuments here