An elderly married couple eat, drink, bicker and tease in Amsterdam on a January weekend break in Bernard McLaverty's fluent and absorbing tale, the author's first novel in sixteen years, now out in paperback.
Originally published last year, Midwinter Break won the Bord Gáis Novel of the Year award as well gaining Book of the Year accolades in The Guardian, The Sunday Times, The Irish Times, The Herald Scotland and the Mail on Sunday.
Leaving their adoptive Glasgow, sixty-something Northern Irish couple Gerry and Stella choose Amsterdam in the bleak midwinter for some rest and relaxation. Well, kind of - the rather demanding and petulant Stella is in search of a lay religious order.
Stella feels that now that she is a grandmother with one son living abroad in Canada, there is nothing else to do but try and improve the world. She also feels duty-bound to honour a promise she made to God many years ago at the height of the Northern strife. The plan would appear to exclude Gerry from its realisation, so is it the end of the marriage?
She knows her retired architect husband far too well – much better, it would appear, than he knows her. In fact, she tends to patronise the amiable old duffer, who is driving her nuts with his sneaky fondness for whiskey and his new tendency to forgetfulness. She can be brusque and quite out of order at times, but Gerry has equally annoying foibles.
So it goes, visits to a secluded religious house, to the Rijksmuseum, a look at some Vermeers, and to the Anne Frank house, scene of one of the dramatic scenes in the novel. There is a nocturnal stroll in the Red Light district – the prostitutes are twice dubbed "poor things" by Stella  – and shots are somewhat improbably downed in a crowded pub. There is a visit too, Lord preserve us, to an Irish bar by these two Irish people.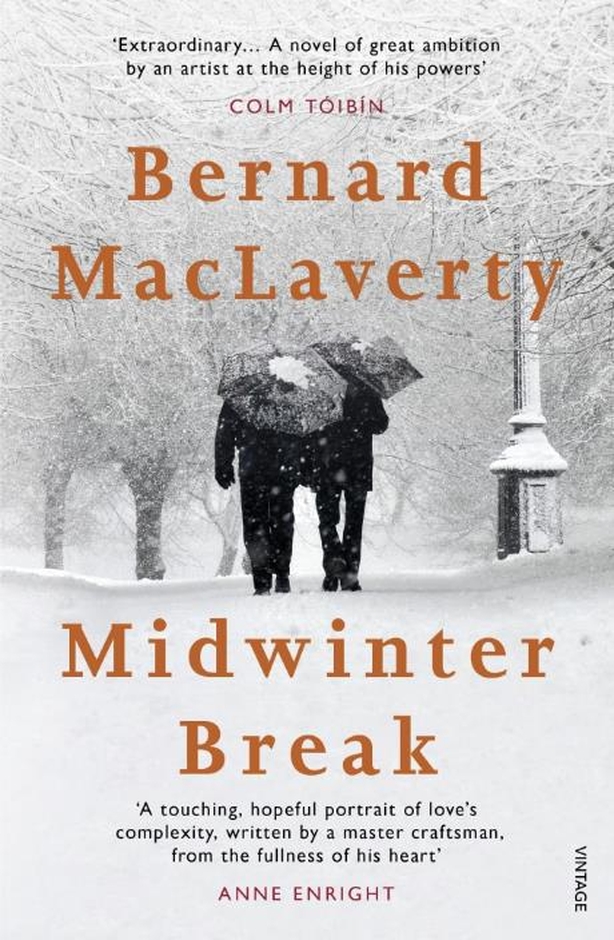 There are architectural musings too on the buildings, from Gerry in a Bloom-like stream of consciousness as he looks at the world around him in all its acceptable lunacy. Midwinter Break is a fine novel from McLaverty, who came to attention with the novels Cal and Lamb, but it has its occasional flaws. When the author writes that his ageing pair 'make love' and ends the sentence with that phrase, just like that, it leaves you hanging. Given the tension between the pair, making any kind of love stretches credulity.
However, he gets away with it - just about – on the basis that marriages are secret places where anything is possible, even what looks illogical on the outside. Whatever about any other impressions, the reader will feel that he or she knows these two well by the end of the 243-page Midwinter Break. It is indeed a tribute to the talent of this veteran novelist that he brings us right into what are often intensely tactile scenes from a marriage under pressure.
McLaverty has an amazing ability to build a detailed picture from seemingly casually-executed, almost off-hand sentences and Midwinter Break is by turns appealingly tolerant and companionably humane. Further good news for the veteran Northern novelist is the fact that Midwinter Break is to be made into a film sometime soon, directed by John Crowley of Brooklyn fame.