Analysis: these changes go well beyond pollution reduction and would simply make Ireland a much better place to live
Never have we known so much about a problem, done so little to address it and engaged so few in solving it. Scientists have been warning us about a warming planet for decades and now nature is showing us. Ireland is not immune from the impacts of a changing climate nor absolved from the causes of the problem.
Here in Ireland, our image as a "green country" is at odds with evidence that shows us to be one of the most fossil fuel dependant economies in the EU. We also have one of the largest greenhouse gas pollution footprints per person in Europe.
A challenge with climate communication is that we tend to focus on the negative outcomes from inaction rather than the positive impacts of action. The jaded rhetoric of encouraging people to act for grandchildren, polar bears and ice caps resonate with only a few and have mostly failed.
📺 'Tomorrow Tonight'
Wednesday, 9.35pm, @rteone and @rteplayer.@marklittlenews and @CarlaO_Brien fast forward to 2050 Ireland to cover an unprecedented night of climate action.

RTÉ on Climate for Science Week│ #ScienceWeek2023 pic.twitter.com/H5PZkSc4FF

— RTÉ (@rte) November 14, 2023
But what if things were different? What would be the positive impact of action if we took responsibility for the energy we use and the pollution we produce in Ireland? Let's take a look at some actions we can take.
Moving away from fossil fuels
The Irish economy is fuelled by oil, gas and, to a lesser extent, coal. In 2022, we spent approximately €1 million euro every hour importing these fuels from other countries. Some 55% of Ireland's climate pollution comes from fossil fuels. The price we pay for this high reliance on fossil fuels is the high cost we pay to heat our homes, fuel our cars, and power our appliances.
However, we have the resources, technologies and know-how to produce most of our energy needs in Ireland over the next two decades. This would make energy affordable, make prices less volatile, and play to Ireland's natural strength as a country with significant weather-driven energy potential.
From RTÉ Radio 1's Today with Claire Byrne, UCC's Dr Paul Deane on whether Ireland should invest in modular nuclear units
Our research in UCC developed a blueprint for how this can be delivered and demonstrates the annual investment required is manageable, at an additional 2% of our Gross Domestic Product. Reducing fossil fuel use also brings health benefits in terms of lower air pollution; right now air pollution in Ireland contributes to 1300 deaths per year.
As well as producing energy, we can also save energy by making our homes more efficient. A typical Irish house will leak most of its heat and this compounds the problem of energy poverty, which has increased significantly since the energy crisis began.
These changes bring social, health and economic benefits to Ireland but, yes, there is a catch. If we want to produce more clean energy in Ireland, we must be able to move it from where it is produced to where it is needed, and this requires a bigger electricity network. We will have to build the infrastructure we need, such as pylons, solar farms and big wind farms on land and at sea.
We need your consent to load this rte-player contentWe use rte-player to manage extra content that can set cookies on your device and collect data about your activity. Please review their details and accept them to load the content.Manage Preferences
From RTÉ Radio 1's Today with Claire Byrne, Architect and Broadcaster Roisin Murphy and UCC's Dr Paul Deane on solar panels
Some types of infrastructure, like big electricity pylons, are ugly, but they are necessary in a modern economy. Building it won't be welcome in all communities. This will be hard and pretending it's easy just makes it harder. This will require strong political will and a longer-term focus on the benefits for the next generation rather than the next election.
Using our land in different ways
How we farm and use our land is responsible for 45% of greenhouse gas pollution in Ireland. When discussing farming, it is important to focus on policy and not blame people, because policy is the driver of practices that lead to pollution. Agricultural policies across the world often place a greater emphasis on economic output rather than environmental protection and regularly fail to provide adequate income to large portions of the farming community, particularly smaller farmers.
We need your consent to load this rte-player contentWe use rte-player to manage extra content that can set cookies on your device and collect data about your activity. Please review their details and accept them to load the content.Manage Preferences
From RTÉ, Tomorrow Tonight is a new scripted docu-drama set in 2050 that focuses on climate change, the Irish rural economy and a revitalised Amazon rainforest
Farming and land use must consider four elements of sustainability, namely (a) social - it must be fair to farmers; (b) financial - it must provide a dignified income for families; (c) environmental - it must do little harm in terms of water pollution and biodiversity damage, and (d) climate - the associated greenhouse gas pollution must be science-based.
Low-cost food production can have a high environmental cost and Ireland should seek to deliver high-quality food that does not breach our environmental or social capacity to produce it. But we must ensure that farmers have economic options to stay on the land while protecting the environment.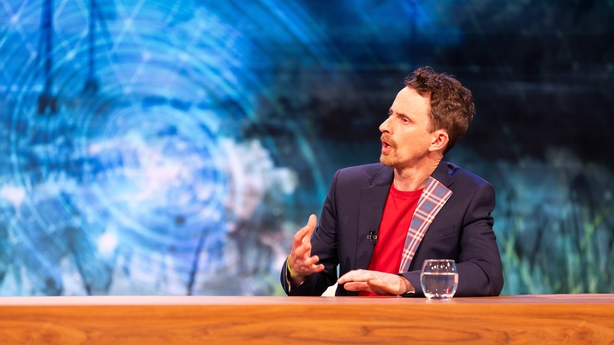 Land that is not suited to good food production can be used in different ways: We can harness some land to produce sustainable fuels from grass and agricultural wastes and accelerate our journey away from fossil fuels. We could rehabilitate peaty land to absorb greenhouse gas pollution rather than release it and we could reward less intensive types of farming, so room is preserved for wildlife, nature and growing native trees.
As for energy, these changes will be challenging, but the sector has always been responsive to policy. This time though, the economics of food production and environmental protection must work hand in hand and not against each other. Any of the changes above for energy or for agriculture can provide many benefits, going well beyond pollution-reduction, and, if managed correctly, would simply make Ireland a better place to live.
RTÉ Brainstorm contributor Dr Paul Deane is a guest on Ireland 2050: Tomorrow Tonight which airs on RTÉ One at 21:35 tonight
---
The views expressed here are those of the author and do not represent or reflect the views of RTÉ
---