Analysis: many of Ireland's revolutionary and political leaders were culturally engaged and played important roles in Irish artistic life
By Billy Shortall, TCD
The Irish Revival of the late 19th and early 20th century fuelled the drive for political independence, bringing together cultural revivalists and people of more radical intent in the formative years before and after Independence. Eoin MacNeill, Minister for Industries, was an Irish scholar, and along with first President of Ireland, Douglas Hyde, founded the Gaelic League in 1893. Padraig Pearse, leader of the Easter Rising, whose father was an artist-craftsman, was a writer and an important figure in the League.
Other proclamation signatories Thomas MacDonagh and Joseph Mary Plunkett were co-founders of the Irish Theatre Company and were published poets. Abbey Theatre co-founder and author, Lady Gregory, and republican revolutionary, actor and suffragette Maud Gonne were close associates and were important figure in cultural circles.
We need your consent to load this rte-player contentWe use rte-player to manage extra content that can set cookies on your device and collect data about your activity. Please review their details and accept them to load the content.Manage Preferences
From RTÉ Archives, interview with Maud Gonne by Dr Eileen Dixon from 1945
Artist John Lavery hosted and painted the Irish treaty negotiators in London. Jack Yeats firmly expressed his desire for a national art in his lecture in for the state-sponsored Paris Congress of 1922. Seán Keating wished to create a room in the Hugh Lane-founded Modern Art Gallery for paintings recording the revolutionary period. Countess Markievicz, first Minister for Labour, studied art at the Slade in London and exhibited regularly in Dublin, alongside artists such as George Russell ('Æ').
Artist and Dublin Metropolitan School of Art teacher Patrick Tuohy was in the GPO in 1916, and fellow-artist Maurice MacGonigal also took part in the Easter Rising. Irish Free State leaders Éamon de Valera and Arthur Griffith were heavily involved in the restoration of the Irish language and were leading figures in the Gaelic League.
1916 veteran and later Minister for Irish in the new Free State Government Sean T. O'Ceallaigh previously held a position in the National Library and became the Gaelic League's general secretary. Like others in Sinn Féin, he was heavily involved with the publishing of An Claidheamh Soluis, a nationalist and cultural newspaper. Minister Ernest Blythe became director of the Abbey Theatre. Count George Noble Plunkett, who became Minister for Foreign Affairs and first Irish Minister for Fine Art, studied renaissance and medieval art.
We need your consent to load this rte-player contentWe use rte-player to manage extra content that can set cookies on your device and collect data about your activity. Please review their details and accept them to load the content.Manage Preferences
From RTÉ Radio 1's Morning Ireland in 2018, Cuan Ó Seireadáin, Curator with Conradh na Gaeilge, on the launch of an online archive of issues of An Claidheamh Soluis from 1899 to 1932
Irish political figures were deeply culturally engaged and were close associates (and often friends) with writers, artists, and craftspeople, sharing the common aim of political and cultural independence. Much of the artistic output of the time was independently produced, for exhibit, performance, and distribution at home and abroad.
However, many of the themes addressed dovetailed with the nationalistic aims of promoting political and cultural sovereignty. Writers such as W. B. Yeats reclaimed old legends and stories from Irish history to recover an ancient historic and independent nation. The search for independence was dramatised by playwrights like Lady Gregory.
Irish artists such as Jack Yeats, Paul Henry, Grace Henry and others used a distinctive Irish pictorial language to give people an impression of their own landscape and their place in it. They visually returned ownership of the land to its inhabitants. In his introduction to Transformations in Irish Culture (1996) academic Luke Gibbons argues that "to engage in cultural activity in circumstances where one's culture was being effaced or obliterated, or even to assert the existence of a civilization prior to conquest, was to make a political statement".
From RTÉ Radio 1's Arena in 2016, Prof Luke Gibbons and Lisa Godson on the Mise Eire?: Shaping A Nation Through Design conference at the National Museum of Ireland
The Irish Arts and Crafts movement was one important area of such cultural activity. It followed the English model in which the handmade was presented in political opposition to the Industrial Revolution. In Ireland, Lord Mayo a wealthy philanthropist organised professional artists and Lady Aberdeen's Cottage Industries Association into a cohesive exhibition society in 1895.
The most important Guild to associate with the movement in the early years was Dun Emer. Founded in Dundrum in 1902 by Evelyn Gleeson with support from Lily and Elizabeth Yeats, and aided by several female trainees they worked on a variety of crafts; Gleeson in charge of tapestry and hand-tufting of carpets and rugs, while Lily oversaw embroidery, and her sister Elizabeth the press. The Yeats sisters would later set up independently from Gleeson and established Cuala Industries in 1908.
The Dun Emer Press first published Jack Yeats' prints of Irish life and people in a distinctive West of Ireland landscape presenting a form of Irish identity for national and international consumption. After the split, Cuala would continue for decades to issue Irish prints by various artists alongside publishing books by the writers of the Irish revival.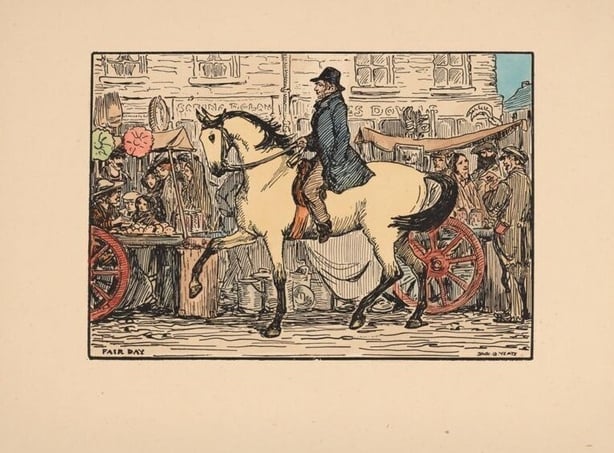 After the Yeats's departure, Dun Emer continued to be successful with notable carpet and tapestry commissions for churches, business corporations, and private clients, at home and abroad. Much of their output was decorated with bold neo-Celtic trumpet and spiral patterns derived from Irish antiquities and manuscripts such as the Book of Kells.
Notable work included banners for Loughrea Cathedral (then under the supervision of Lily Yeats), carpets for offices of the Canadian Pacific Railway, the Honan Chapel, Monaghan Cathedral, St Patrick's in San Francisco and carpets for the new Irish parliament in Leinster House. Another important commission was a carpet made for the Pope (a present from the Irish State) which went on display in Government buildings and later in Clery's department store before being despatched in 1931.
While Gleeson continued living in Dundrum where Dun Emer was founded, she moved her company operations to 38 Hardwicke Street in 1912. The premises was owned by Countess Josephine Plunkett, wife of George Noble, and mother of 1916 martyr, Joseph. Gleeson was friendly with the Plunketts and would later co-form the Academy of Christian Art with Count Plunkett (of the Papal Court) and others in 1929.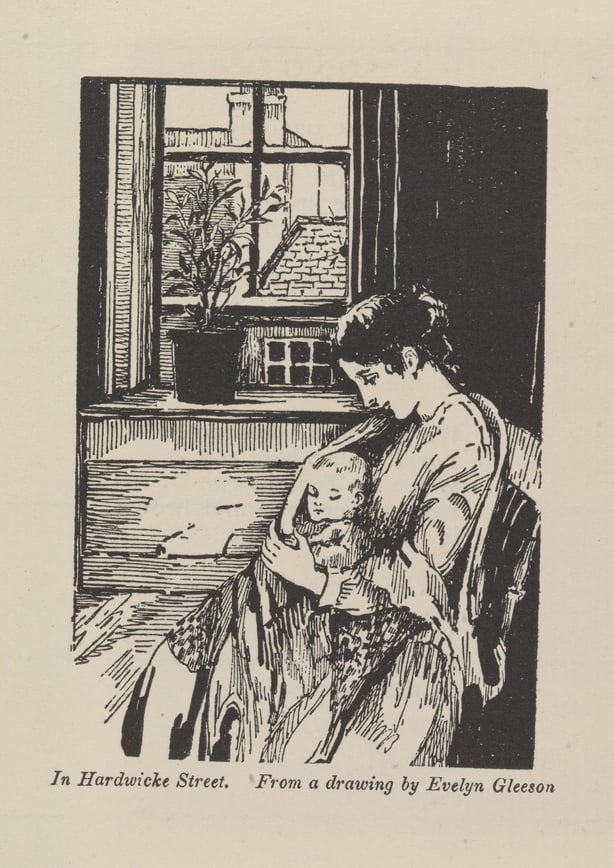 Hardwicke Street served two purposes. The building fronting the street was the home for the Irish Theatre Company, founded by Joseph Plunkett and Thomas MacDonagh with Edward Martyn. The latter was instrumental in setting up the Abbey Theatre with Lady Gregory and William B. Yeats in 1904 but 'fell out' with Yeats and his 'cabin plays' and sought an outlet for more modern drama. The theatre ran from 1914 to 1920. The former school buildings at the rear were occupied by the Dun Emer Guild.
While Gleeson remained active with Dun Emer, her niece Katherine (Kitty) MacCormack became its driving force and main designer. She kept Dun Emer going after Gleeson's death in 1944 until the mid-1960s (the Dundrum house was sold in 1947). Dun Emer made the neighbouring theatre's curtains and costumes, and Kitty and her sister Gracie and other staff acted in many of the Irish Theatre productions.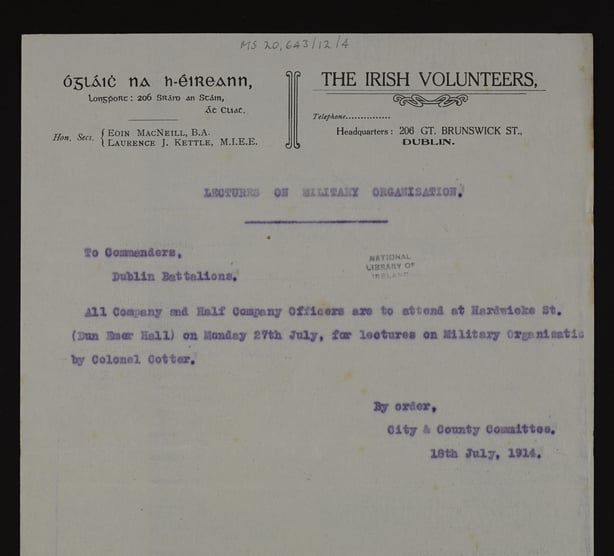 Numerous republican political meetings were held in both Hardwicke Street premises, by the Irish Volunteers and others. Shown here is a letter, now in the NLI, issued from the Irish Volunteers HQ to commanders of the Dublin battalions to attend at Dun Emer Hall on Hardwicke Street for lectures on Military Organisation. This note speaks to political ideologies and the ties between politics and craft formed during the Irish cultural revival.
Gleeson was asked by the newly established Irish Government to lecture to the Irish Race Congress in Paris in January 1922. Her lecture firmly attached craft to Irish nationalism. She opined that the arts and crafts must be refreshed 'after generations of enforced ignorance and grinding poverty' and the creations 'must be Gaelic or nothing'.
Noting also that 'nations are rated by their knowledge and cultivation of art, we must teach our children … and weave for Mother Eire a vesture worthy of her'. She linked Irish antiquity, Catholicism and craft in her aspiration for the emerging State. Dun Emer's final location and shop on Harcourt Street closed in 1964.
Dr Billy Shortall is a Ryan Gallagher Kennedy Research Fellow Fellow at the Irish Art Research Centre (TRIARC) at the School of Histories and Humanities at TCD.
---
The views expressed here are those of the author and do not represent or reflect the views of RTÉ
---