Analysis: artist-designed printed images were a potent and far-reaching nation-building tool for the new Free State government
By Billy Shortall and Angela Griffith, TCD
With the establishment of Irish independence in 1922, Irish political and cultural leaders sought to define and assert the country's distinct national identity after centuries of colonial rule by the British. The colonialists' trope, that colonisers benevolently rule because natives are backward and unruly and incapable of self-government, was propagated by a succession of post-Act of Union British administrations and became ingrained in systems of government and control. This attitude was visually reinforced in popular British media from the mid-19th century, most infamously seen in Punch magazine's racist cartoons of the drunken simian-like Irishman.
With the rise of fine art production from the 18th century, artists by and large served the demands of the ruling classes. Irish-themed visual imagery reflected the mores and tastes of the landlord and the well-off who profited from the status quo. Following London's Royal Academy of Arts stylistic principles, Irish-themed landscape paintings hung in big houses, signifying colonial authority and its improving impacts. Genre scenes of the working and peasant classes depicted the native Irish as benign, servile, or at times, feckless.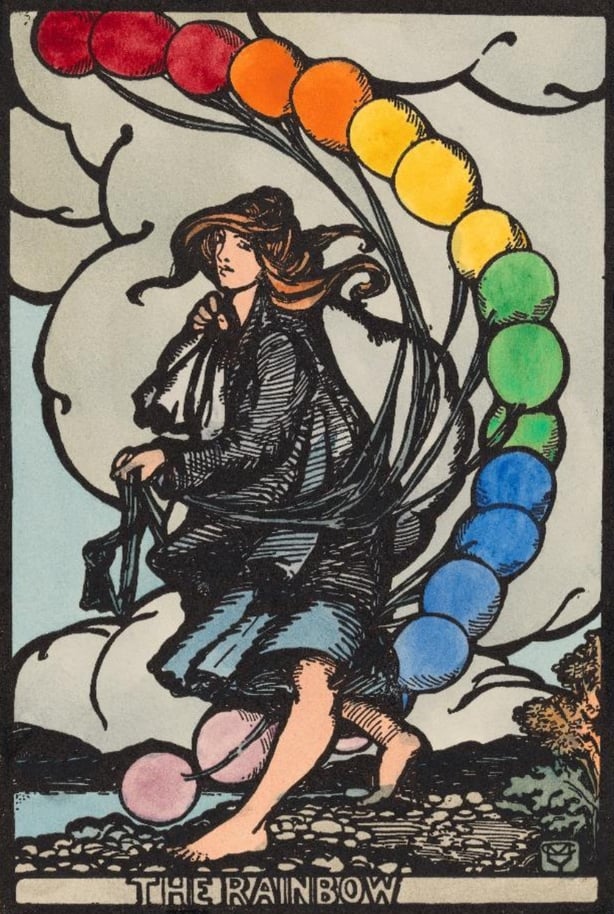 Following the principles of the late 19th century Irish Revivalist movement, Irish Free State authorities sought to orientate citizens away from their colonial past, and to counter negative views encoded by the previous administration. The Irish government began a cultural campaign to assert itself on the international stage. Setting about these tasks almost immediately after assuming power, they commissioned a series of stamps that identified with Ireland's ancient and Early Christian heritage. Imperial red post boxes were painted green. New Irish coinage was commissioned which featured images of native animals on one side, with an image of a harp (one that reputedly belonged to the High King Brian Boru which in fact dated to later medieval times) on the obverse.
Plans to revive the ancient Tailteann Games in August 1922 were postponed due to the Civil War. These games, a sort of Irish sporting and cultural Olympics Games, were held in 1924, and would be a larger spectacle than that year's Paris Olympics in terms of events and attendance. A regular national event in Ireland until 1169, the Games ended when Ireland was colonised. Re-enacting these games in the modern era, as an interrupted continuum from ancient times, tangibly signalled Ireland's disengagement from Britain, culturally and politically. The country's political sovereignty was manifested in 1923 when it joined the League of Nations.
The Western seaboard and its characteristic landscape was largely untainted by British urbanisation and remained Irish speaking. It was regarded by nationalists as the 'real' or 'authentic' Ireland, one that was utterly distinct from England. From the beginning of the Irish Revival, the West of Ireland was invested with cultural capital, bestowed on it by Irish writers, artists, and politicians.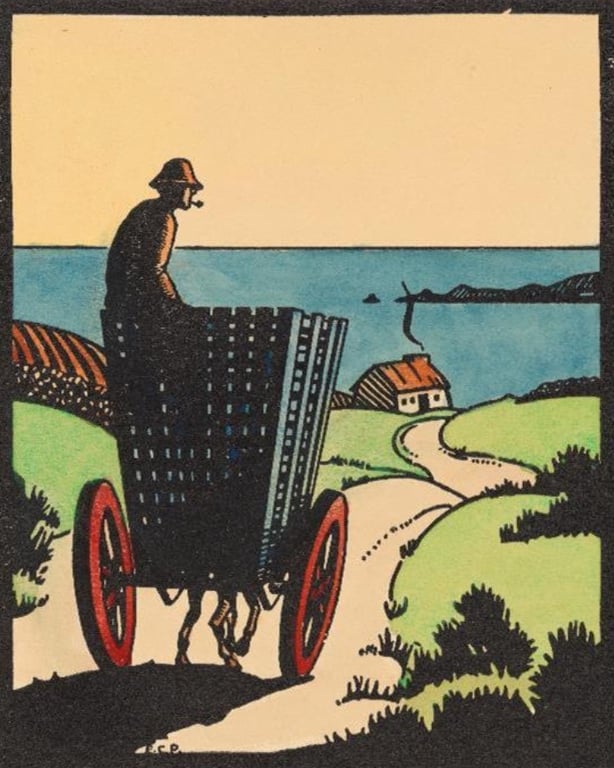 The region became an essential definer of national identity. Irishness, as represented textually by writers such as John M. Synge and Lady Gregory, and visually by Jack B. Yeats and Paul Henry, became an essentialised, uncompromising form of Gaelic culture, defined by ruralism, language, and customs. The West embodies a more lasting and meaningful way of life than that experienced in the English influenced East.
The Irish Revival in the decades before and after independence was led by key individuals within Irish language, literary and art movements. Among them were politicians, writers, and artists, whose ideological, political, and cultural aims for Ireland dovetailed. They represented, and valued, an Irish way of life that the British government had politically failed to recognise.
The Cuala Press (founded in 1908), and its earlier iteration the Dun Emer Press (founded 1902), represent one of the most successful literary and artistic revivalist institutions of the period. Both presses were under the directorship of Elizabeth Corbet Yeats. She and her sister Lily Yeats, an embroideress, parodied in James Joyce's Ulysses as 'the weird sisters', were partners in an arts and crafts enterprise. Their better-known siblings were the poet William Butler, editor at the press, and the artist Jack, who contributed illustrations.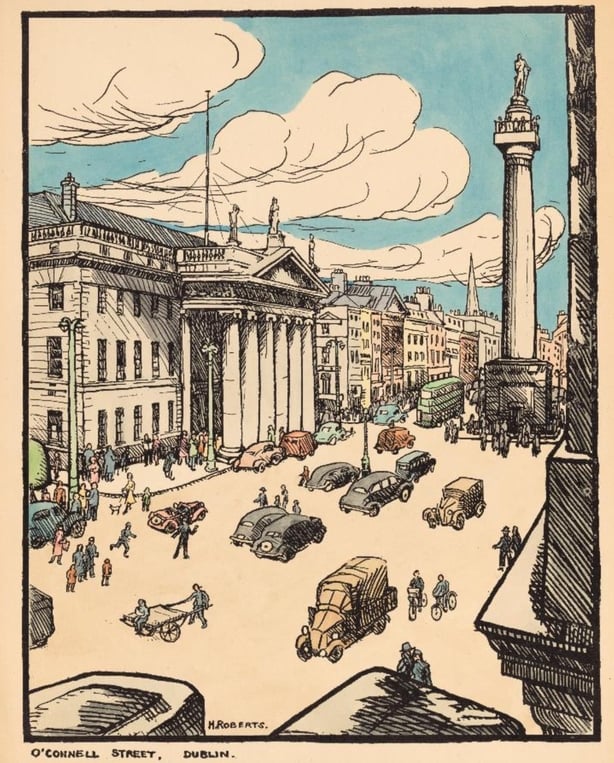 Alongside her youngest brother, Elizabeth also employed a number of Irish artists, including Dorothy Blackham, Beatrice Elvery, Harry Kernoff, Eileen Peet and Jack's wife, Mary Cottenham Yeats. Each provided designs for a series of individual prints and illustrated broadsides, primarily of Irish subject matter.
Their work, which reached both national and international audiences, portrayed a stable Ireland, a country populated by a proud and industrious people. They celebrate the country's distinct heritage, one that countered previous English constructs of Irishness. The majority of the presses' idealised images, devoid of social realism, were rooted in Ireland's rural traditions, many of which were still extant, and its landscape. They would also attest to the objectives of the new State, of projecting itself as a competent and self-determining nation.
Jack Yeats and other Cuala artists employed a pictorial language that evoked a particular sense of place and time. Their Irish characters are handsome, dressed in traditional attire, exampled by wide brimmed hats and shawls. Figures are confident and dignified, they signify pride in themselves and their parish.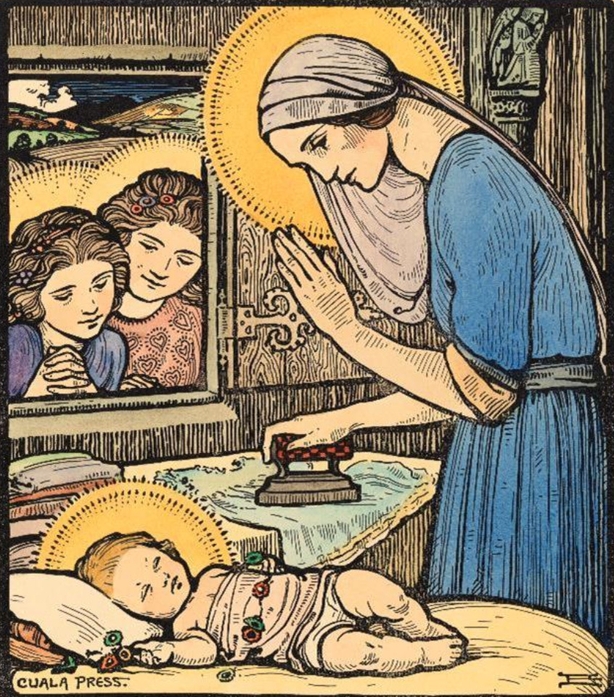 Depictions of the landscape re-appropriate the ubiquitous thatched cottage and drystone walls, rural lives are represented as purposeful and independent, as seen in Jack Yeats' The Mountain Farm and The Village. These images, and others created for the Dun Emer and Cuala Presses feature vernacular culture, rural Irish events such fair days and point to point racing on the strands of Sligo. Cuala Press prints reinforced the State's claims that it was a functioning, vibrant entity.
Prints and illustrations produced by Elizabeth C. Yeats are a significant presence in Irish visual culture. They were the most commercially successful aspect of her presses' outputs. Relatively affordable, they reached a broad audience and their cultural, and arguably political, impact was significant. Cuala Press prints were selected for inclusion in State supported art exhibitions at home, such as the Tailteann and Oireachtas exhibitions, and internationally at the Irish Race Congress in Paris in 1922 and the Chicago World's Fair, Century of Progress in 1933.
These visual materials allowed people establish a connection with parts of the country they perhaps never visited. The West of Ireland was out of reach for many Irish urban dwellers and the diaspora. However, Cuala Press artist-designed prints, constructed a sense of national identity not limited to an individual's sphere of travel. Widely distributed, they conformed to a decolonised, ideal form of Irish life, one that perpetuated the State's political agenda.
As part an ongoing research project, over one hundred images of Cuala Press art prints will be available in the coming months to view online on TCD's Virtual Trinity Library platform.
Dr Billy Shortall is a Ryan Gallagher Kennedy Research Fellow Fellow at the Irish Art Research Centre (TRIARC) at the School of Histories and Humanities at TCD. Dr Angela Griffith is Director of the Irish Art Research Centre (TRIARC) at the School of Histories and Humanities at TCD. Both are undertaking new scholarship on Cuala Press prints, as part of the Cuala Press Project, Schooner Foundation 2020-2023
---
The views expressed here are those of the author and do not represent or reflect the views of RTÉ
---